Sri Nabadwip Dham Parikrama: Day One
Thursday, 5 March 2020
Nadia, West Bengal
pujya-sri-guru-varga-vandita-mahabhavanvitayah sada
paurvaparya-parampara-prachalita-prajya-pramurtakrteh
bhakter nirmala-nirjharasya nibhrtam samraksakam sadaram
vande sri-gurudevam anata-sira acharya-varyam nijam
"I bow my head in eternal obeisance to my Gurudev, the best of acharyas, Srila Bhakti Nirmal Acharya Maharaj. He is the ever vigilant, stalwart guardian of the current of pure devotion whose highest form flows from our most worshippable Sri Rupanuga Guru-varga in their exclusive dedication to Mahabhav, Srimati Radharani."
---
vaisnavera pada-dhuli tahe mora snana-keli
tarpana mora vaisnavera nama
vaisnavera uchchhista tahe mora mano-nistha
vaisnavera namete ullasa
"The feet dust of the Vaishnavs is where I sport and take bath, Vaishnavs' name is the water oblation. My mind is intently fixed upon the remnants of Vaishnavs, and I am elated at the name of Vaishnavs."
gangara-parasa ha-ile paschate pavana
darsane pavitra kara—ei tomara guna
"If the Ganges touches someone, they are purified some time later; but one becomes purified just by seeing you, O Vaishnava Thakur. Such is your power."

During the morning arati.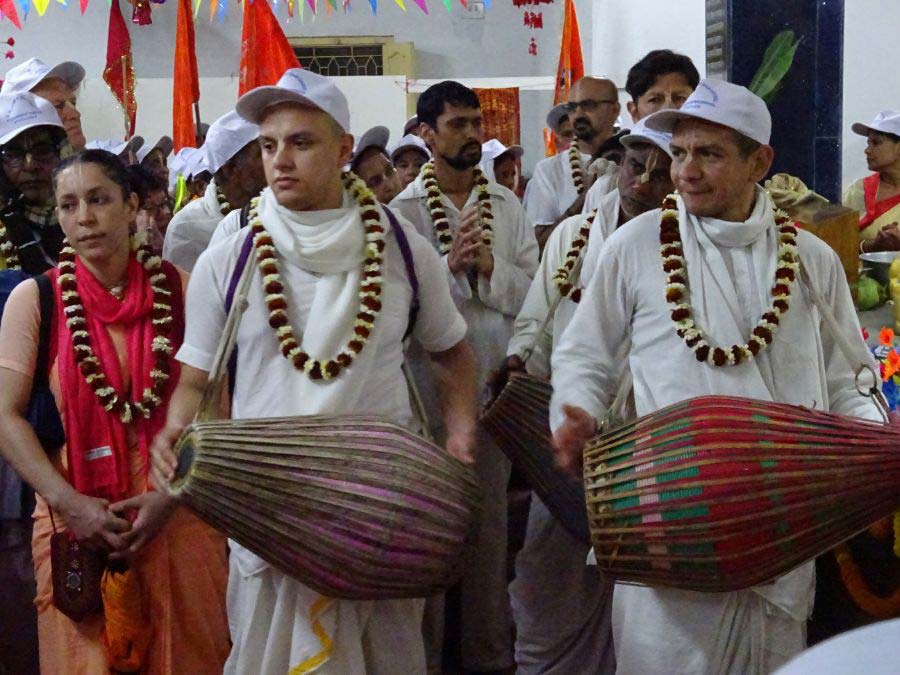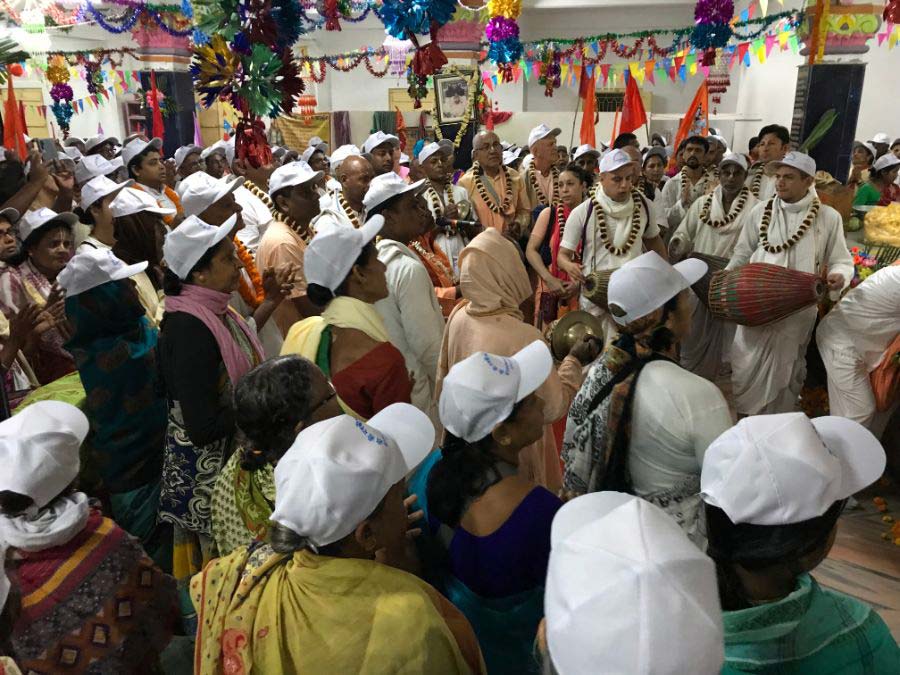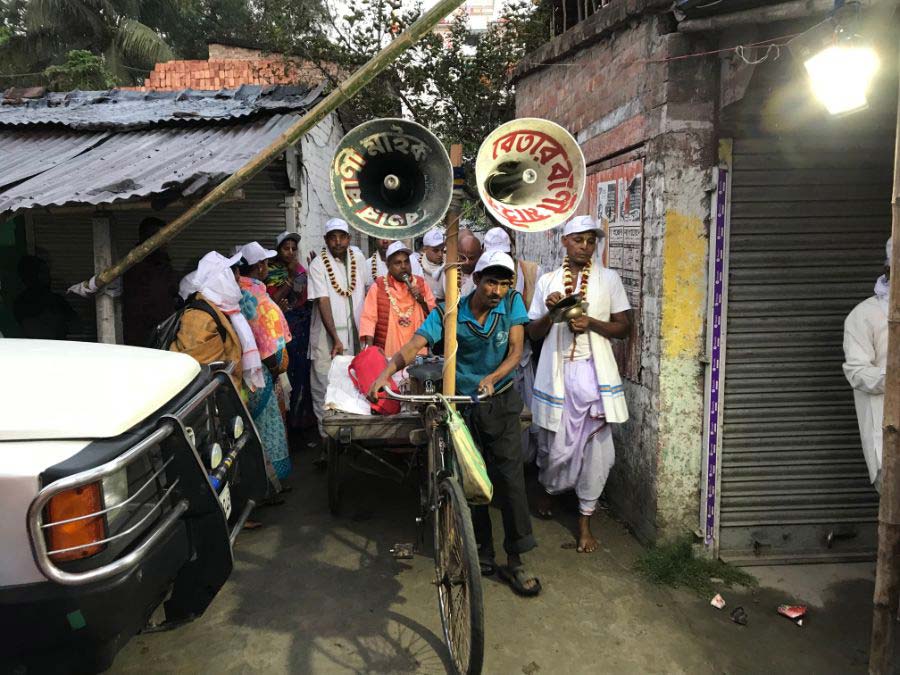 The parikrama party is starting from the temple

Coming to pay obeisances at the temple of Sri Nrisinghadev.

Mahaprabhu's visram-sthali, the place where Mahaprabhu, and later Sriman Nityananda Prabhu and Srila Jiva Goswami Prabhu, took rest.

Sri Suvarna Bihar temple, established by Srila Bhakti Siddhanta Saraswati Thakur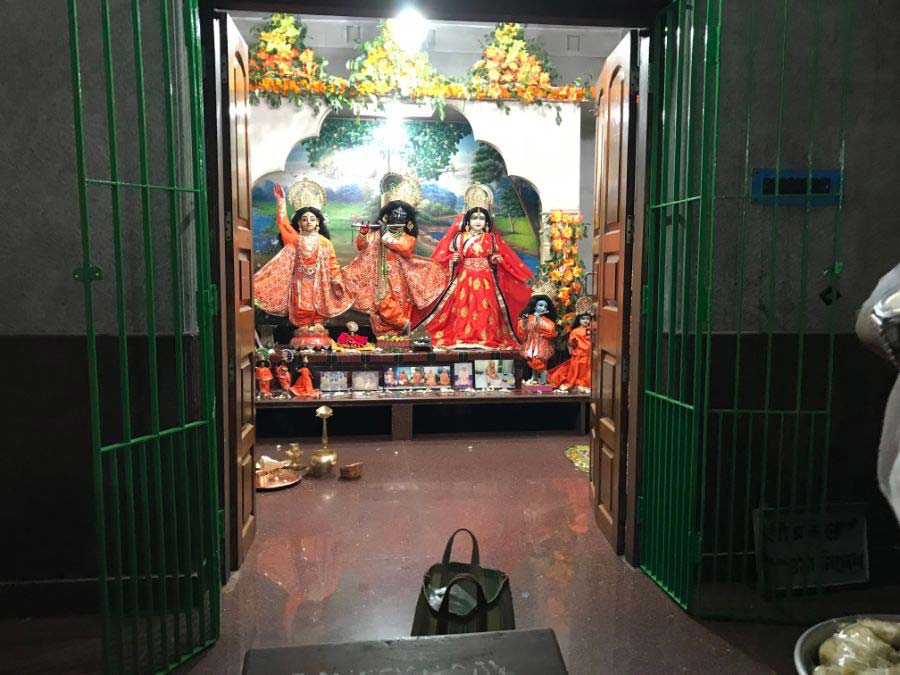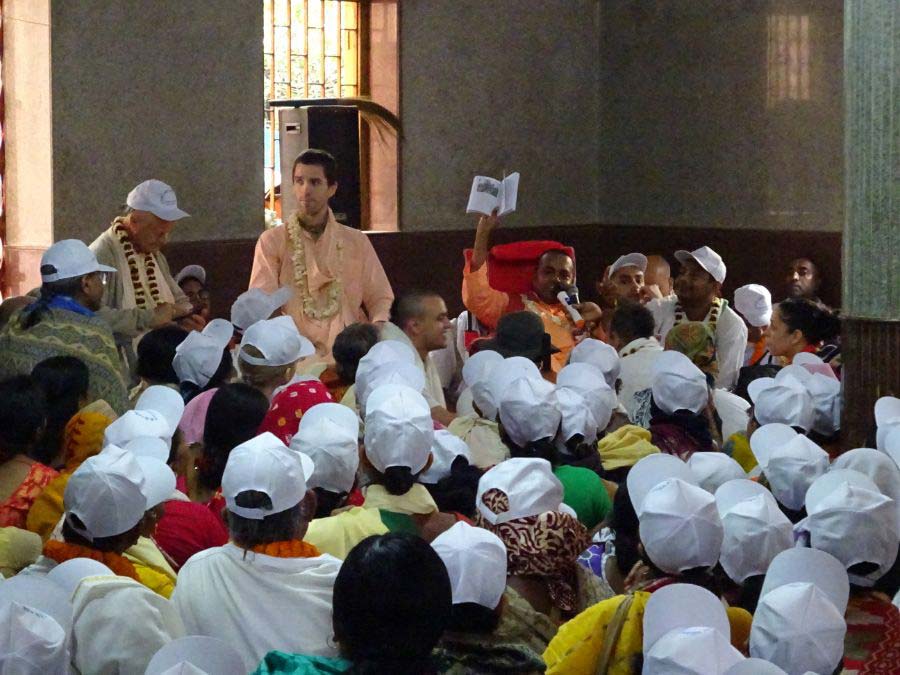 His Divine Grace happily shows a new book published from Sri Chaitanya Saraswat Math: Sri Nabadwip Dham Mahatmya-Mukta-Mala (Bengali).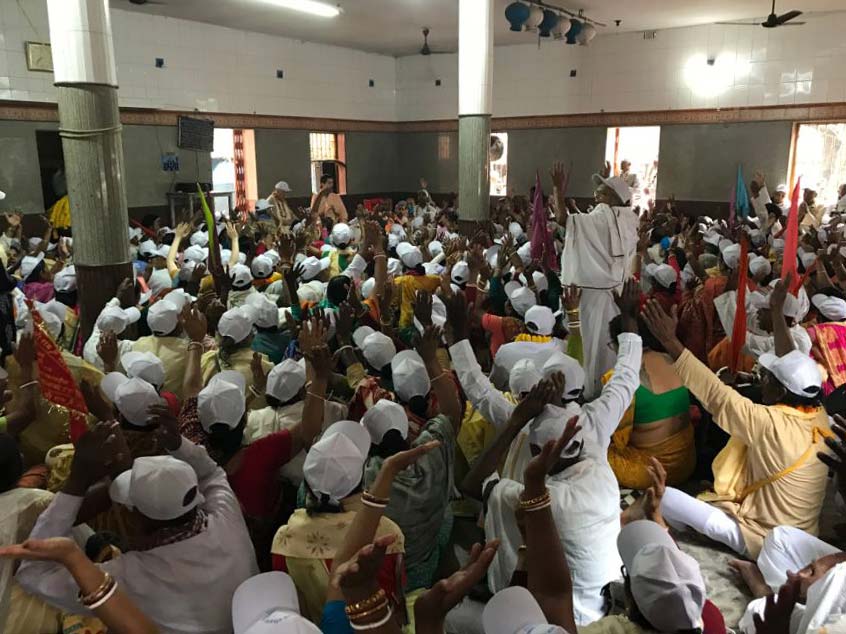 At Sri Surabhi Kunja Math, the next stop of the parikrama.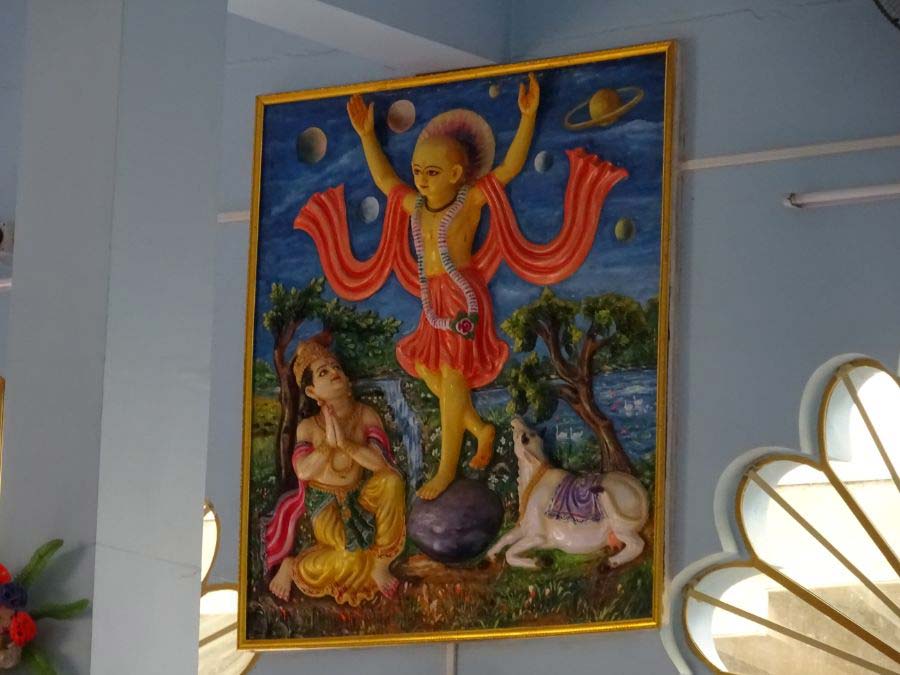 A diorama depicting Sri Indradev, Surabhi and Sriman Mahaprabhu

Markandeya Muni and Surabhi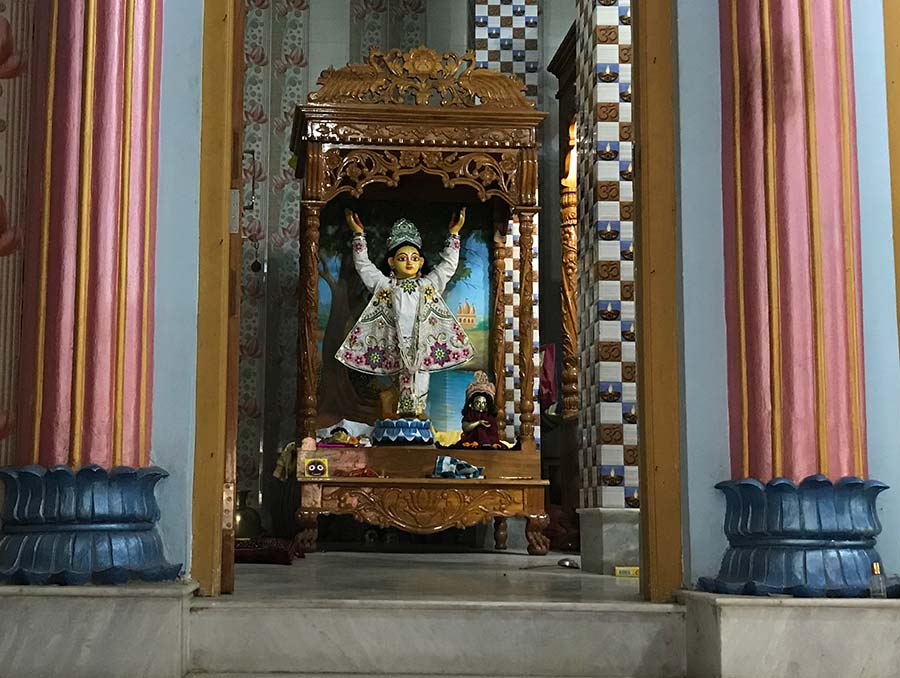 Devotees honour prasadam at Sri Surabhi Kunja. Sripad Bhakti Vedanta Avadhut Maharaj (in charge of the temple) has made all arrangement to accommodate the devotees.

Srila Bhaktivinod Thakur's samadhi mandir and bhajan kutir.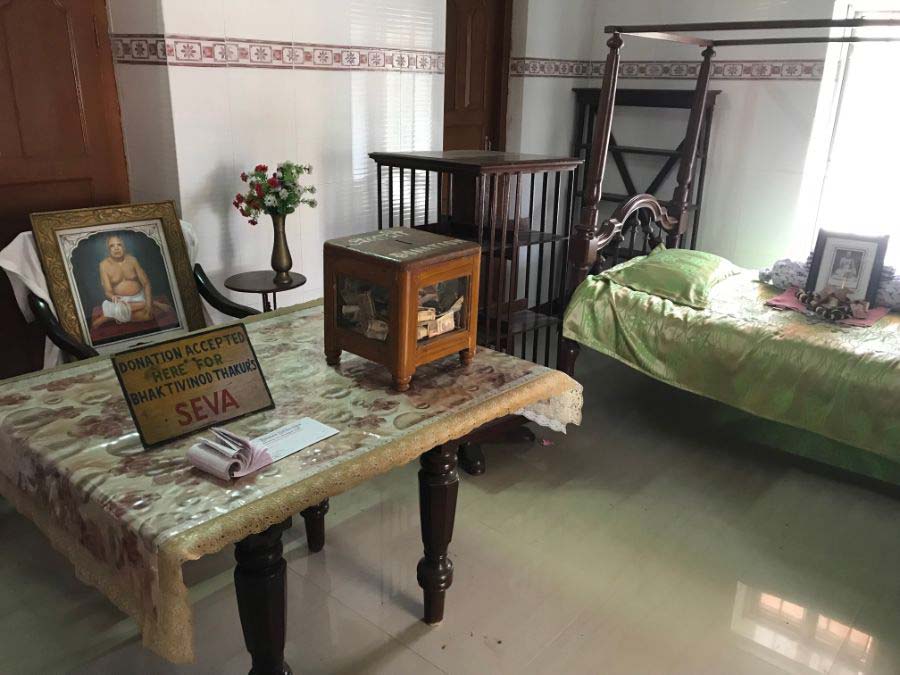 Srila Bhaktivinod Thakur's room.

Srila Bhakti Siddhanta Saraswati Thakur's room.

Sri Hari-Hara Ksetra Deity.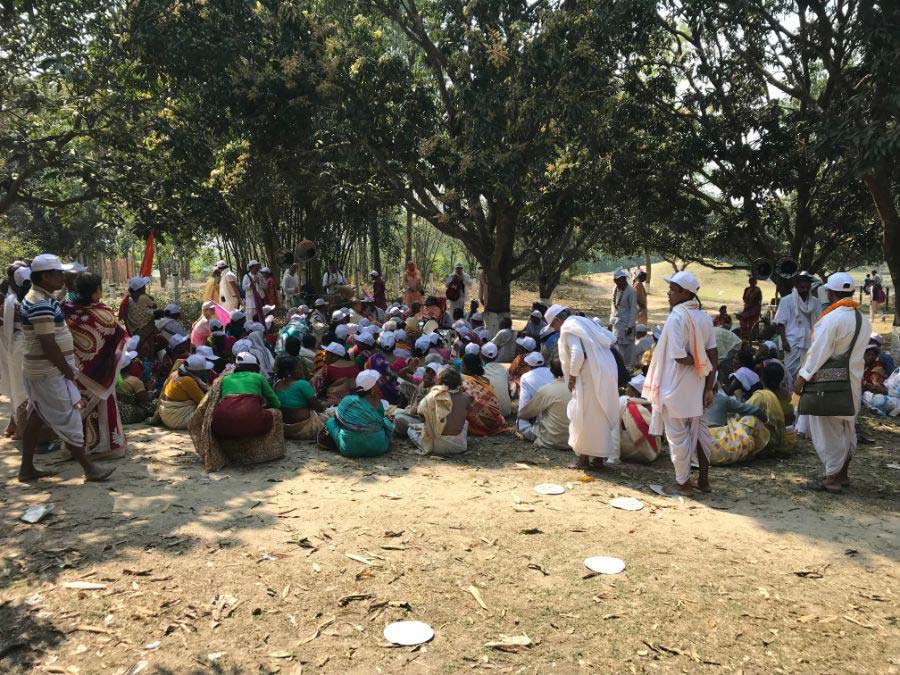 At Sri Madhyadwip (Hamsavahan). This place is visited for the first time. Here, His Divine Grace tells the pastimes that took place at Puskara-tirtha, and Gaura Daha.