| | |
| --- | --- |
| Our Disciplic Succession: | "The Sun Never Sets on Sri Chaitanya Saraswat Math": |
Dignity of the Divine Servitor
Printed in December 1993, this book is a compilation of the discourses of Srila Bhakti Sundar Govinda Dev-Goswami Maharaj, and it is presented here for online reading as it is with the only exception of the adjusted spelling of the Sanskrit/Bengali words according to the current typographical standards of Sri Chaitanya Saraswat Math.
"Our beloved Srila Guru Maharaj began the great Sankirtan fire sacrifice and up to date I am seeing that Sankirtan fire, day by day, spreading all over the world through his devotees. All the devotees are trying whole-heartedly to fuel that fire. Each one is like an auspicious stick of wood fully dedicating himself for the exaltation of Srila Guru Maharaj by entering into the Sankirtan fire sacrifice."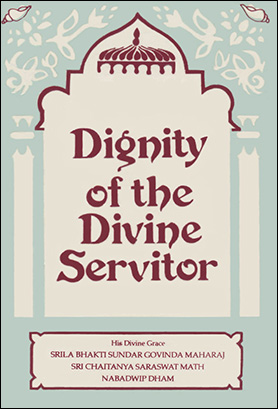 Editorial
Part One:
• Chapter One: Vaishnava Thakur
• Chapter Two: The Original Current
• Chapter Three: Divine Desire and Directives
Part Two:
• First Discourse: Descent of Knowledge
• Second Discourse: Lessons in Giving
• Third Discourse: Protected Journey
• Fourth Discourse: Adjusting to His Account
• Fifth Discourse: Present Position, Brightest Prospect
• Sixth Discourse: Fortunate Indeed
Part Three:
• The Written Word (Answers through Letters)
• Appendix A
• Appendix B:
The Ten Offences to the Holy Name


A copy of this book can be downloaded (scanned, 30.6 Mb) and purchased at our online bookstore.
"HUMILITY, TOLERANCE, GIVING HONOUR TO OTHERS | HUMILITY, TOLERANCE, GIVING HONOUR TO OTHERS"