| | |
| --- | --- |
| Our Disciplic Succession: | "The Sun Never Sets on Sri Chaitanya Saraswat Math": |
Golden Reflections
This book was published in 1992 to celebrate the Golden Jubilee, or 50th Anniversary, of the founding of the Sri Chaitanya Saraswat Math in Sri Nabadwip Dham, West Bengal, and a series of reflections of Srila B.S. Govinda Dev-Goswami Maharaj on how the Math was founded and developed over the course of time, as well as affectionate guidance for the practitioners on how to proceed in their spiritual life.
The book is presented here for both online reading and downloading as a PDF. The online text of the book is without amendments with the only exception of the adjusted spelling of the Sanskrit/Bengali words according to the current typographical standards of Sri Chaitanya Saraswat Math.
"This Nabadwip Dham, on the banks of the Ganges, has such great value, especially for the realisation of our highest self, as recommended by Sriman Mahaprabhu. It is the land of love, sweetness, charm and beauty all are synonymous. It is heart-capturing. Our real existence is neither in our knowledge nor our power, but in our heart. Really, our proper identification is with our heart. So, in which direction our heart is moving, that is the all-important factor in our life. It is a heart-transaction."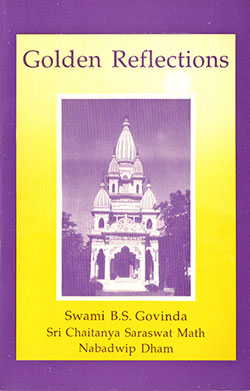 A copy of this book can be downloaded (77 MB) and purchased at our online bookstore.
"HUMILITY, TOLERANCE, GIVING HONOUR TO OTHERS | HUMILITY, TOLERANCE, GIVING HONOUR TO OTHERS"