MORNING AND NOON

After a while of waiting for the sand to compress, the Govardhan Hill construction is progressing with the due care.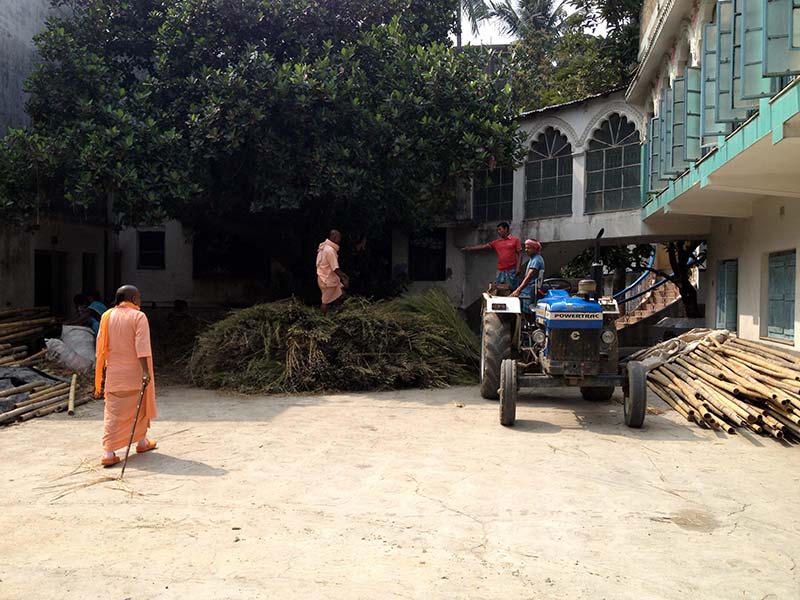 The remainders of the mustard are getting taken care of.

At the noon arati.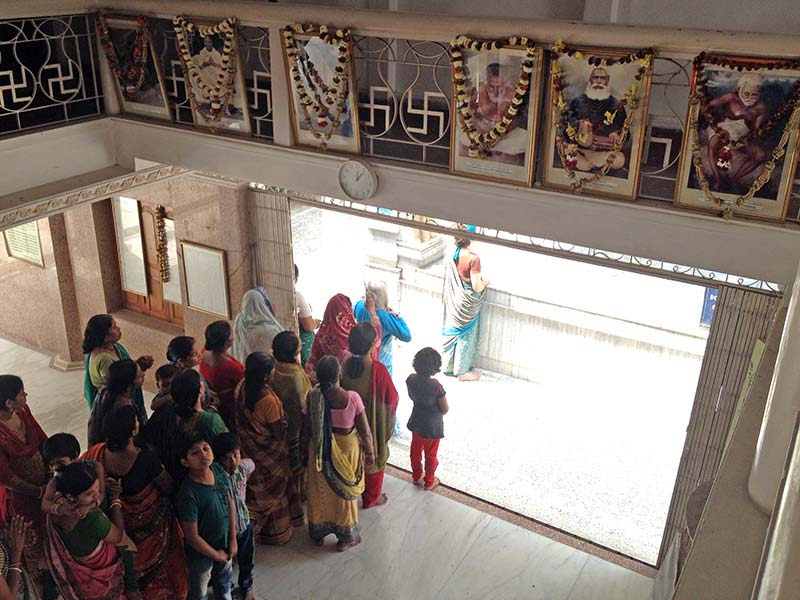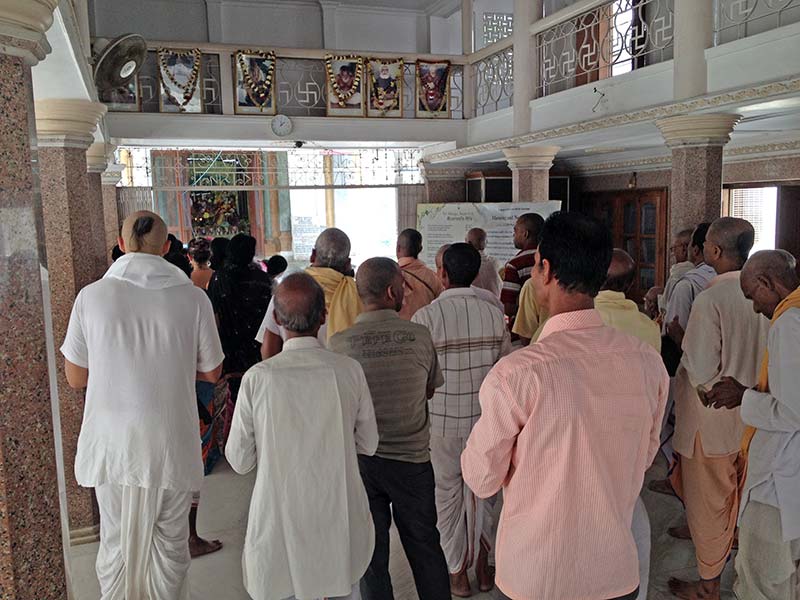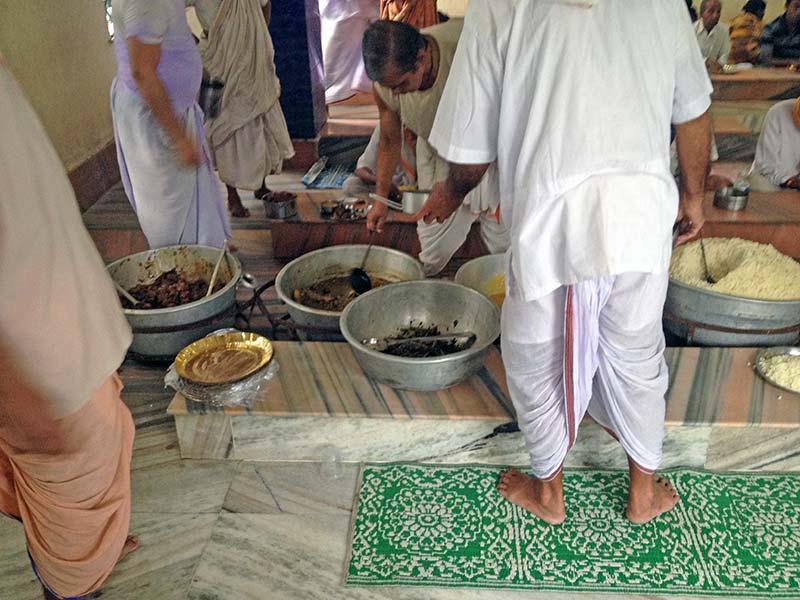 By the noon, the devotees come to honour prasadam.

In the foreground: Shyamali Devi Dasi (South Africa), Anjali Devi Dasi (UK), Indumukhi Devi Dasi (Brazil),
Krishna Kanta Devi Dasi (Mexico).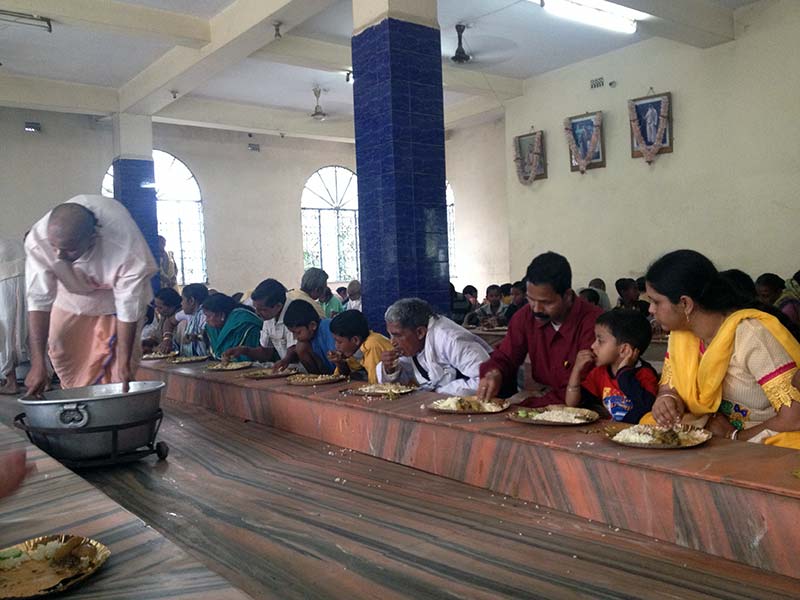 AFTERNOON: NRISINGHA PALLI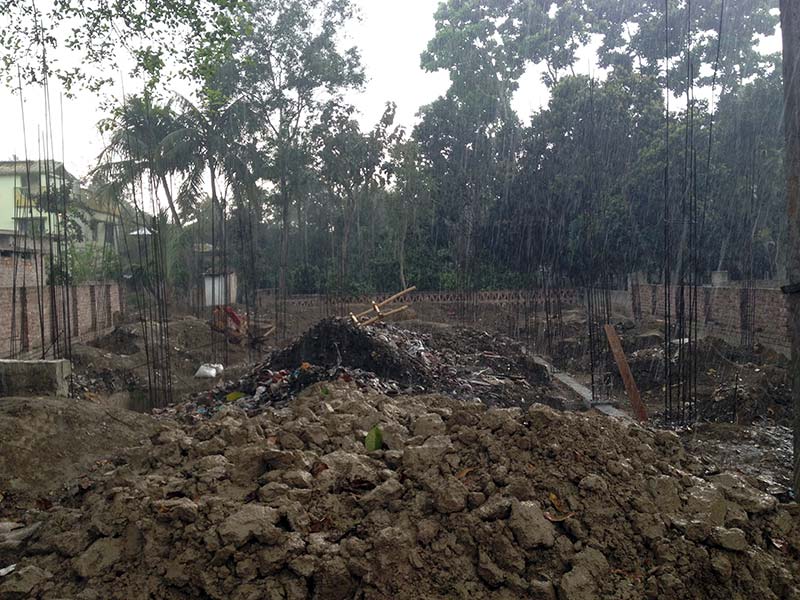 On the way to Mayapur, Srila Gurudev stops at Nrisingha Palli to quickly see the construction progress.
The temple construction began at the beginning of this month and is progressing steadily.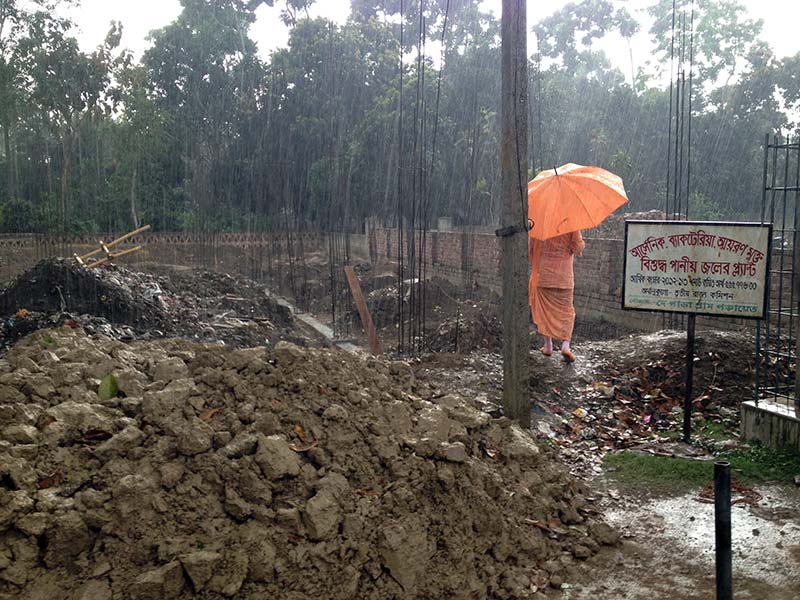 AFTERNOON: PARIKRAMA IN MAYAPUR

In honour of 143th appearance day celebration of Bhagavan Srila Bhakti Siddhanta Saraswati Thakur Prabhupad,
the Gaudiya Maths have organised a large programme, part of which was a parikrama that started from
Sri Mayapur ghat. In the background: the chariot with Srila Prabhupad's murti.

At the request of Sri Gaudiya Vaishnavs, Srila Acharya Maharaj led the kirtan throughout the parikrama.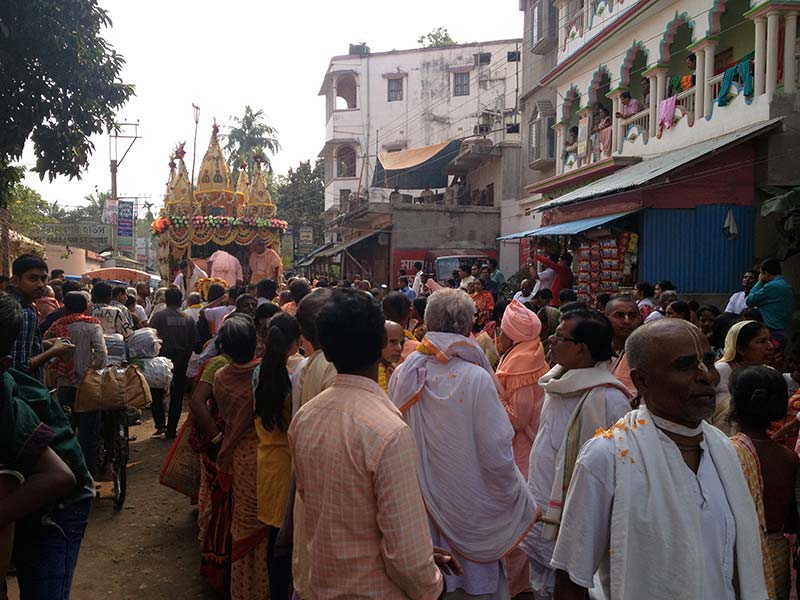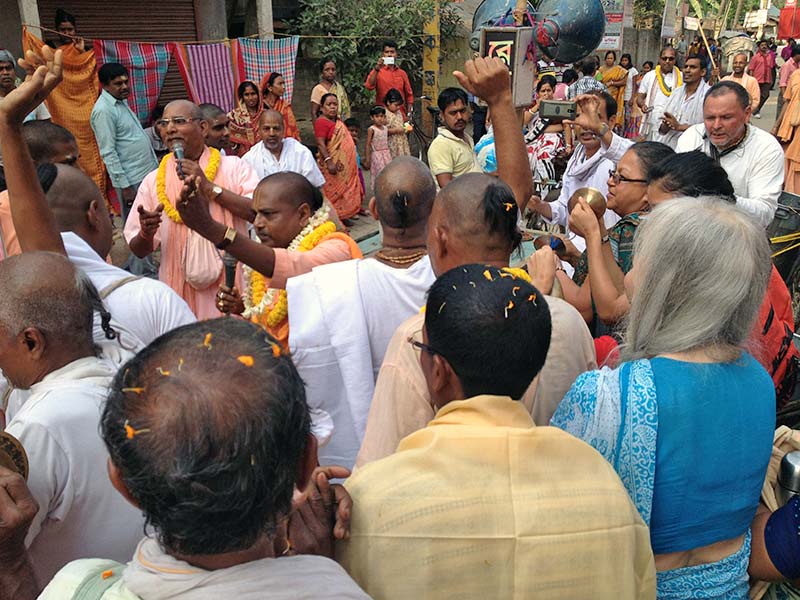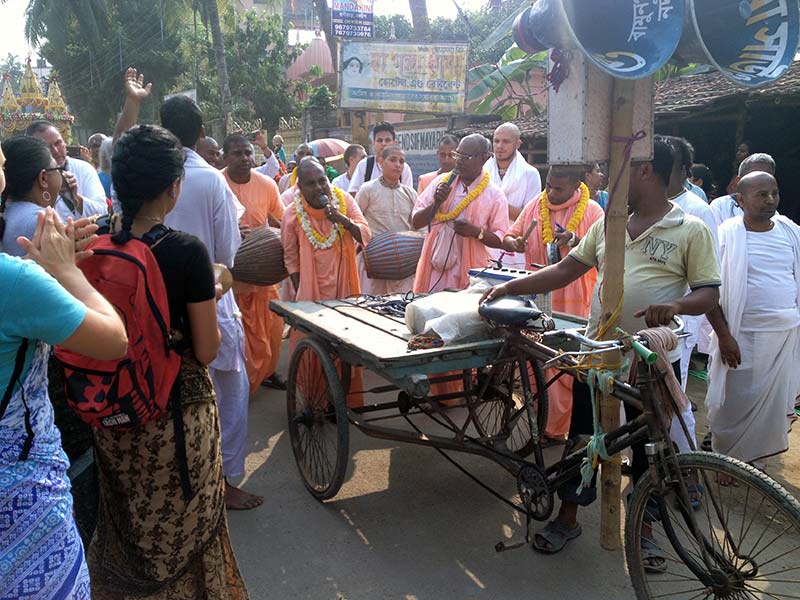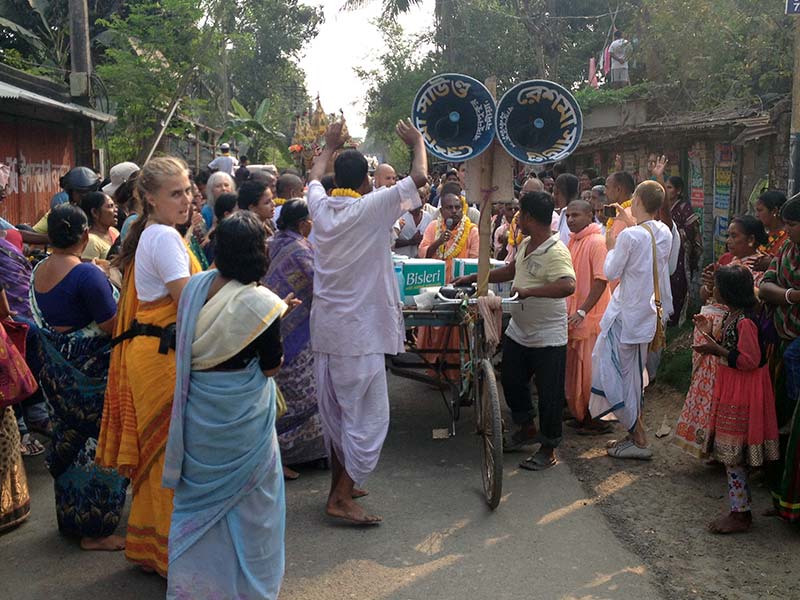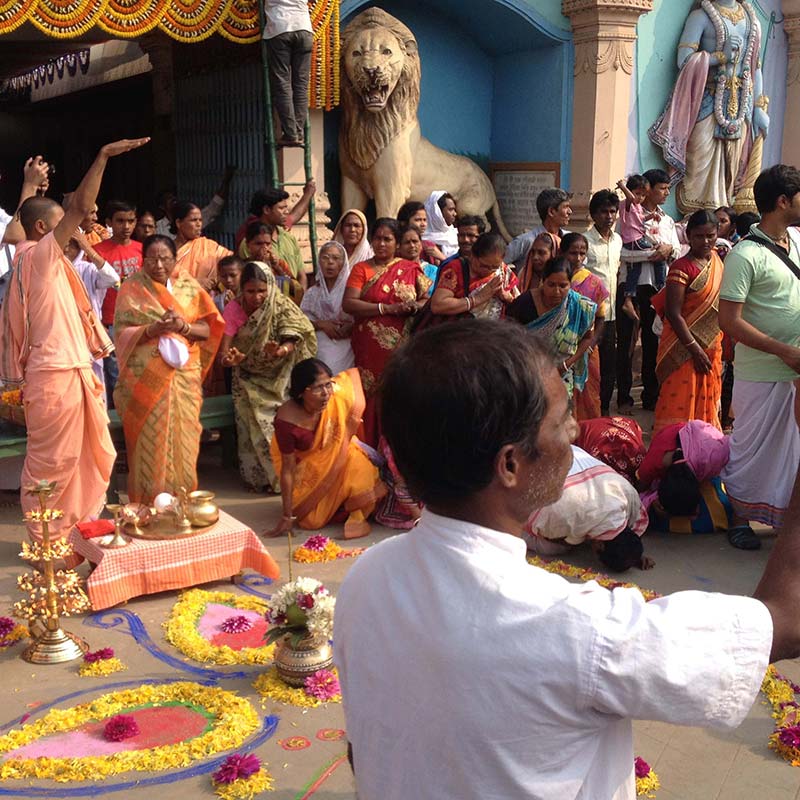 Every Gaudiya Math eagerly welcomed and made an offering of worship to the procession and the murti of
Srila Prabhupad. Pictured: at Srila B.D. Madhav Maharaj's Gaudiya Math, where the main programme
was to be held after the parikrama.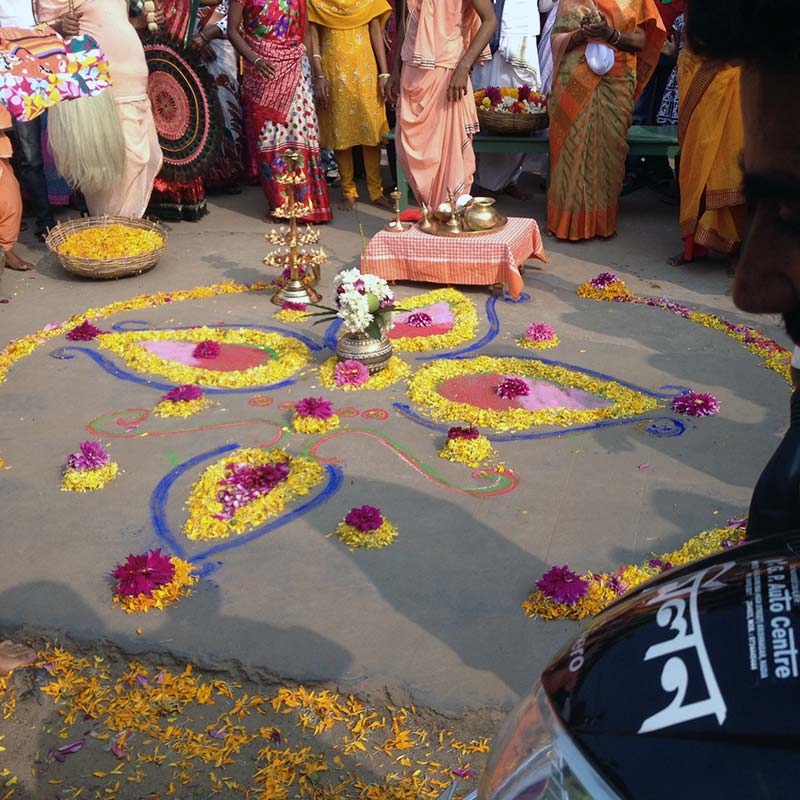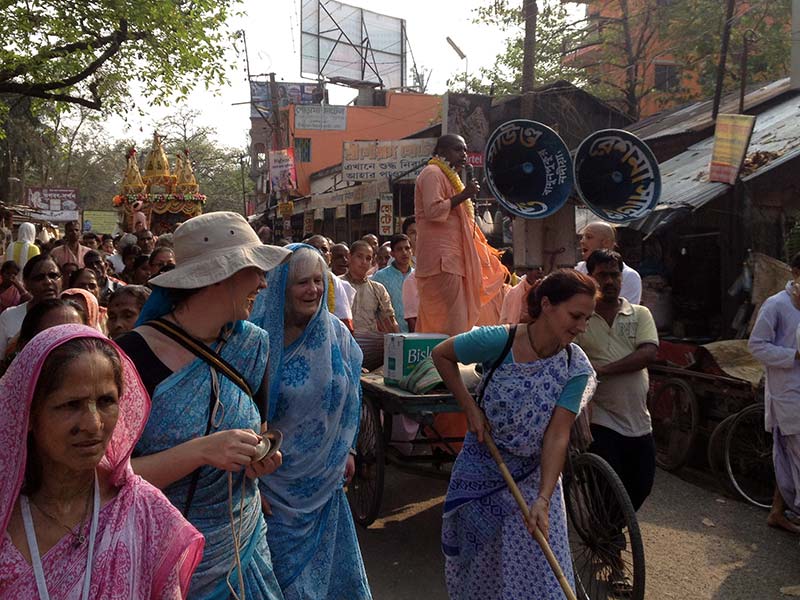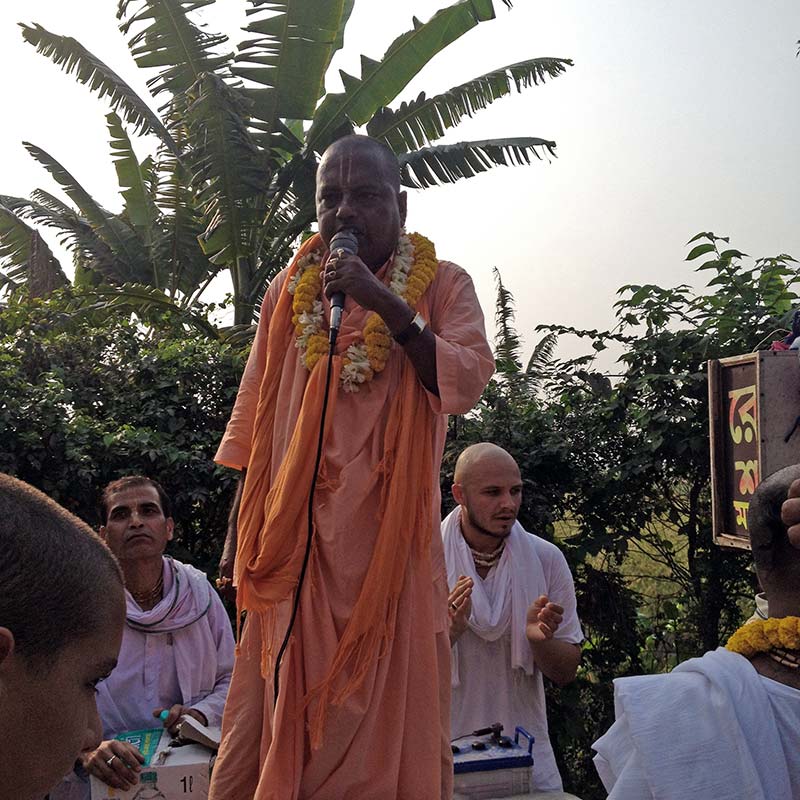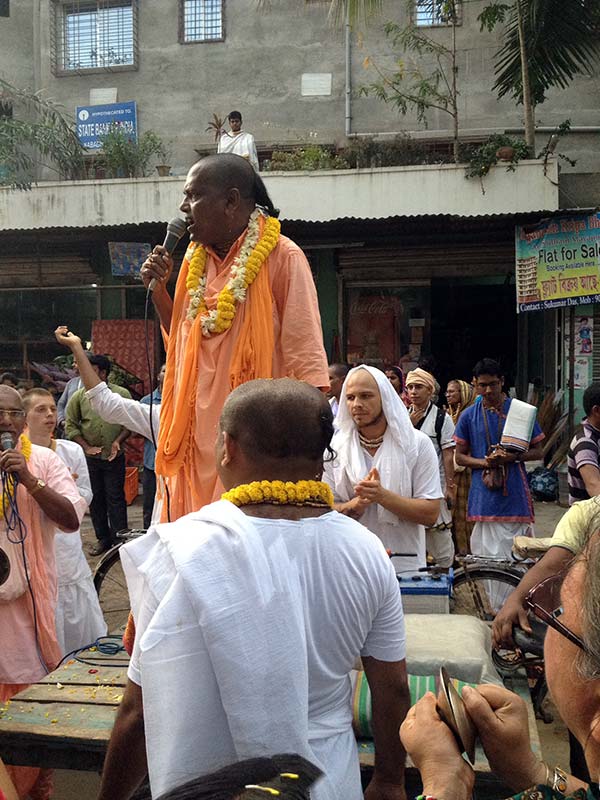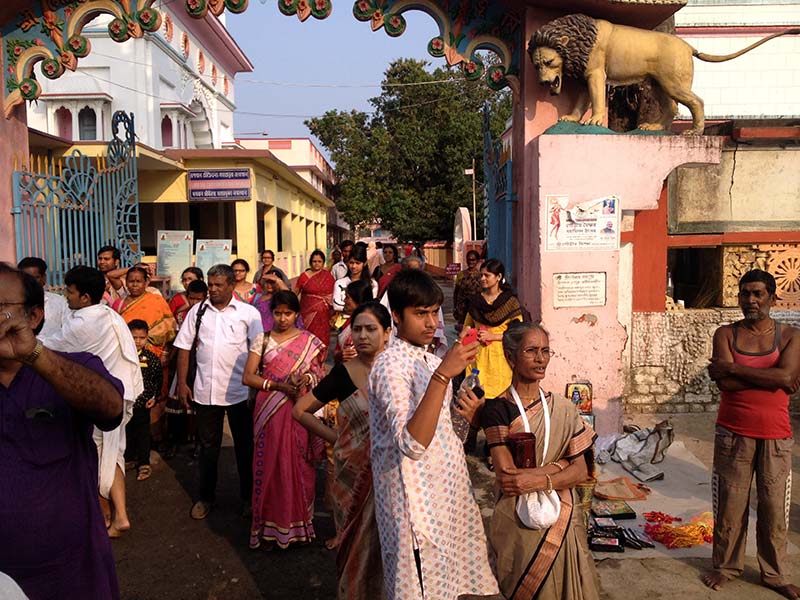 Sri Yogapith Temple, the birthplace of Sriman Mahaprabhu.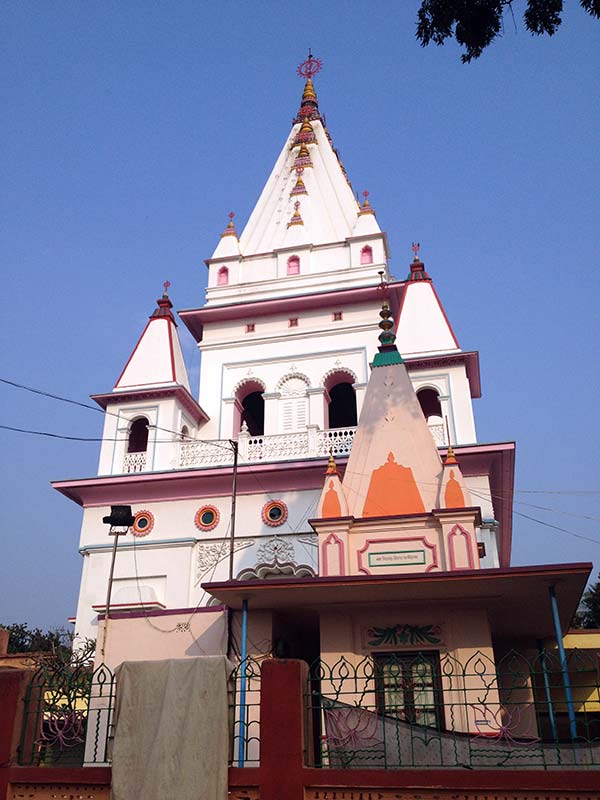 The dome of the temple.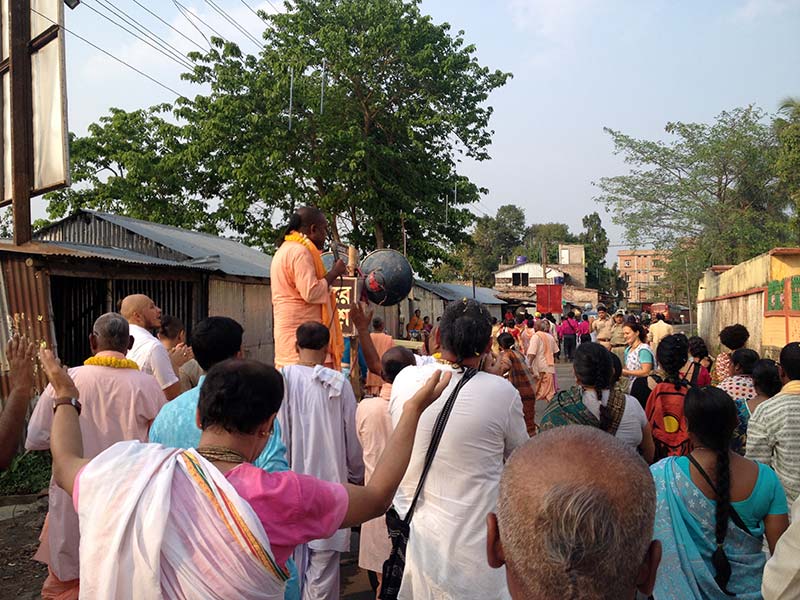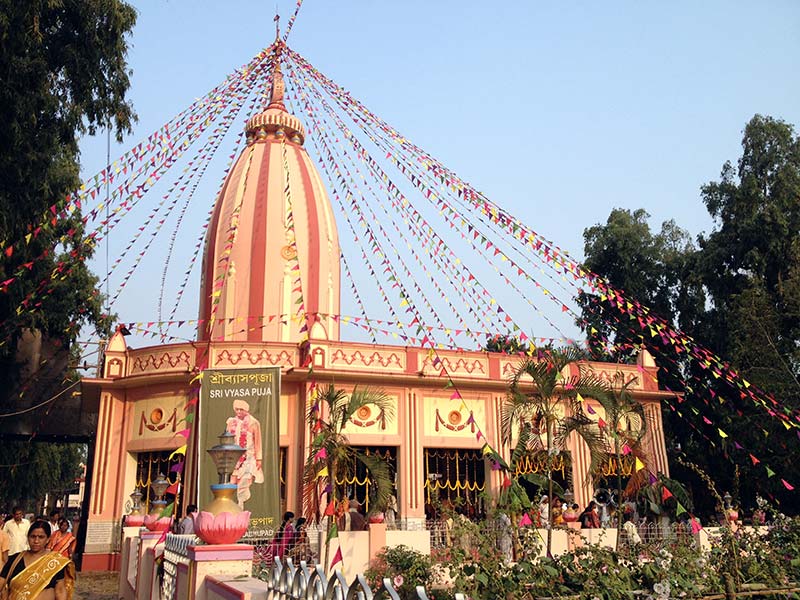 The samadhi mandir of Srila Prabhupad.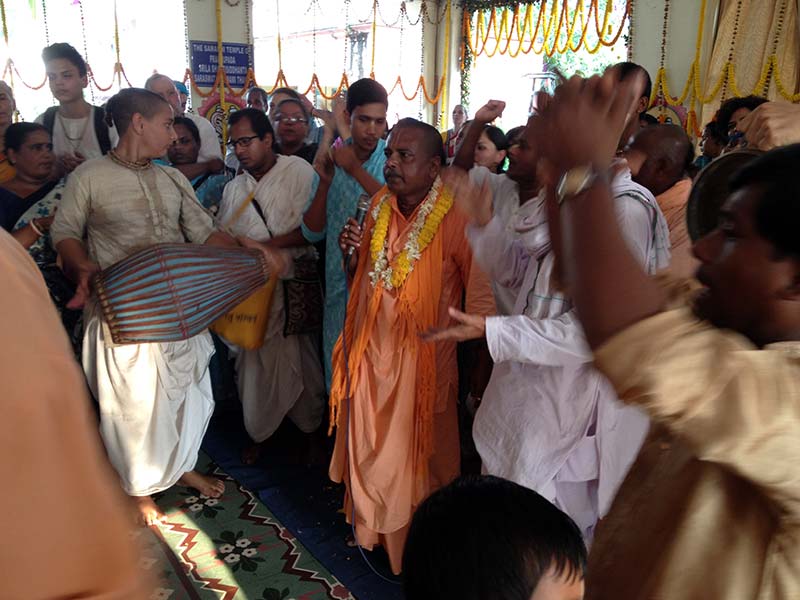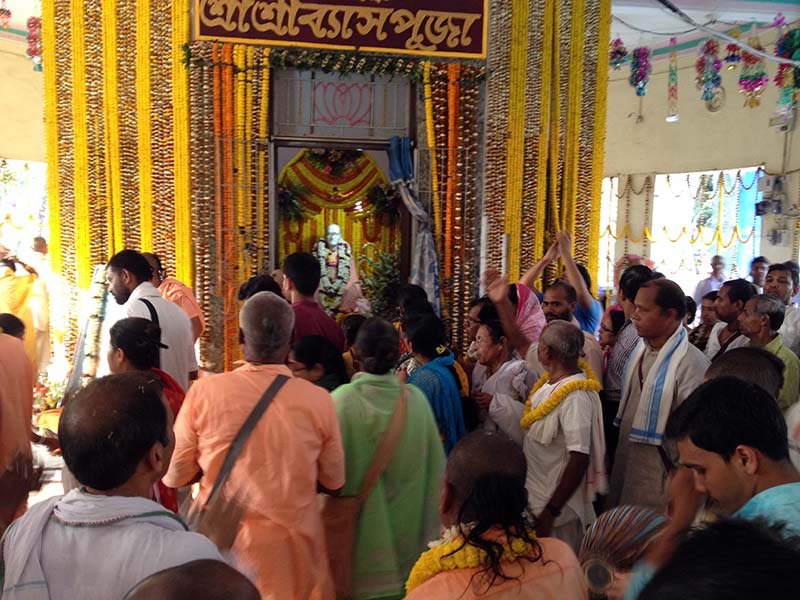 EVENING: PROGRAMME IN GAUDIYA MATH

His Divine Grace is taking a brief rest before the programme started.
At Srila Madhav Maharaj's Sri Chaitanya Gaudiya Math.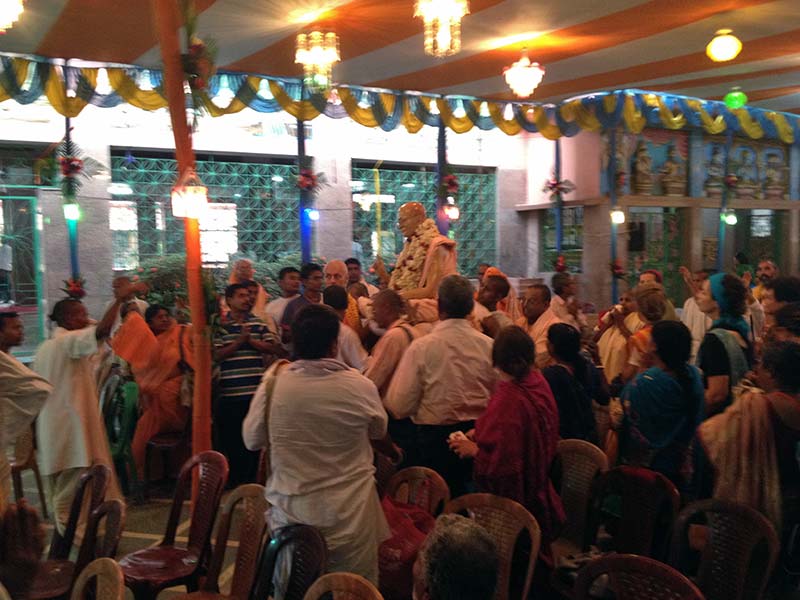 The programme started as soon as Srila Prabhupad's murti was brought in.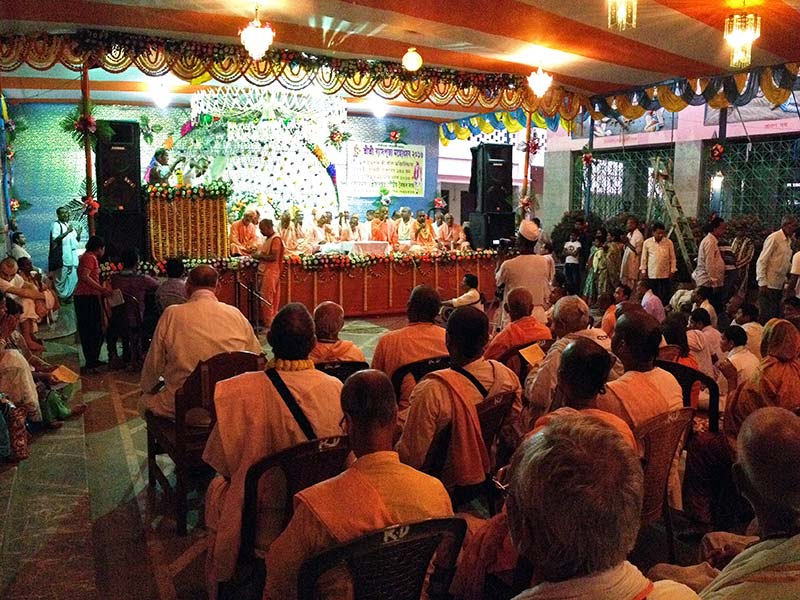 The evening programme began with a few kirtans sung by the present dignitaries.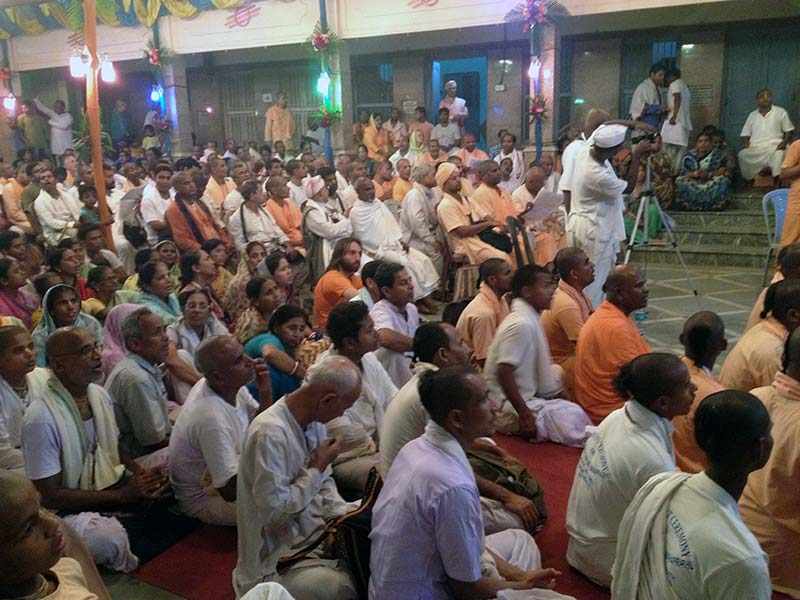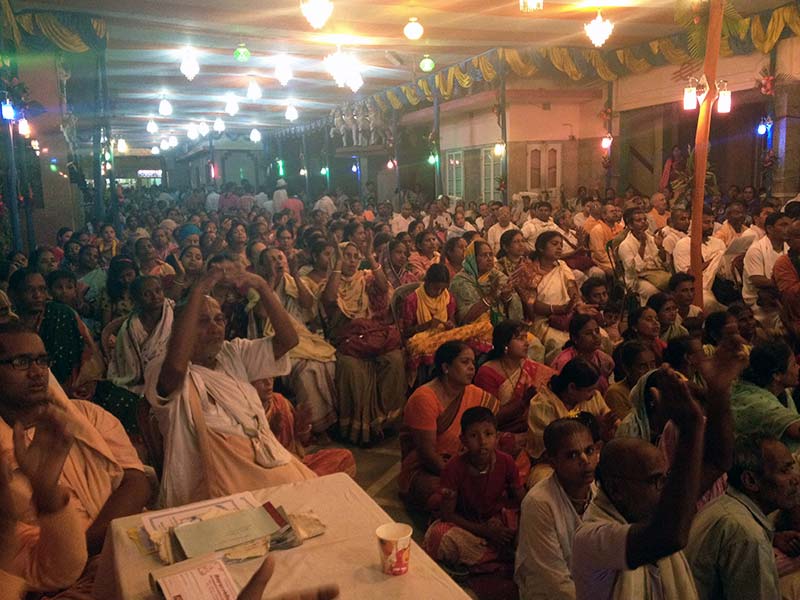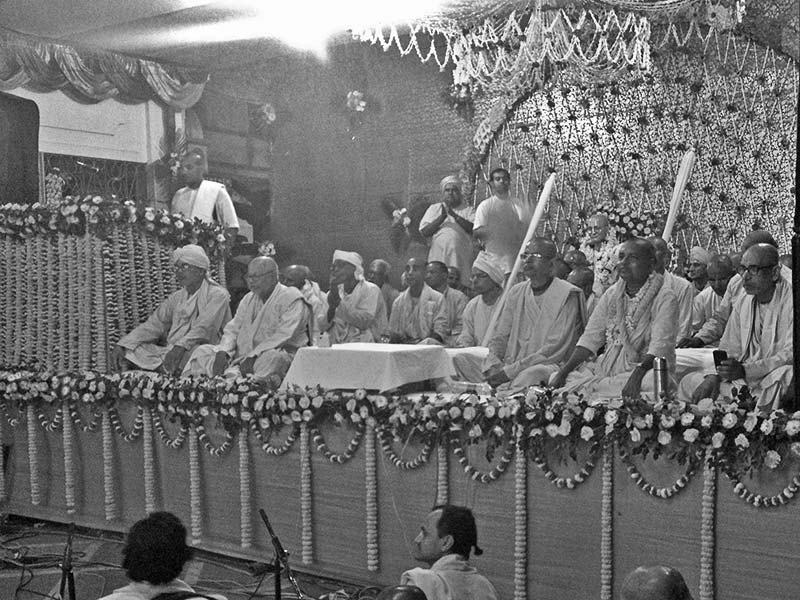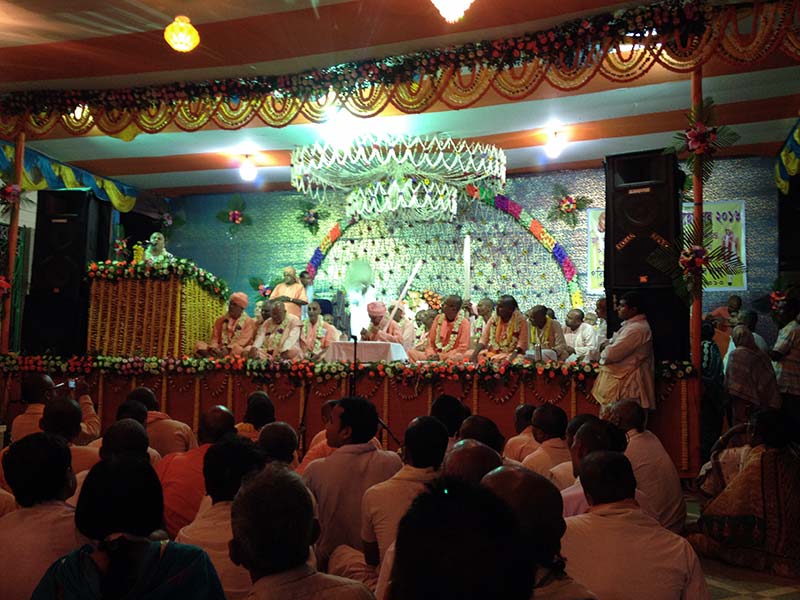 After the kirtans, the dignitary sannyasis of branches of Sri Gaudiya Math each took turns and spoke briefly offering
their prayers to and singing the glories of Srila Prabhupad. Pictured: Sripad Sanyasi Maharaj of Bagh Bazaar
Gaudiya Math in Kolkata humbly addressing the assembled Vaishnavs.

His Divine Grace Om Vishnupad Srila Bhakti Nirmal Acharya Maharaj speaking.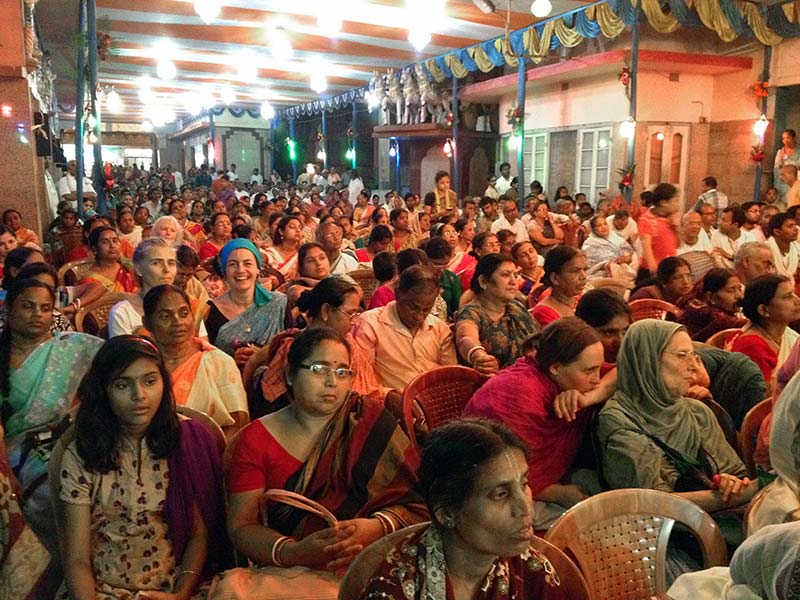 The programme was very well attended.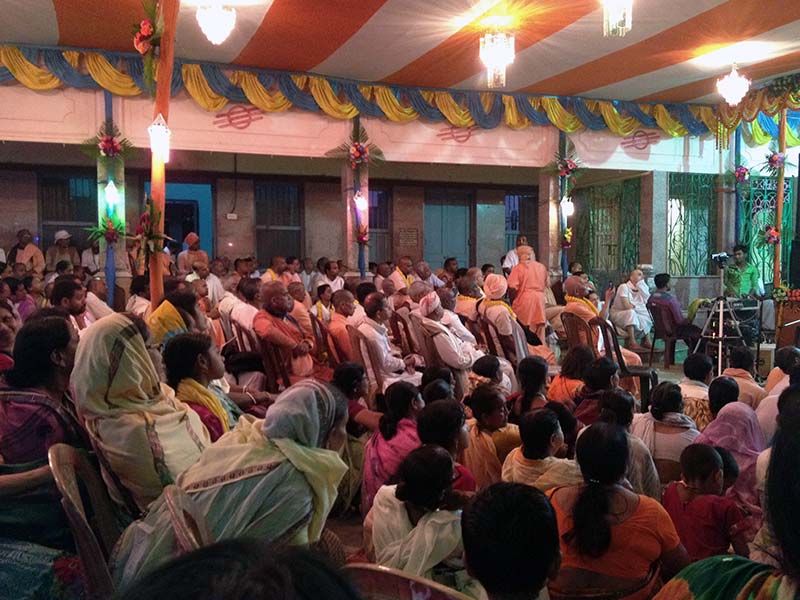 After a few hours of Hari-katha, the dignitary Vaishnavs offered arati and puspanjali
to the lotus feet of Srila Saraswati Thakur.

After the arati, everybody honoured the maha-prasadam and returned back to their homes and temples.