A New Sannyasi
18 April 2016

His Divine Grace Om Vishnupad Srila Bhakti Nirmal Acharya Maharaj is giving the second initiation to the devotees...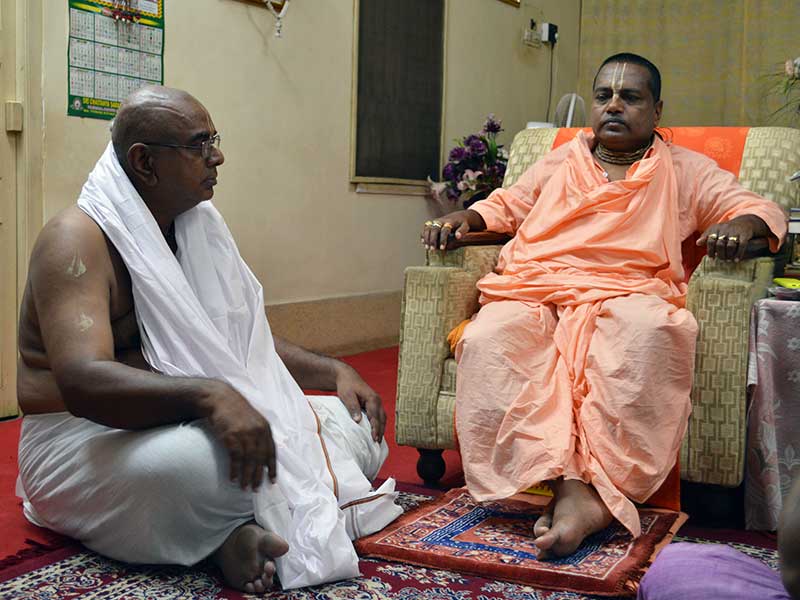 ...and a very special mercy to Sripad Rasikendra Prabhu of Malaysia.

His Divine Grace confers the sannyas order onto Sripad Rasikendra Prabhu and
bestows him the name Sripad Bhakti Rasik Sannyasi Maharaj.
(To the right of His Divine Grace are Sripad Bhakti Vijnan Muni Maharaj and
Sripad Bhakti Niskam Shanta Maharaj.)
etam sa asthaya paratma-nistham
adhyasitam purvatamair maharsibhih
aham tarisyami duranta-param
tamo mukundanghri-nisevayaiva
"I shall cross over the insurmountable ocean of nescience by being firmly fixed in the service of the lotus feet of Krishna. This was approved by the previous acaryas, who were fixed in firm devotion to the Lord, Paramatma, the Supreme Personality of Godhead."
Srimad Bhagavatam, 11.23.57