| | |
| --- | --- |
| Our Disciplic Succession: | "The Sun Never Sets on Sri Chaitanya Saraswat Math": |
Darshan of Sri Ekachakra Temple
23 December 2016

Ekachakra is manifest to the North-West of Nabadwip, about three-hour's drive away.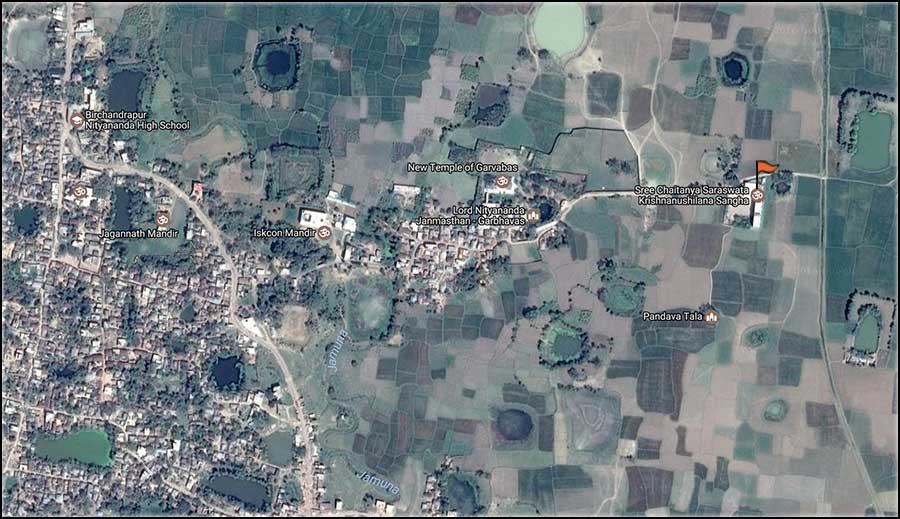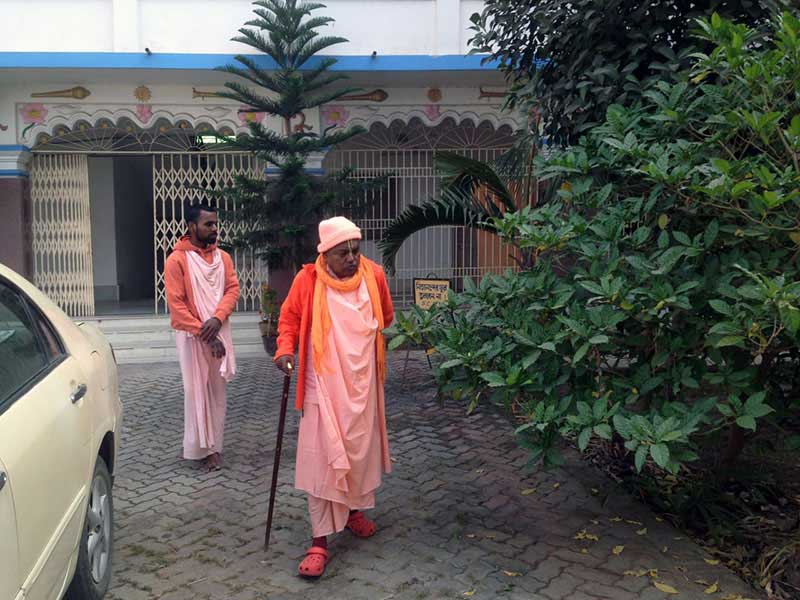 His Divine Grace Om Vishnupad Srila Bhakti Nirmal Acharya Maharaj takes a stroll around the temple,
accompanied by Sripad Bhakti Tilak Niriha Maharaj who is taking care of the Ekachakra Temple.

"Always hold onto Nitai's lotus feet, they are our only hope. We must remember it. Actually we cannot remember it, but we must try to remember—we must try to remember the mercy of the lotus feet of Nityananda Prabhu."
(Srila B.N. Acharya Maharaj, Parama Karuna Nitai Gaurachandra)

His Divine Grace always happily praises the devotees and the temple for its beautiful garden.

The far end of the garden serves as the cows' quarters (the tent next to the wall is the cowshed).

During the evening class at Sri Hadai Pandit Sri Padmavati Smriti-kunja.
saksad-dharitvena samasta-sastrair
uktas tatha bhavyata eva sadbhih
kintu prabhor yah priya eva tasya
vande guroh sri-charanaravindam
"I offer my obeisance unto the lotus feet of Sri Guru,
who is said by all the scriptures to be the Lord Himself,
and considered to be so by the sadhus,
yet is also the Lord's beloved devotee."
---
কবে হবে বল, সে দিন আমার ।
অপরাধ ঘুচি' শুদ্ধ নামে রুচি
কৃপা-বলে হবে হৃদয়ে সঞ্চার ॥
kabe habe bala se dina amara
aparadha ghuchi suddha name ruchi
krpa-bale ha'be hrdaye sanchara
"Please tell me, when will that day be mine? When will my offences be removed?
When will the taste for the pure Name arise in my heart by the power of mercy?"
• • •
কবে নিত্যানন্দ মোরে করি' দয়া ।
ছাড়াইবে মোর বিষয়ের মায়া ॥
kabe nityananda more kari' daya
chhadaibe mora visayera maya
"When will Nityananda be compassionate to me and relieve me
from the mundane illusion?"
• • •
আর কবে নিতাইচাঁদ করুণা করিবে ।
সংসার-বাসনা মোর কবে তুচ্ছ হ'বে ॥
ara kabe nitaichand karuna karibe
samsara-vasana mora kabe tuchha ha'be
"When will Nitaichand give mercy to me?
When will all my material desires become insignificant?"
HARE KRISHNA HARE KRISHNA KRISHNA KRISHNA HARE HARE | HARE RAMA HARE RAMA RAMA RAMA HARE HARE