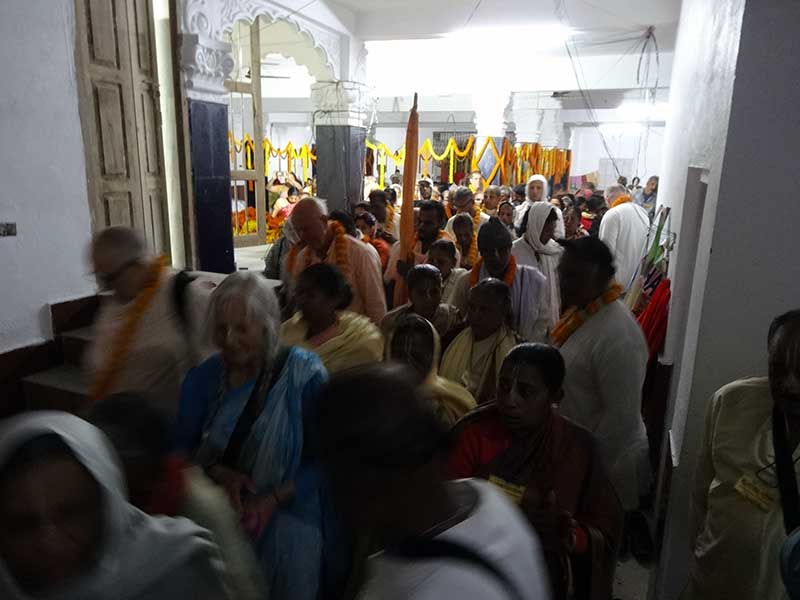 A resting place of Mahaprabhu.
nadiya-godrume nityananda mahajana
patiyache nama-hatta jivera karana
"In the land of Nadiya, on the island of Godruma, the magnanimous Lord Nityananda has opened up the Marketplace of the Holy Name, meant for the deliverance of all fallen souls."
(sraddhavan jan he, sraddhavan jan he)
prabhura ajnaya, bhai, magi ei bhiksa
bolo 'krsna,' bhajo krsna, koro krsna-siksa
"O people of faith! O people of faith! By the order of Lord Gauranga, O brothers, I beg these three requests of you: Chant "Krishna!", worship Krishna, and teach others about Krishna."
aparadha-sunya ho'ye laha krsna-nama
krsna mata, krsna pita, krsna dhana-prana
"Being careful to remain free of offences, just take the holy name of Lord Krishna. Krishna is your mother, Krishna is your father, and Krishna is the treasure of your life."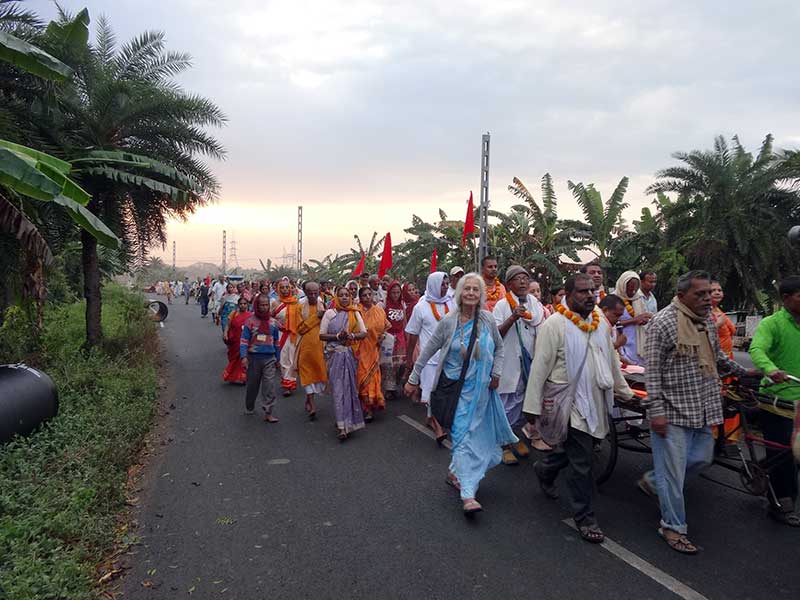 krsnera samsara kara chhadi' anachara
jive daya, krisna-nama—sarva-dharma-sara
"Giving up all sinful activities, carry on your worldly duties only in relation to Lord Krishna. The showing of compassion to other souls by loudly chanting the Holy Name of Krishna is the essence of all forms of religion."

At the first stop—Sri Suvarna Bihar Math.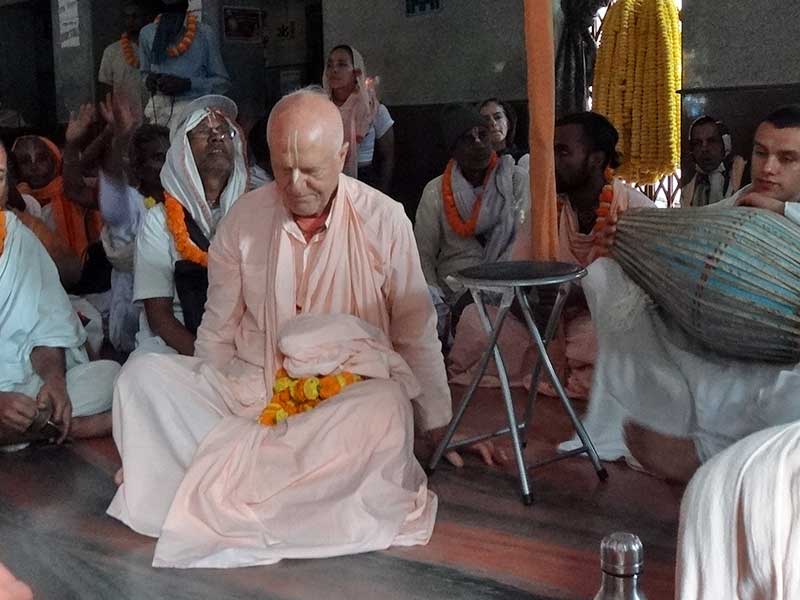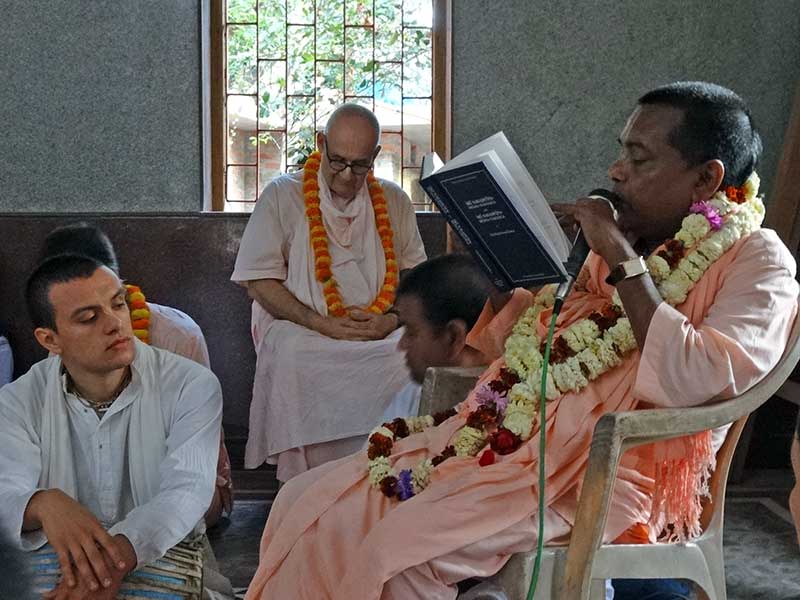 Approaching Sri Surabhi Kunja Math.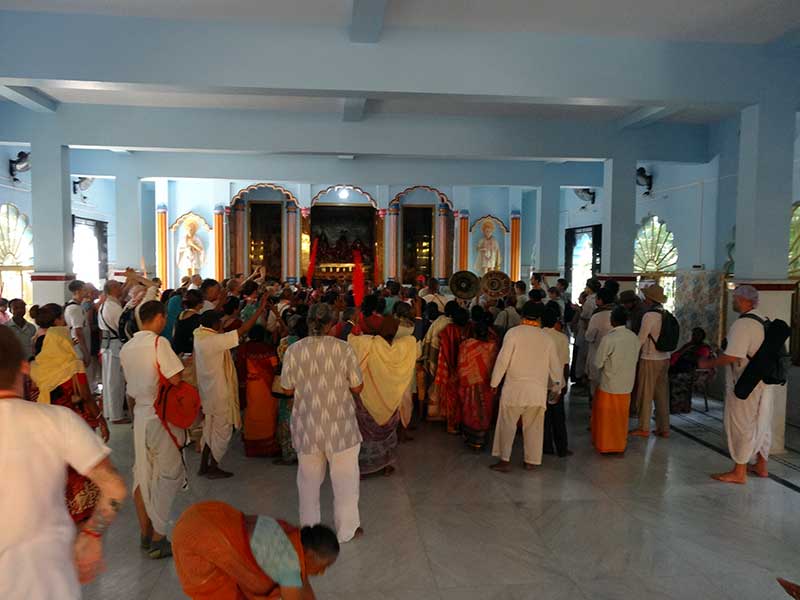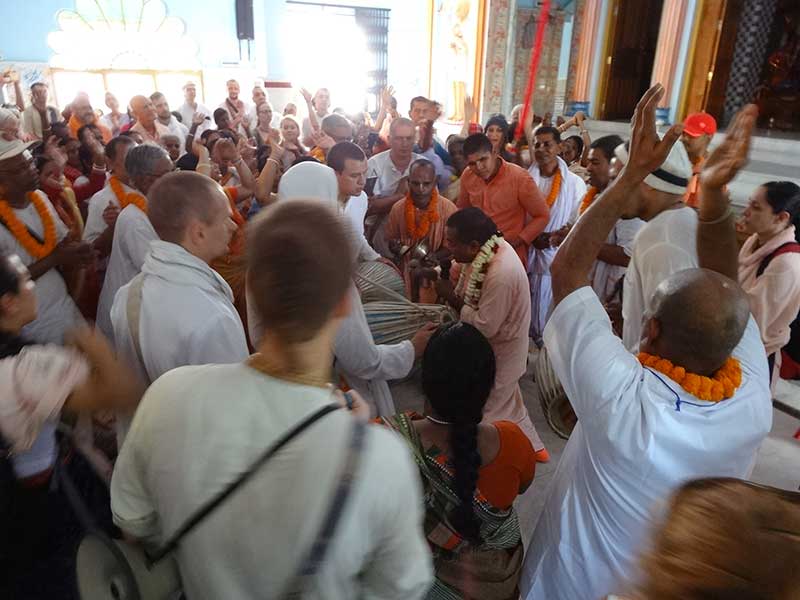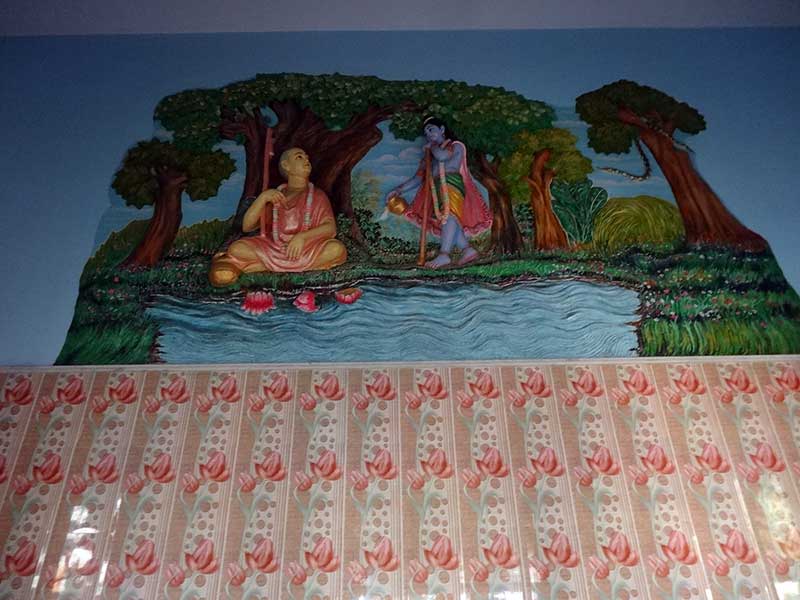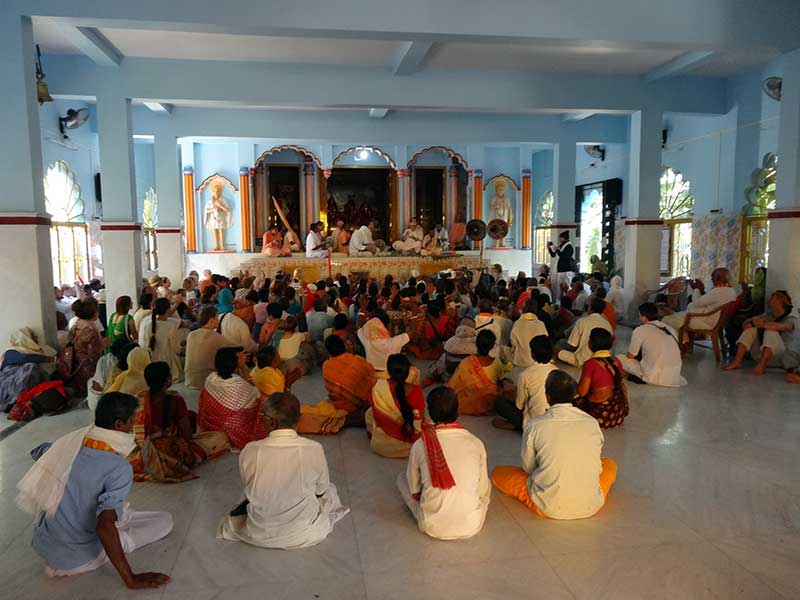 As Sripad B.K. Tyagi Maharaj noted, every time we visit Sri Surabhi Kunja Math we always feel pleasure to see the friendliness and true Vaishnava behaviour of Sripad Bhaktivedanta Avadhut Maharaj (in the photo: on the right, speaking sweetly to Srila Acharya Maharaj).

The next stop is Sri Svananda-sukhanda Kunja, the bhajan kutir of Srila Bhaktivinod Thakur.

Sri Sri Goura Gadadhar Deities worshipped by Srila Bhaktivinod Thakur here.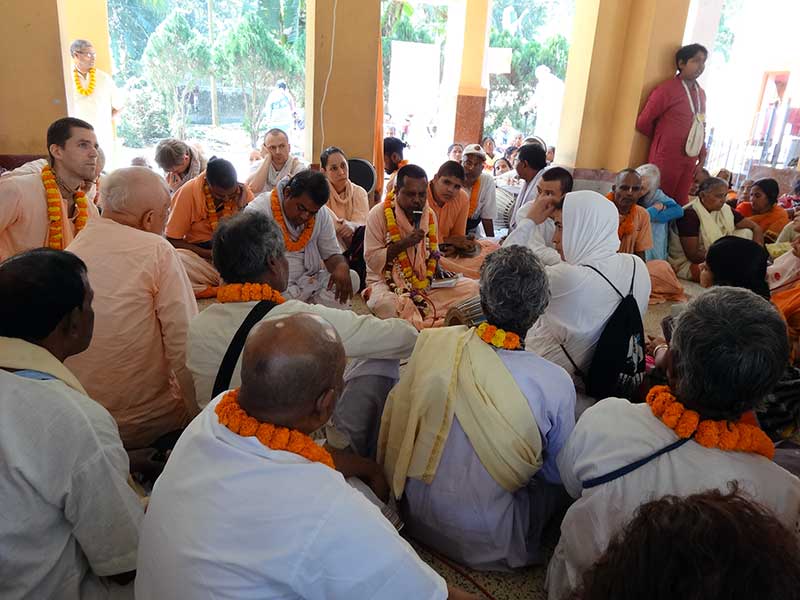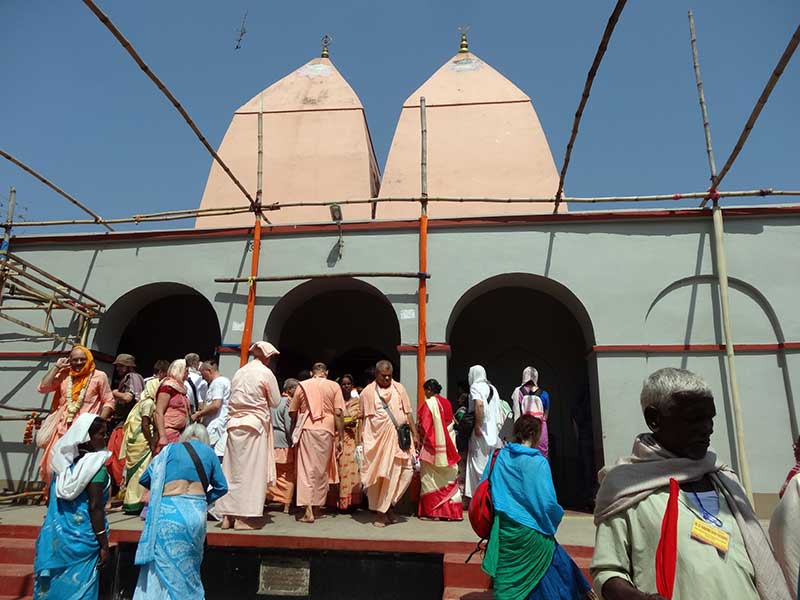 The last stop of the first day is Sri Hari-Hara ksetra.

The Deity of Sri Hari-Hara (Lord Krishna and Lord Siva combined murti).

His Divine Grace narrates the pastime of Lord Siva and Mohini Murti.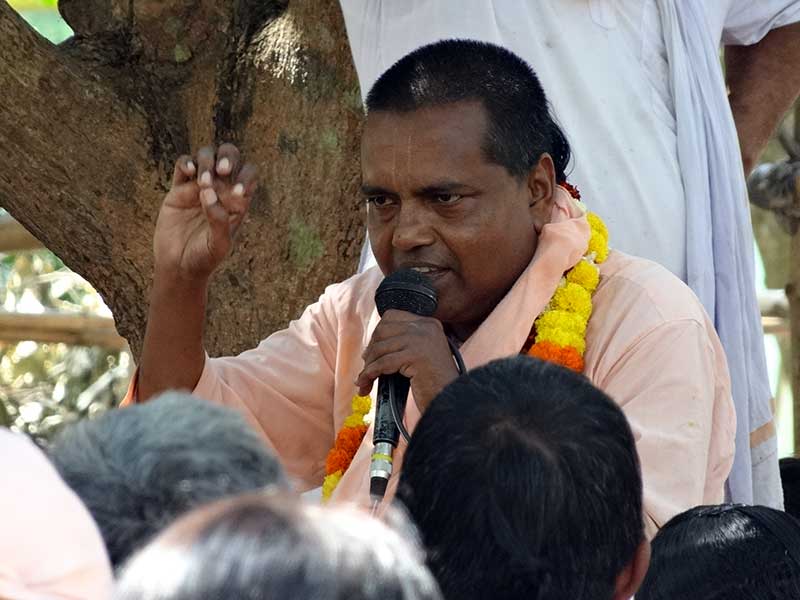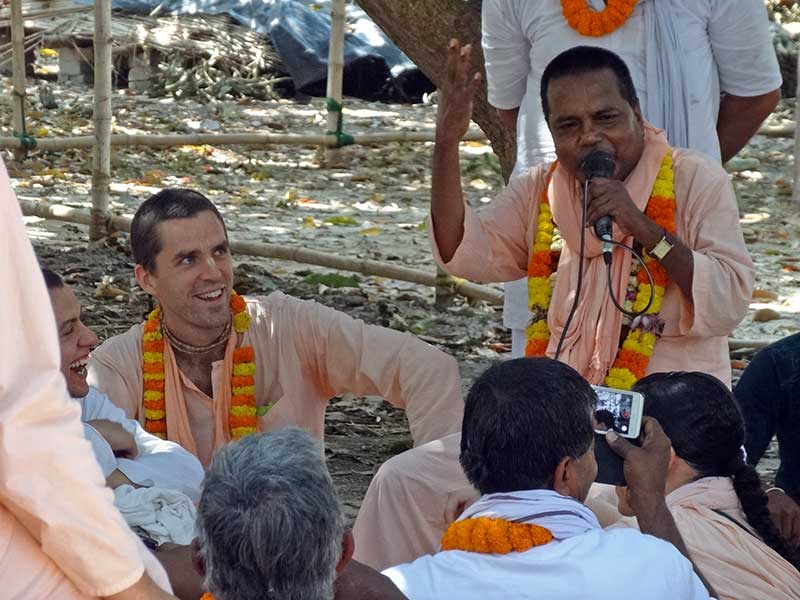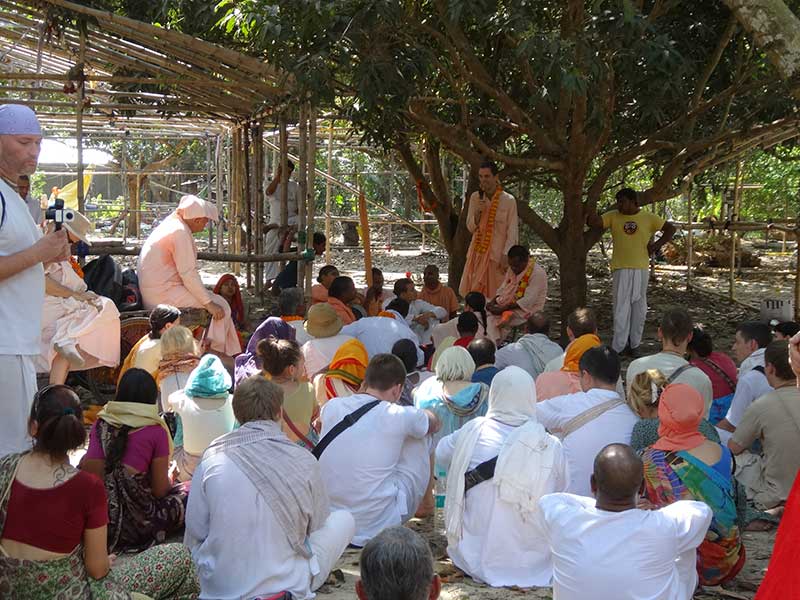 Sripad Tyagi Maharaj offers a detailed narration of the pastime found
in the eighth canto of Srimad Bhagavatam related to Sri Mohini Murti's incarnation.