| | |
| --- | --- |
| Our Disciplic Succession: | "The Sun Never Sets on Sri Chaitanya Saraswat Math": |
First Programme at Sri Tarakeshwar Temple
Saturday, 24 March 2018
pujya-sri-guru-varga-vandita-mahabhavanvitayah sada
paurvaparya-parampara-prachalita-prajya-pramurtakrteh
bhakter nirmala-nirjharasya nibhrtam samraksakam sadaram
vande sri-gurudevam anata-sira acharya-varyam nijam
"I bow my head in eternal obeisance to my Gurudev, the best of acharyas, Srila Bhakti Nirmal Acharya Maharaj. He is the ever vigilant, stalwart guardian of the current of pure devotion whose highest form flows from our most worshippable Sri Rupanuga Guru-varga in their exclusive dedication to Mahabhav, Srimati Radharani."
prerakam prachya-paschatya-sisyanam bhakti-vartmani
bhakti-nirmalam-acharya-svaminam pranamamy aham
"I offer my respectful obeisances to Swami Bhakti Nirmal Acharya, who is energetically inspiring all of Eastern and Western disciples on the path of pure devotion."

About Sri Tarakeswar Temple:

Tarakeshwar is the place where Srila Bhakti Vinod Thakur got a message from "Lord Siva. He wanted to go to Vrindavan, but Lord Siva gave him a message, 'Why are you going to Vrindavan? What for? What is your duty, what is your service there? Do not go there. You must discover the birthplace of Chaitanya Mahaprabhu, that is your duty, that is your service.' Gurudev is also a son of Lord Siva, he always prays to Lord Siva. He told me, 'If you want to make something in Govinda Kunda, you must make a Sada Siva Gangadhar temple there,' and I made it. For these reasons I think Tarakeshwar is a good place. Tarakeshwar is the name of Sivji Maharaj's temple there, the land that we got is near it.

Their Lordships presiding at the Temple, Sri Sri Guru Gauranga Radha Madan-mohanjiu.

Starting the temple parikrama.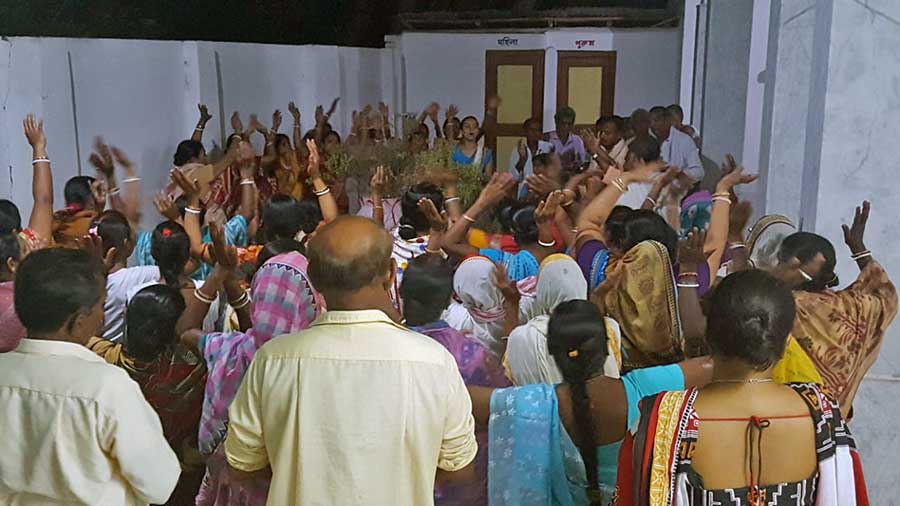 Arati of Srimati Tulasi Devi.
"Every day we do Tulasi parikrama and we ask Tulasi in the pranam mantra, 'Please give me some devotion!' Tulasi Devi has so much devotion and every day we pray to her—to Bhakti Devi, Tulasi Devi—only for devotion. In every house, we must keep Tulasi. She is the proprietor of your house."
(
Pious Practice", Srila B.N. Acharya Maharaj
)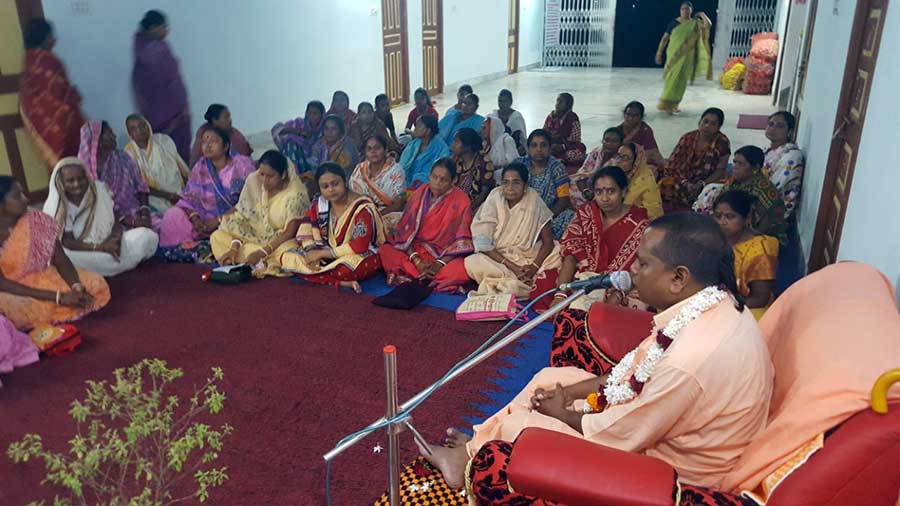 "HUMILITY, TOLERANCE, GIVING HONOUR TO OTHERS | HUMILITY, TOLERANCE, GIVING HONOUR TO OTHERS"