| | |
| --- | --- |
| Our Disciplic Succession: | "The Sun Never Sets on Sri Chaitanya Saraswat Math": |
Preaching Programme in Kulgachia
Sunday, 6 May 2018
pujya-sri-guru-varga-vandita-mahabhavanvitayah sada
paurvaparya-parampara-prachalita-prajya-pramurtakrteh
bhakter nirmala-nirjharasya nibhrtam samraksakam sadaram
vande sri-gurudevam anata-sira acharya-varyam nijam
"I bow my head in eternal obeisance to my Gurudev, the best of acharyas, Srila Bhakti Nirmal Acharya Maharaj. He is the ever vigilant, stalwart guardian of the current of pure devotion whose highest form flows from our most worshippable Sri Rupanuga Guru-varga in their exclusive dedication to Mahabhav, Srimati Radharani."
prerakam prachya-paschatya-sisyanam bhakti-vartmani
bhakti-nirmalam-acharya-svaminam pranamamy aham
"I offer my respectful obeisances to Swami Bhakti Nirmal Acharya, who is energetically inspiring all of Eastern and Western disciples on the path of pure devotion."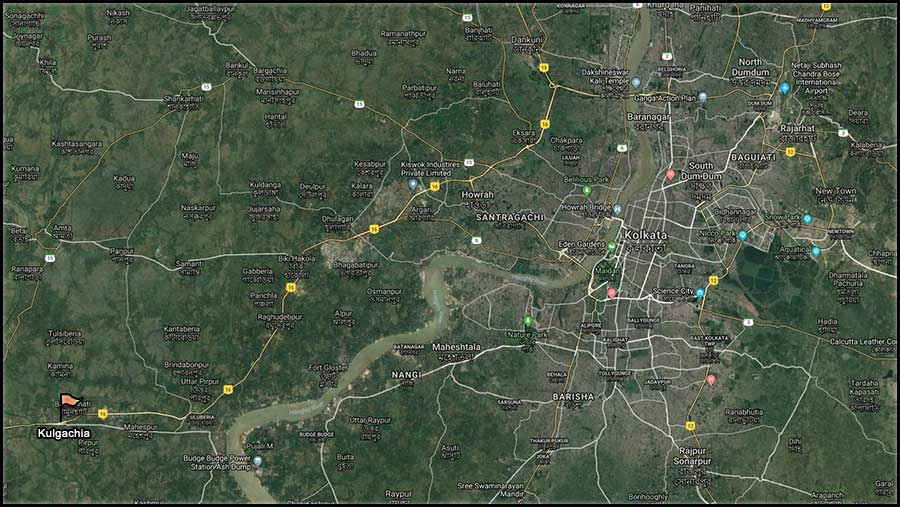 মহান্ত-স্বভাব এই তারিতে পামর ।
নিজ-কার্য্য নাহি তবু যান তার ঘর ॥
mahanta-svabhava ei tarite pamara
nija karya nahi tabu yana tara ghara
"It is the general practice of all saintly people to deliver the fallen. Therefore they go to people's houses, although they have no personal business there."
(Sri Chaitanya-charitamrita, Madhya-lila, 8.39)

During the class, His Divine Grace explains at length what the duties of a sincere disciple are and
what their basic daily spiritual practices should be.

Sachinandan Prabhu is attending to the books distribution.

Vasudev Krishna Prabhu is distributing leaflets.

Sumptuous prasadam ready to be distributed to the assembled devotees.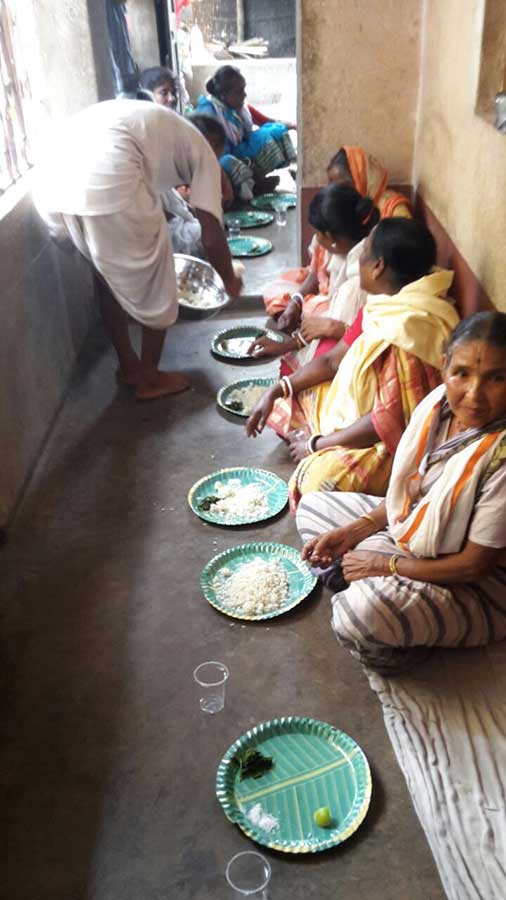 Serving prasadam, the concluding part of the holy Vaishnav-seva.
"HUMILITY, TOLERANCE, GIVING HONOUR TO OTHERS | HUMILITY, TOLERANCE, GIVING HONOUR TO OTHERS"