| | |
| --- | --- |
| Our Disciplic Succession: | "The Sun Never Sets on Sri Chaitanya Saraswat Math": |
Evening Programme (Day Two)
Friday, 4 January 2019
Andhra Pradesh
Photographs courtesy of
Sri Vasudev Krishna Prabhu and
Sri Purna Prajna Prabhu
pujya-sri-guru-varga-vandita-mahabhavanvitayah sada
paurvaparya-parampara-prachalita-prajya-pramurtakrteh
bhakter nirmala-nirjharasya nibhrtam samraksakam sadaram
vande sri-gurudevam anata-sira acharya-varyam nijam
"I bow my head in eternal obeisance to my Gurudev, the best of acharyas, Srila Bhakti Nirmal Acharya Maharaj. He is the ever vigilant, stalwart guardian of the current of pure devotion whose highest form flows from our most worshippable Sri Rupanuga Guru-varga in their exclusive dedication to Mahabhav, Srimati Radharani."
tirtha-phala sadhu-sanga,
sadhu-sange antaranga,
sri-krsna-bhajana manohara
yatha sadhu, tatha tirtha,
sthira kari' nija-chitta,
sadhu-sanga kara nirantara
The result of visiting a place of pilgrimage is sadhu-sanga (pure devotees' association) and being drawn to the exclusive service of Sri Krishna. A place of pilgrimage is where a sadhu (pure devotee) is. Always keep the association of pure devotees and firmly fix your mind by such association.
jaya nrsimha, sri nrsimha, jaya jaya nrsimha
prahladesa jaya padma-mukha-padma-bhrnga
"All glories to Nrisinghadev! All glories to Nrisinghadev, who is the Lord of Prahlad Maharaj and, like a honeybee, is always engaged in beholding the lotus face of the goddess of fortune."
ito nrsimha parato nrsimho
yato yato yami tato nrsimhah
bahir nrsimho hrdaye nrsimho
nrsimham adim saranam prapadye
"Nrsimha is here, Nrsimha is there—Nrsimha is wherever I go. Nrsimha is outside, Nrsimha is within my heart. I am surrendered unto that primeval Lord Nrsimha."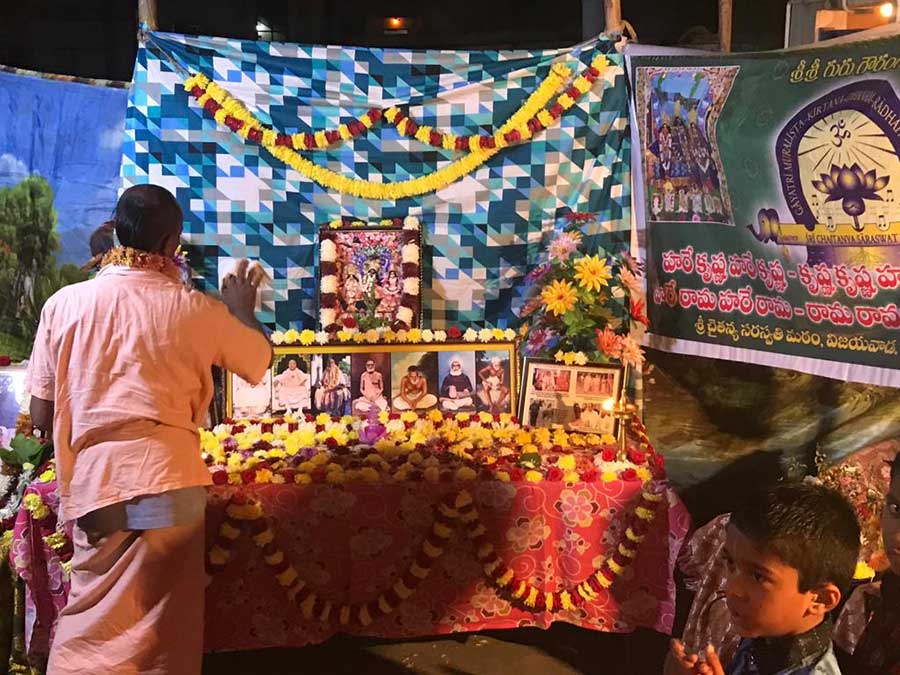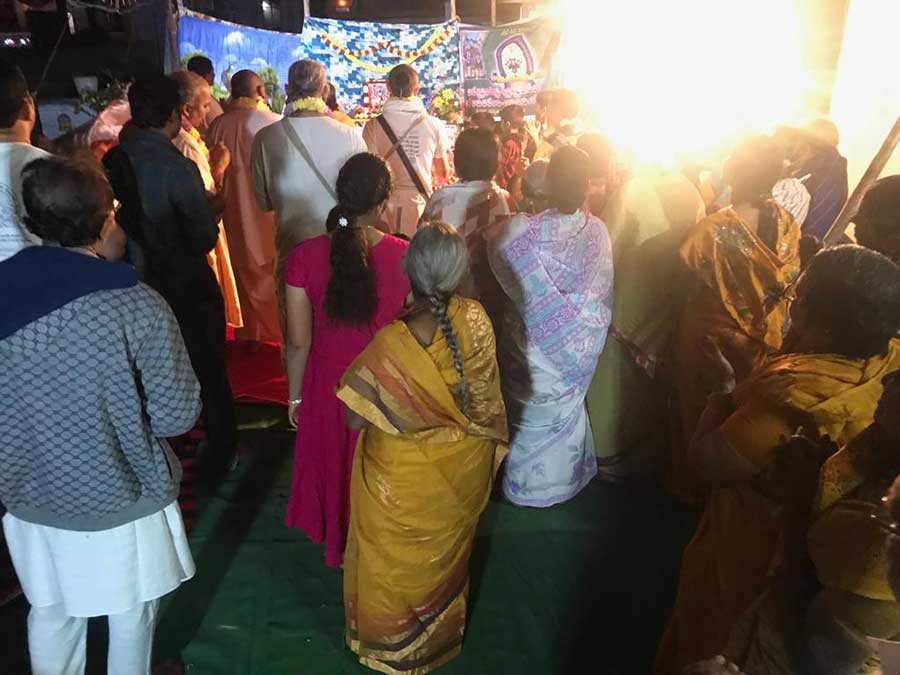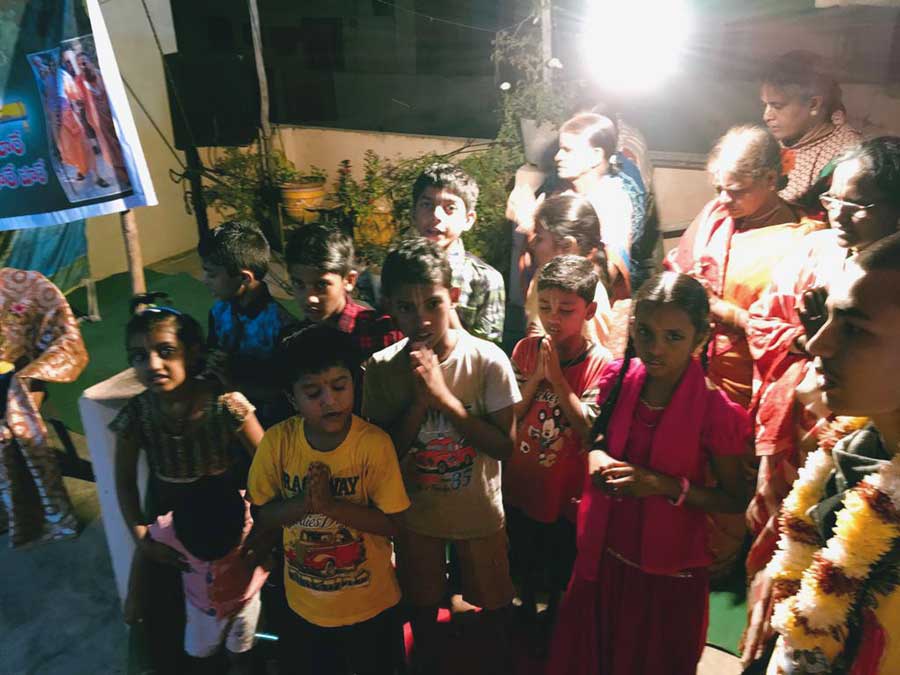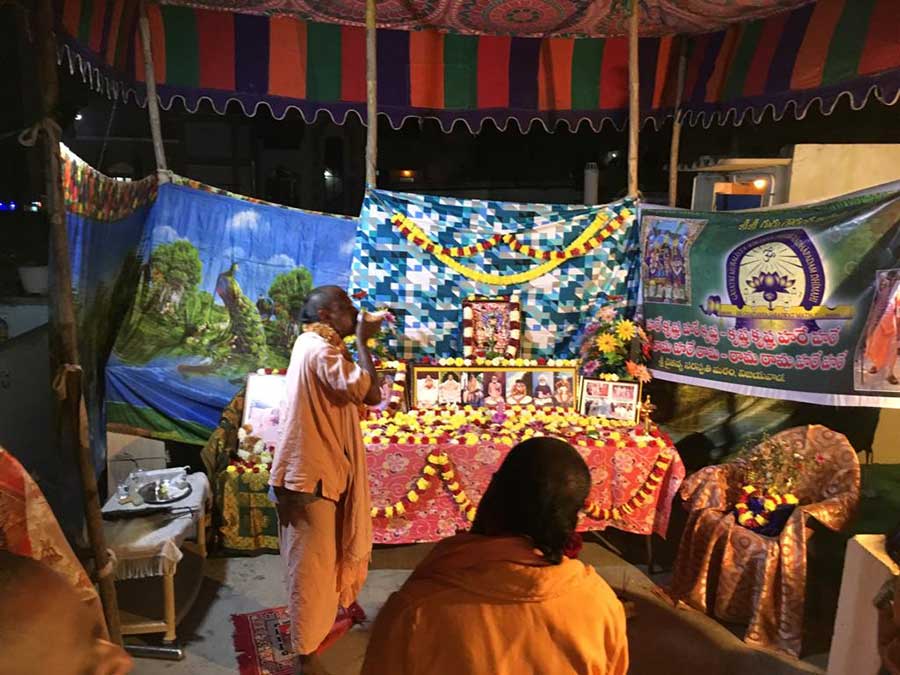 Sri Tulasi Devi parikrama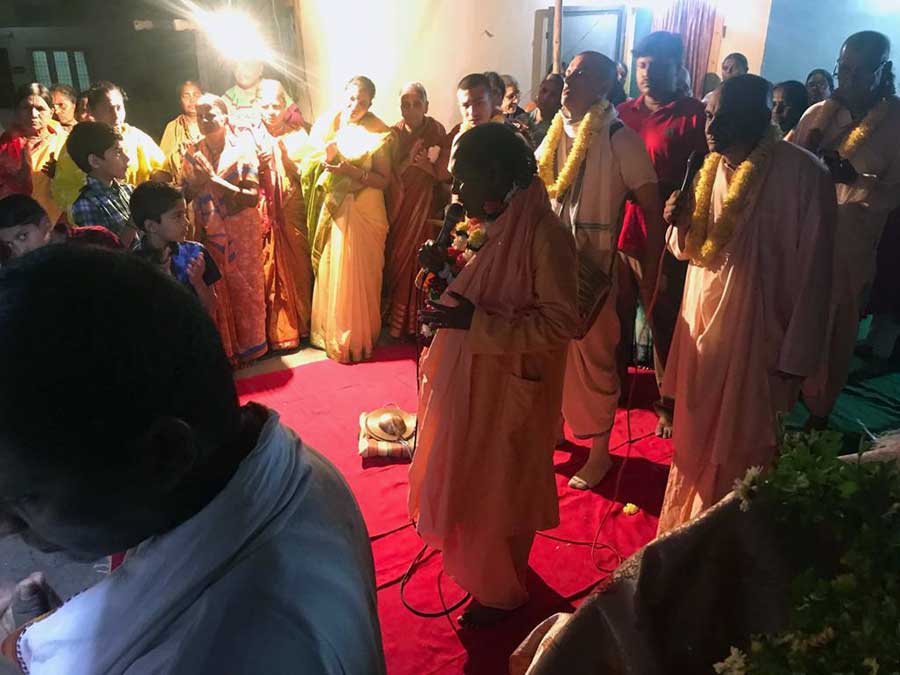 Sripad Shanta Maharaj (third from the left) interpreting for His Divine Grace from English into Telugu during the South Indian tour.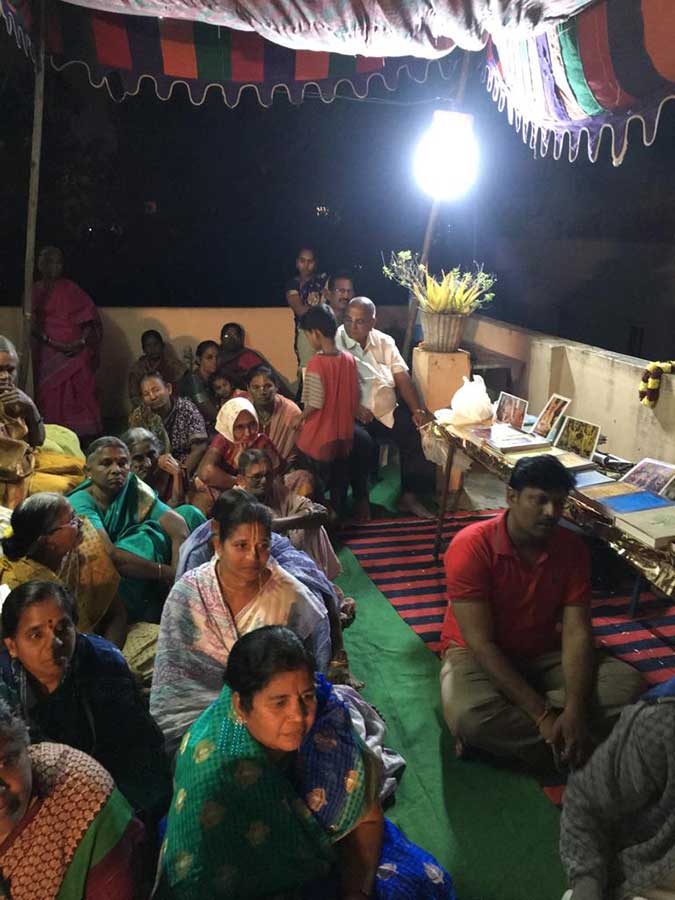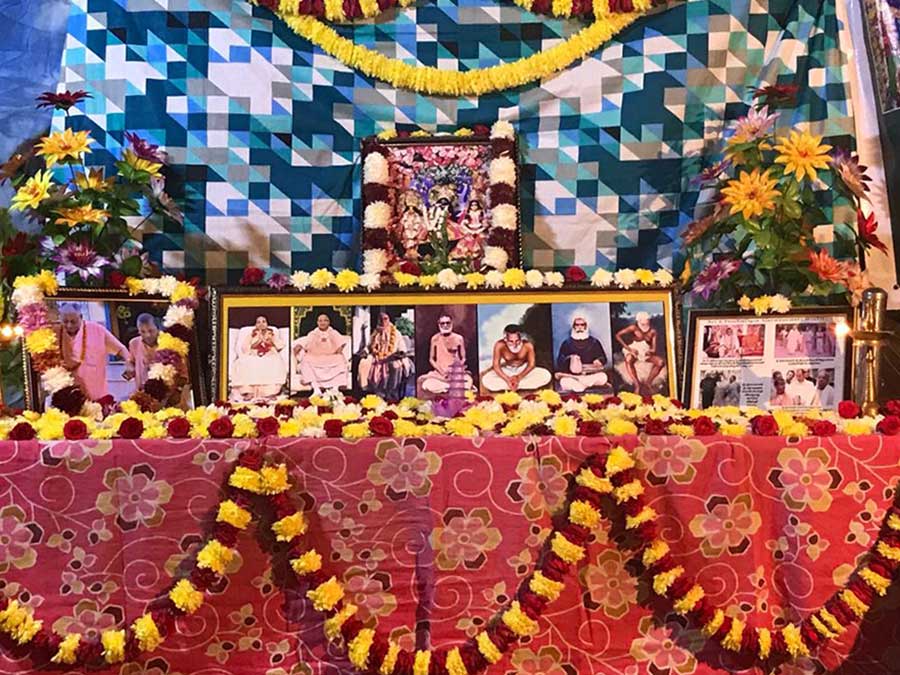 At the end of the class, devotees and guests crowd to give a small offering to His Divine Grace.
"HUMILITY, TOLERANCE, GIVING HONOUR TO OTHERS | HUMILITY, TOLERANCE, GIVING HONOUR TO OTHERS"