| | |
| --- | --- |
| Our Disciplic Succession: | "The Sun Never Sets on Sri Chaitanya Saraswat Math": |
Sri Baladev Purnima
Thursday, 15 August 2019
Dum Dum Park, Kolkata, West Bengal
Photographs courtesy of Sripad B.N. Sadhu Maharaj
pujya-sri-guru-varga-vandita-mahabhavanvitayah sada
paurvaparya-parampara-prachalita-prajya-pramurtakrteh
bhakter nirmala-nirjharasya nibhrtam samraksakam sadaram
vande sri-gurudevam anata-sira acharya-varyam nijam
"I bow my head in eternal obeisance to my Gurudev, the best of acharyas, Srila Bhakti Nirmal Acharya Maharaj. He is the ever vigilant, stalwart guardian of the current of pure devotion whose highest form flows from our most worshippable Sri Rupanuga Guru-varga in their exclusive dedication to Mahabhav, Srimati Radharani."
vaisnavera pada-dhuli tahe mora snana-keli
tarpana mora vaisnavera nama
vaisnavera uchchhista tahe mora mano-nistha
vaisnavera namete ullasa
"The feet dust of the Vaishnavs is where I sport and take bath, Vaishnavs' name is the water oblation. My mind is intently fixed upon the remnants of Vaishnavs, and I am elated at the name of Vaishnavs."
gangara-parasa ha-ile paschate pavana
darsane pavitra kara—ei tomara guna
"If the Ganges touches someone, they are purified some time later; but one becomes purified just by seeing you, O Vaishnava Thakur. Such is your power."
sphurad-amala-kiritam kinkini-kankanarham
chalad-alaka-kapolam kundala-sri-mukhabjam
tuhina-giri-manojnam nila-meghambaradhyam
hala-musala-visalam kama-palam samide
"He is adorned with a shining spotless crown, bangles, and ankle bells; His curly hair plays on His lotus cheeks, and earrings embellish the beauty of His lotus face; dressed in fine clothes of rich blue colour like that of a blue cloud, He is as captivating as a snow-capped mountain; He is also carrying a great plough and a club. This Balaram—One who fulfils all desires—do I offer my prayers to."

Nitai Charan Prabhu, Arati Devi Dasi, Sripad B.V. Parivrajak Maharaj, Jagannath Prabhu.

Ramanuja Prabhu, Krishna Kumar Prabhu.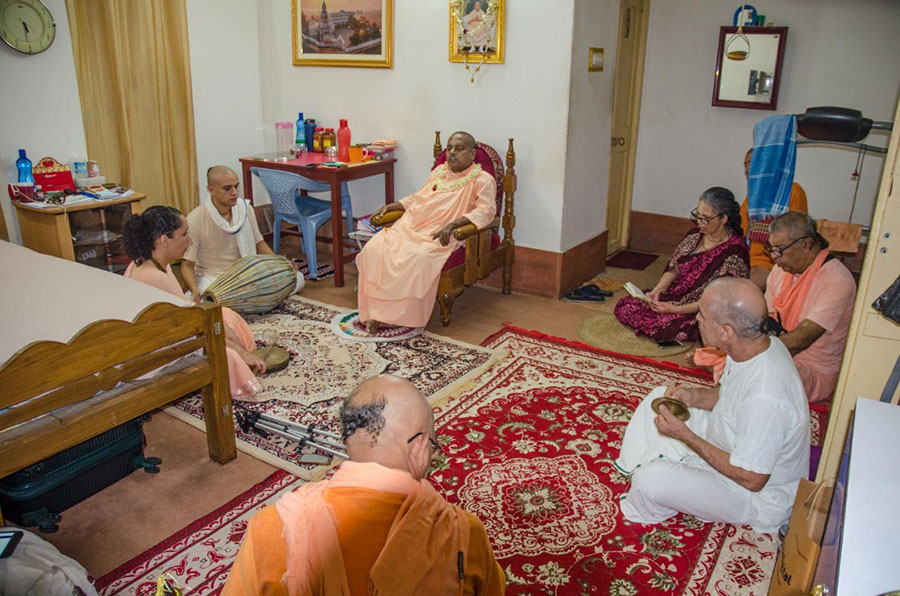 HARE KRISHNA HARE KRISHNA KRISHNA KRISHNA HARE HARE | HARE RAMA HARE RAMA RAMA RAMA HARE HARE