Sri Nabadwip Dham Parikrama: Sri Gaura Avirbhav
Sunday, 28 March 2021
Nabadwip, Nadia, West Bengal
Photographs courtesy of Sripad B.N. Sadhu Maharaj
pujya-sri-guru-varga-vandita-mahabhavanvitayah sada
paurvaparya-parampara-prachalita-prajya-pramurtakrteh
bhakter nirmala-nirjharasya nibhrtam samraksakam sadaram
vande sri-gurudevam anata-sira acharya-varyam nijam
"I bow my head in eternal obeisance to my Gurudev, the best of acharyas, Srila Bhakti Nirmal Acharya Maharaj. He is the ever vigilant, stalwart guardian of the current of pure devotion whose highest form flows from our most worshippable Sri Rupanuga Guru-varga in their exclusive dedication to Mahabhav, Srimati Radharani."
---
nadiya udayagiri purna-chandra gaura-hari
krpa kari ha-ila udaya
papa-tamo haila nasa, tri-jagatera ullasa,
jagabhari hari-dhvani haya
"By His causeless mercy the full moon Gaurahari arose in the district of Nadia, which is compared to Udayagiri, where the sun first becomes visible—His rising in the sky destroyed the darkness of sin; all three worlds became joyful and chanted the Holy Name of the Lord."
vaisnavera pada-dhuli tahe mora snana-keli
tarpana mora vaisnavera nama
vaisnavera uchchhista tahe mora mano-nistha
vaisnavera namete ullasa
"The feet dust of the Vaishnavs is where I sport and take bath, Vaishnavs' name is the water oblation. My mind is intently fixed upon the remnants of Vaishnavs, and I am elated at the name of Vaishnavs."
gangara-parasa ha-ile paschate pavana
darsane pavitra kara—ei tomara guna
"If the Ganges touches someone, they are purified some time later; but one becomes purified just by seeing you, O Vaishnava Thakur. Such is your power."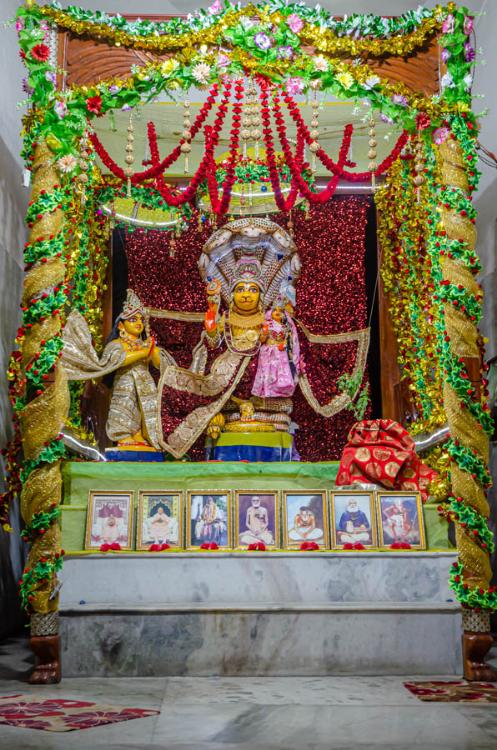 Their Lordships Sri Gopal, Sri Sri Gaura Nityananda, Sri Prahlad Maharaj and Sri Sri Laksmi-Nrisinghadev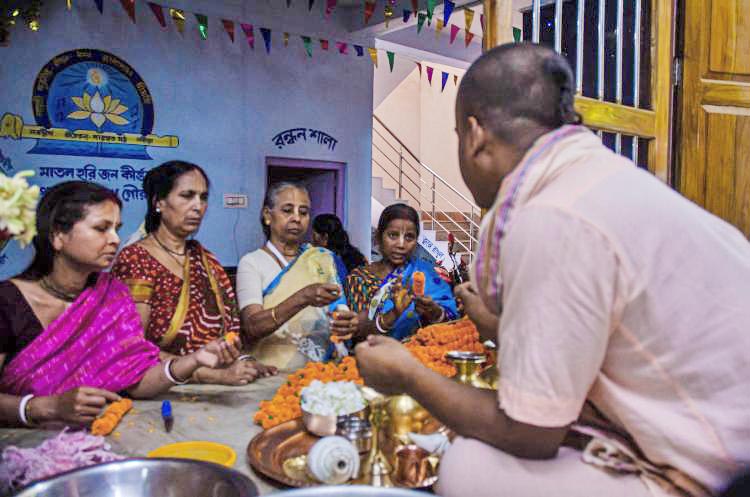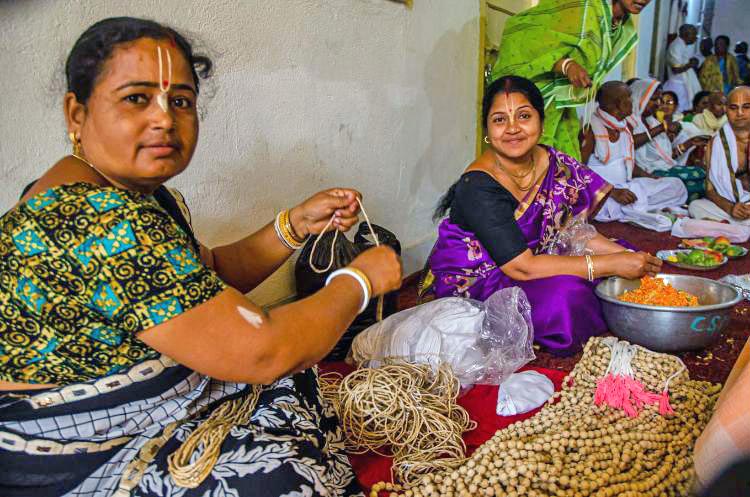 Sorting Tulasi beads and preparing flower petals for puspanjali for the initiations.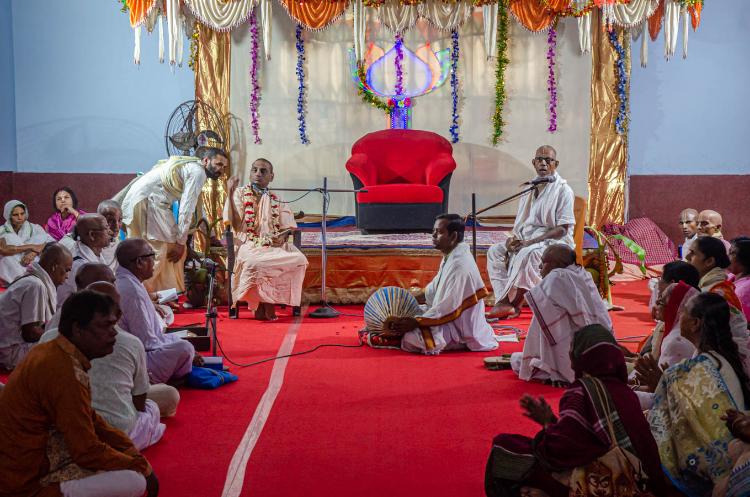 Sripad Shanta Maharaj, followed by Sripad Muni Maharaj give morning class....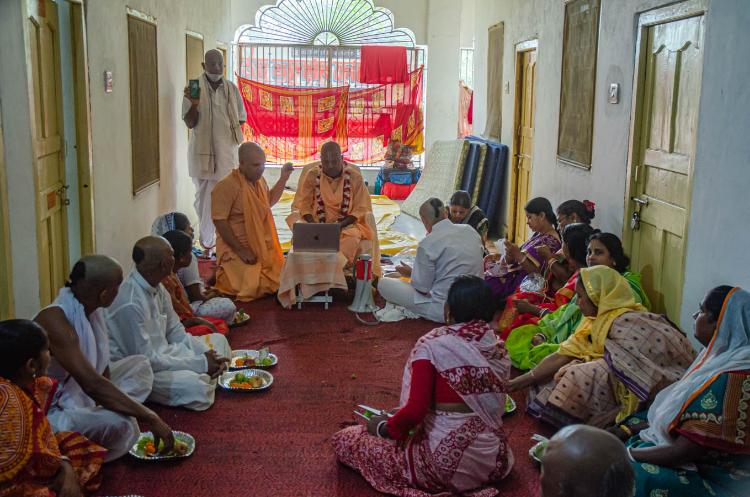 ....while His Divine Grace grants initiation to fortunate seekers.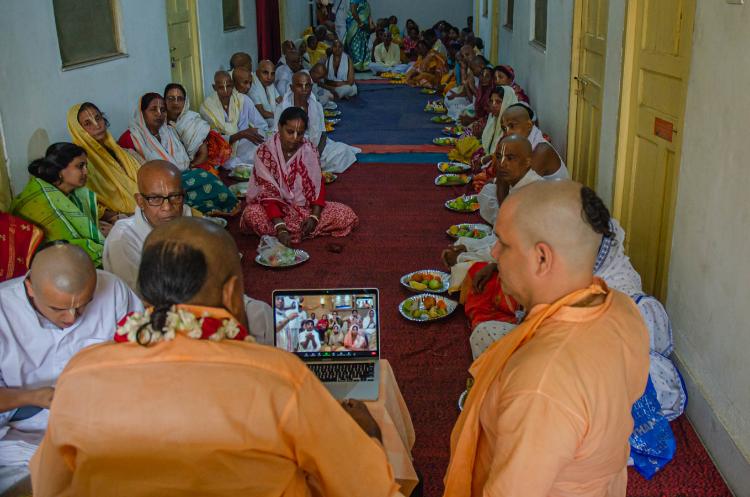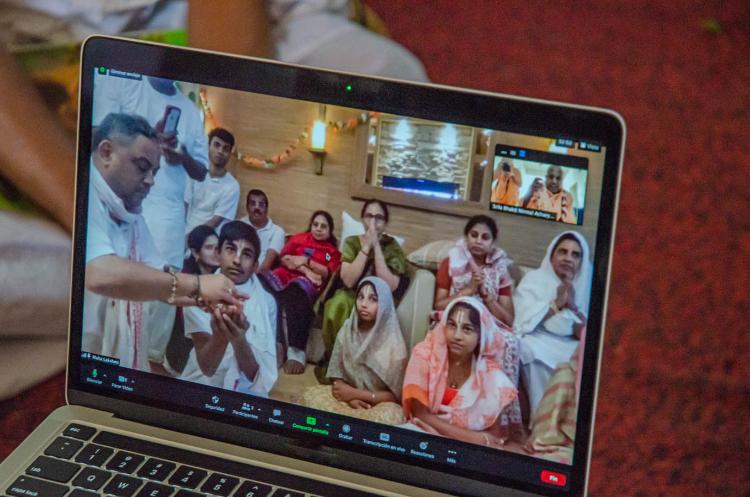 An initiation in Singapore.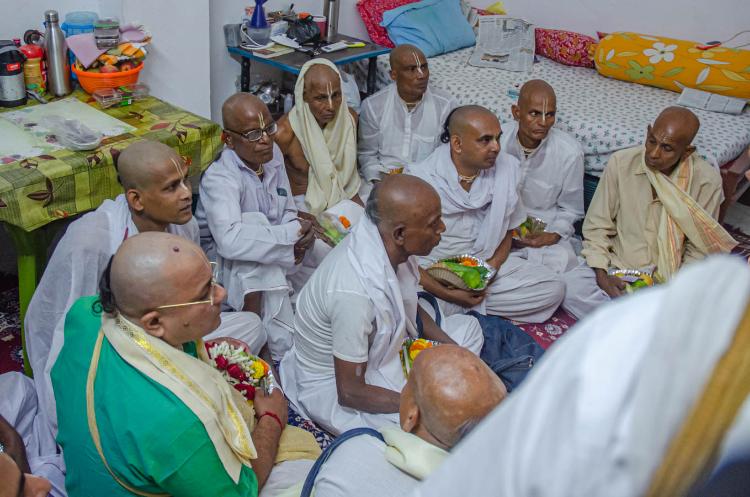 Above and below: second initiations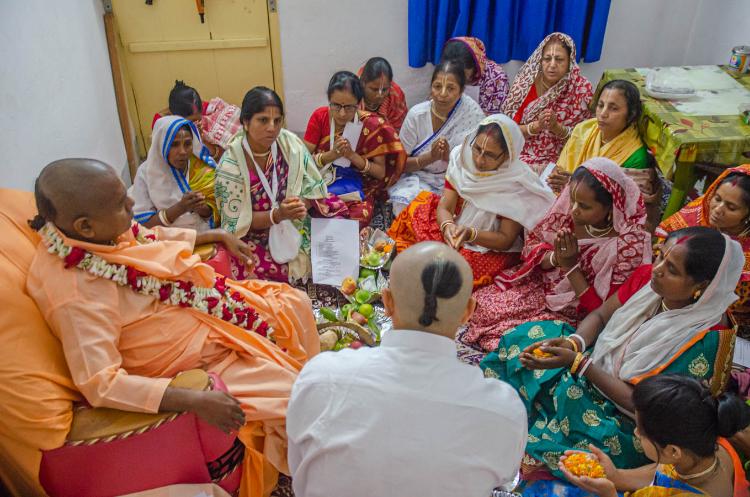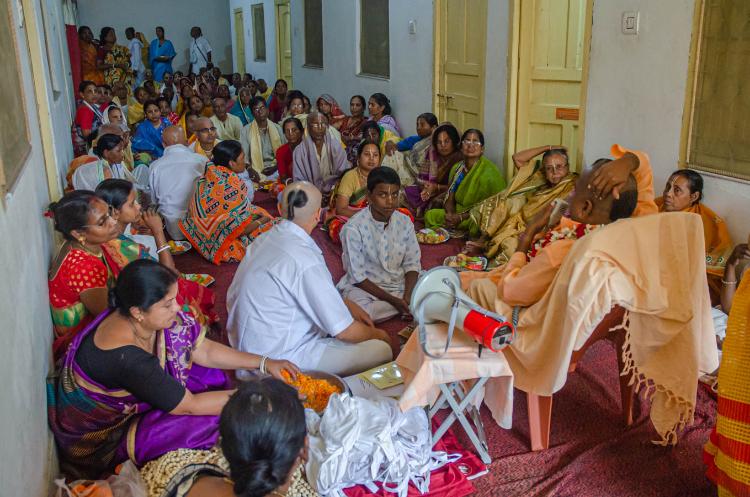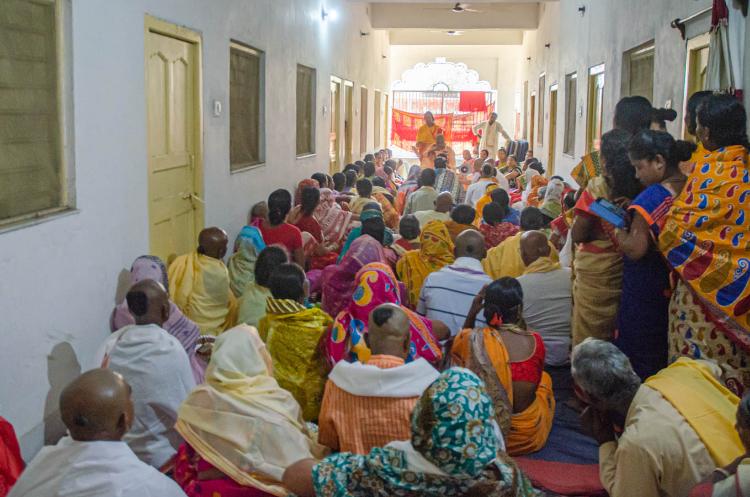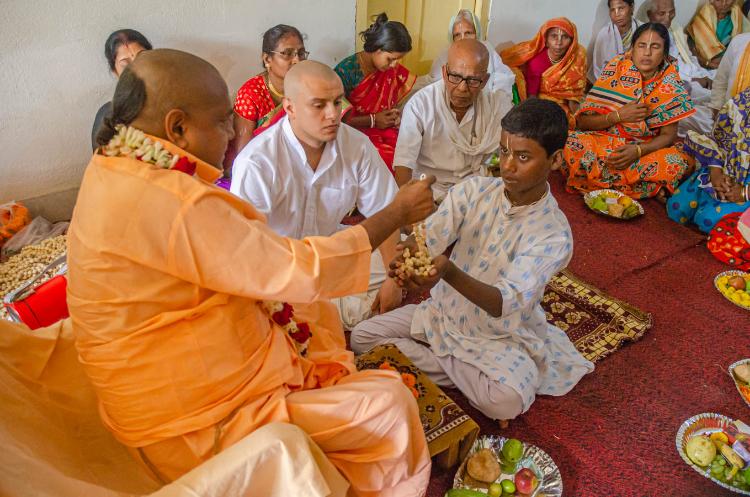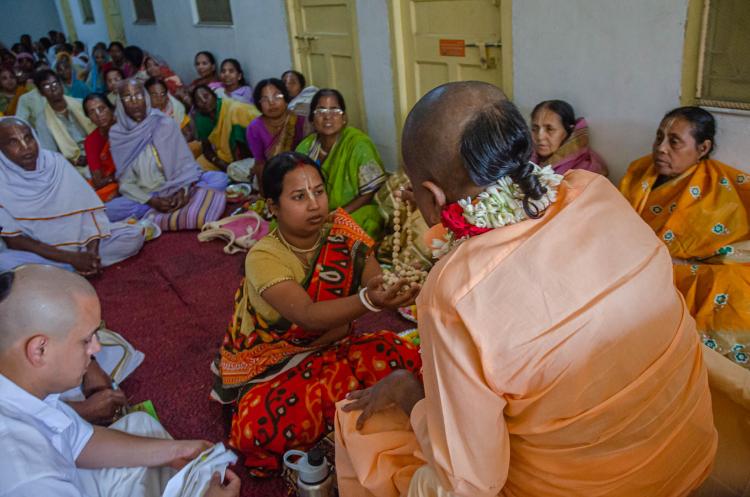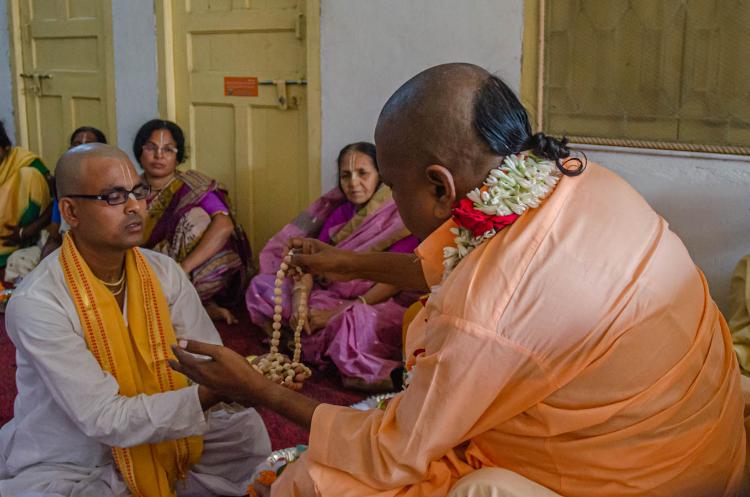 Sripad Bhakti Chandan Vishnu Maharaj doing the fire yajna and giving the brahman thread to the male devotees after they have received the second initiation.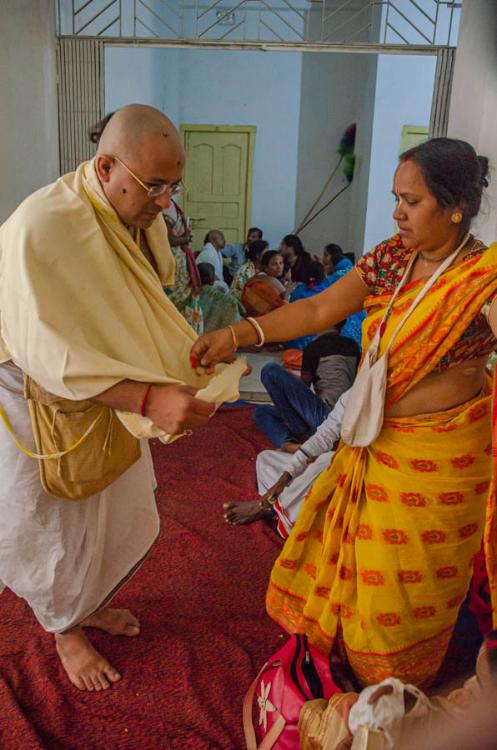 It is a common custom for the initiated brahmans to collect guru-daksina outside the temple after receiving the brahman initiation—many devotees who see them at the temple also give a donation as it is a part of pious behaviour.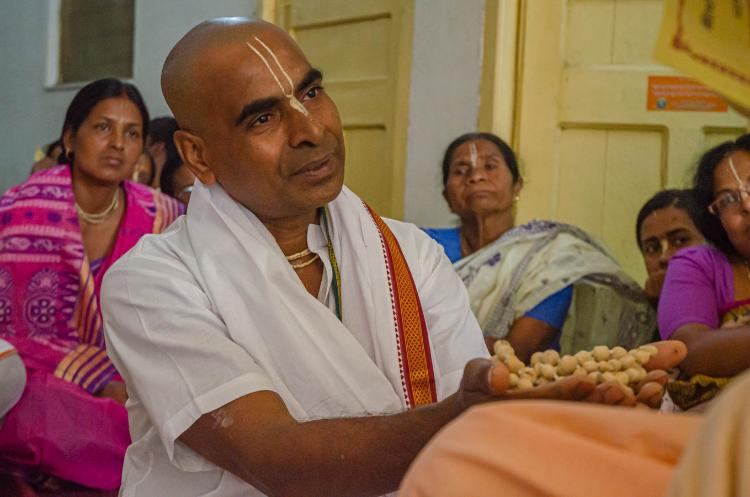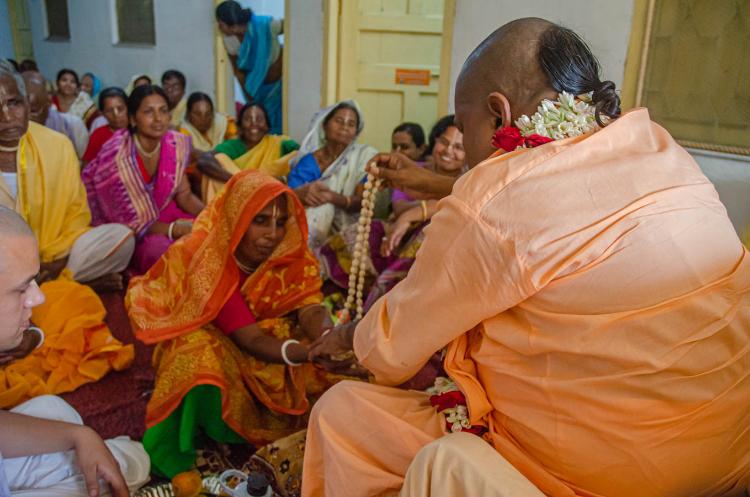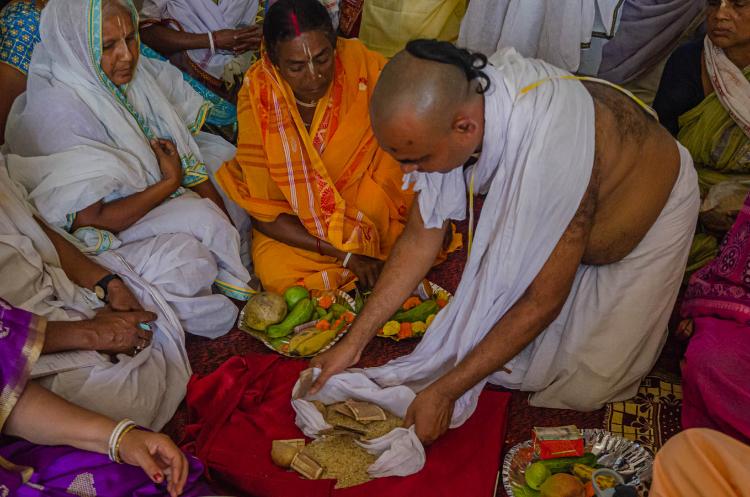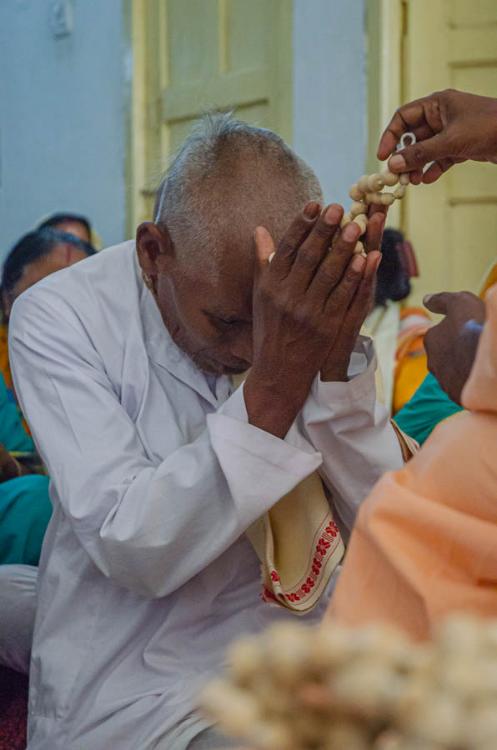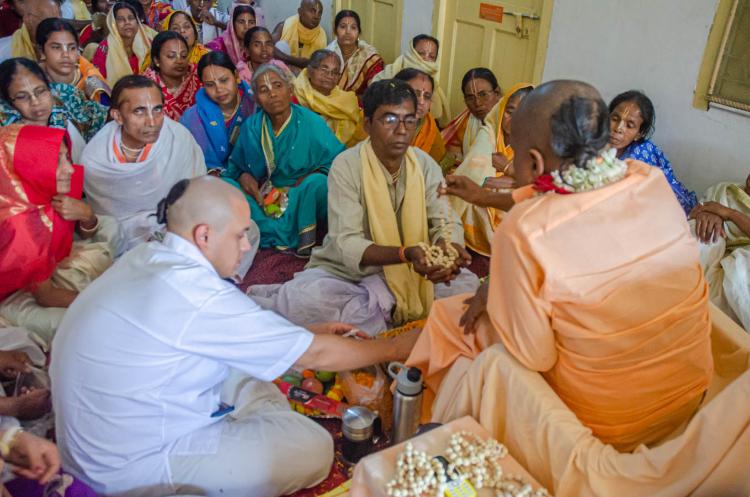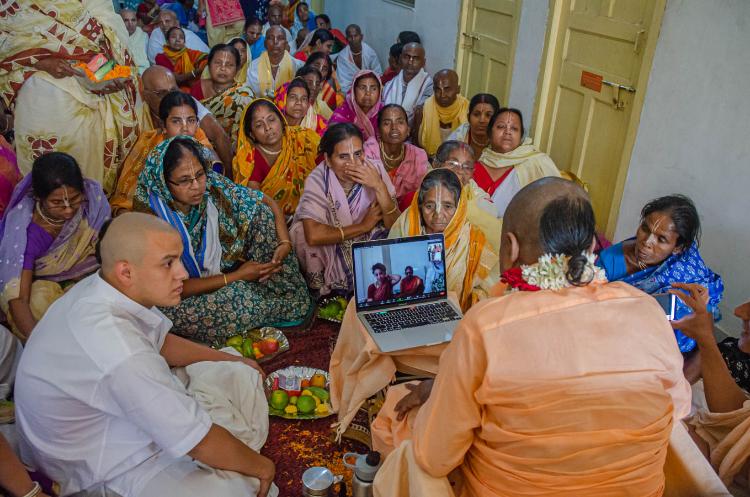 A glimpse of the joyful noon arati.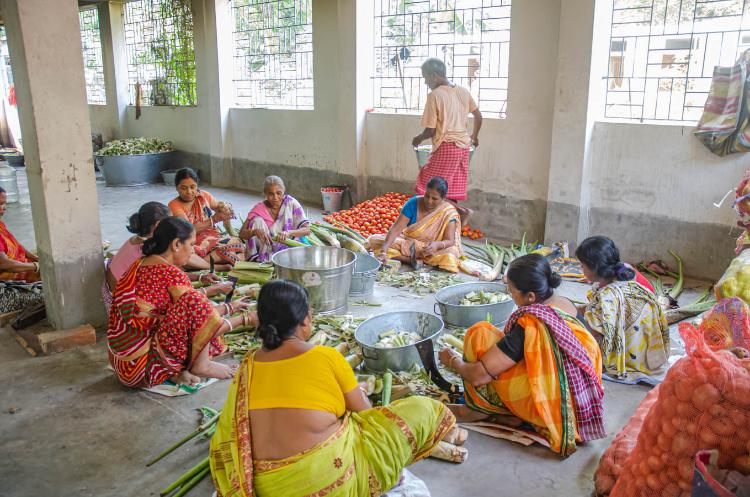 Devotees are busy in the kitchen quarters virtually the whole day from morning to evening cleaning and cutting the vegetables, cooking, etc.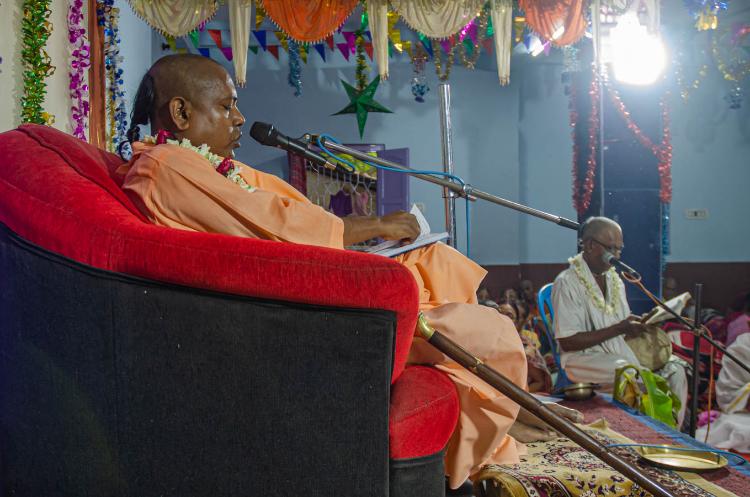 About two hours before moonrise, His Divine Grace comes to preside over the festive programme celebrating the holy advent of Sri Gaurasundar.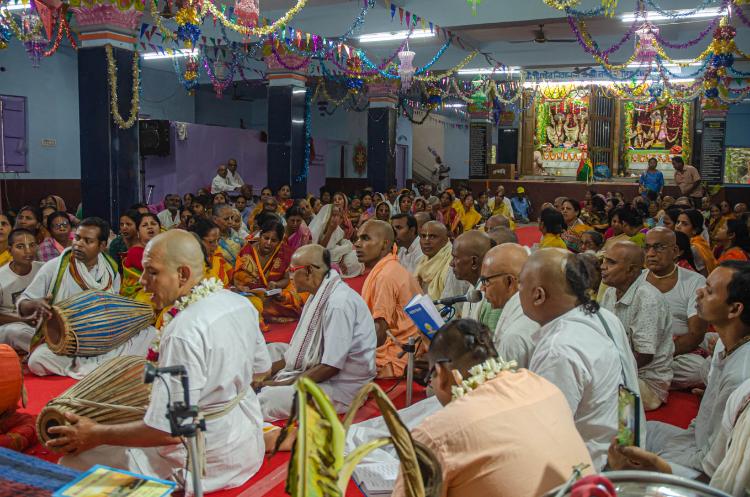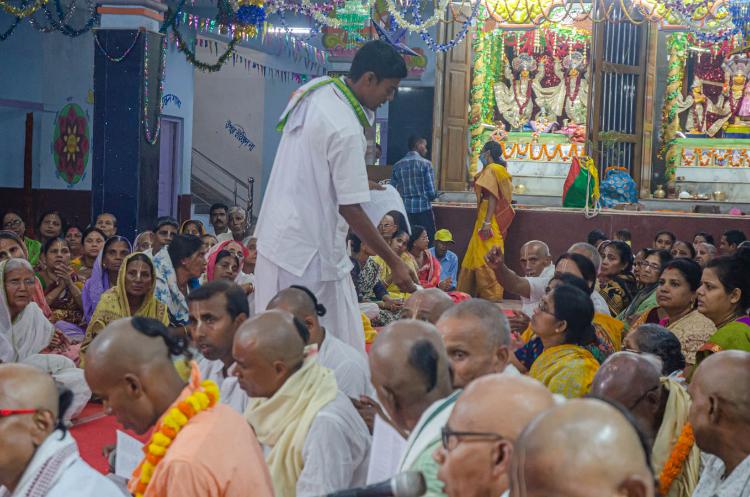 Sripad Bhakti Vijnan Muni Maharaj addressing the assembled devotees.

After the class, everybody comes to participate in the divine kirtan and arati of the Lordships.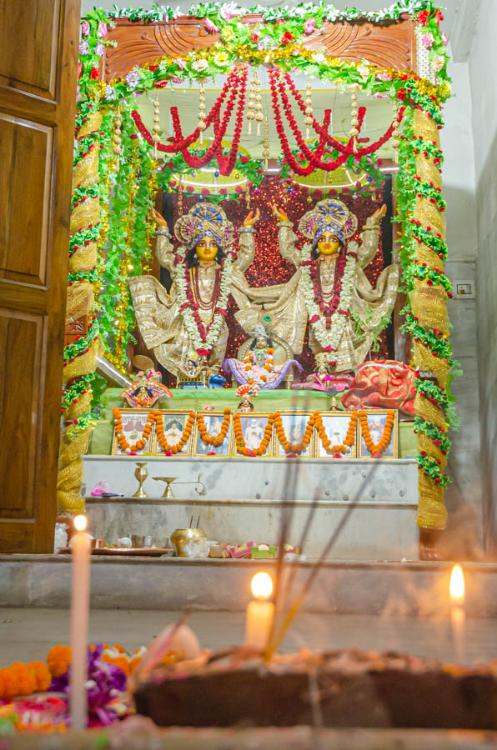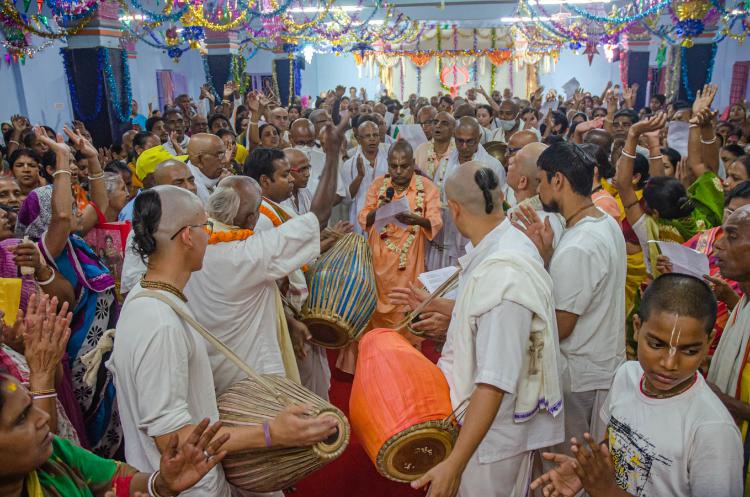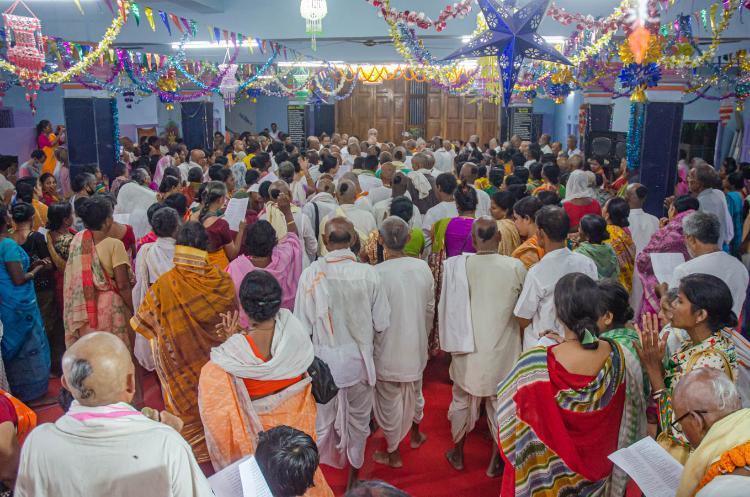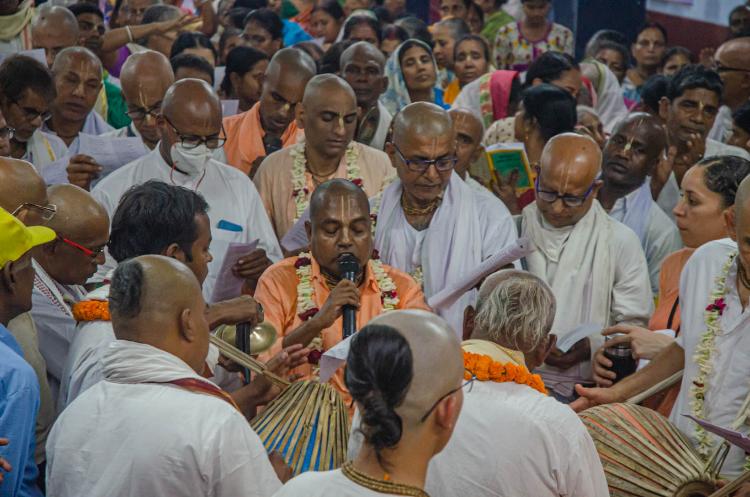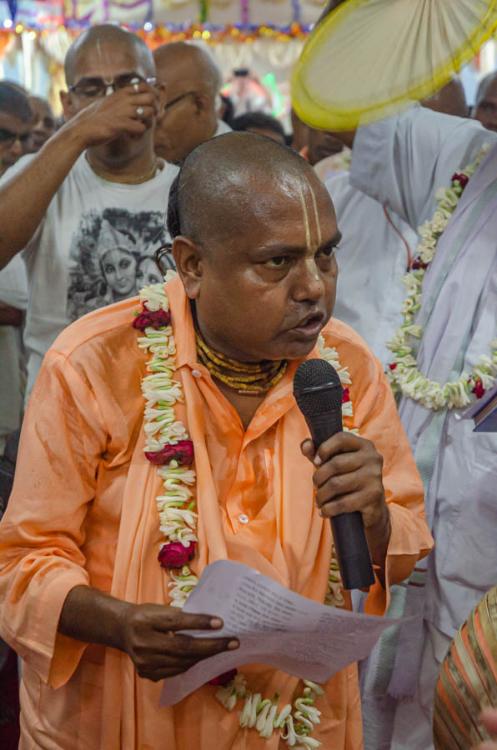 His Divine Grace is chanting the verses from Sri Chaitanya-charitamrita describing the holy advent of the Lord on this day.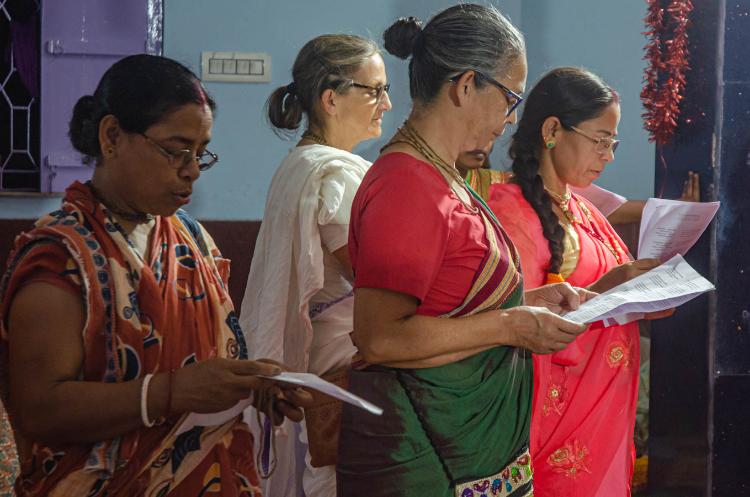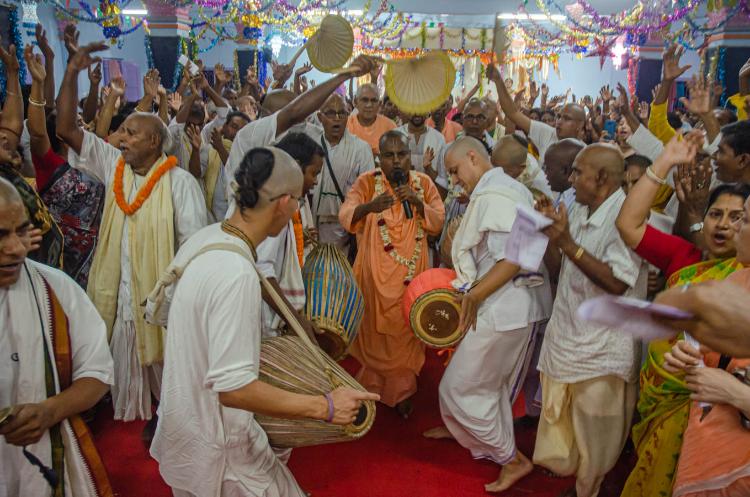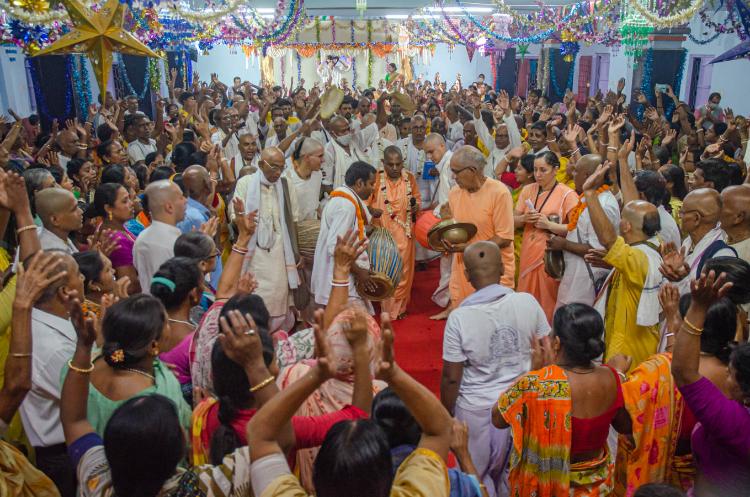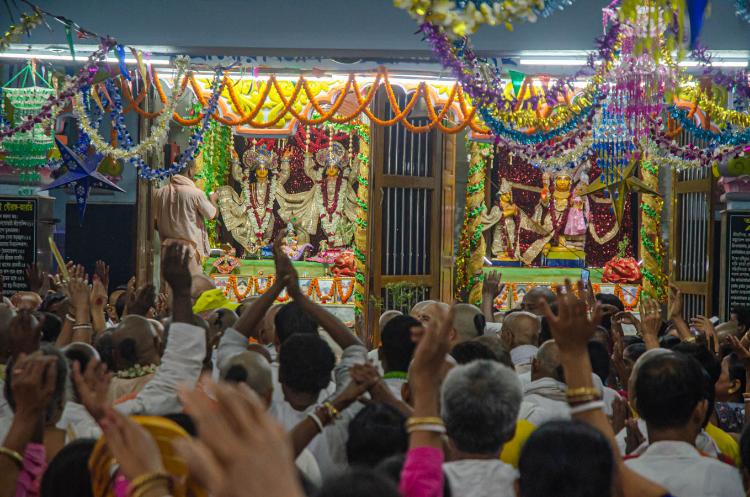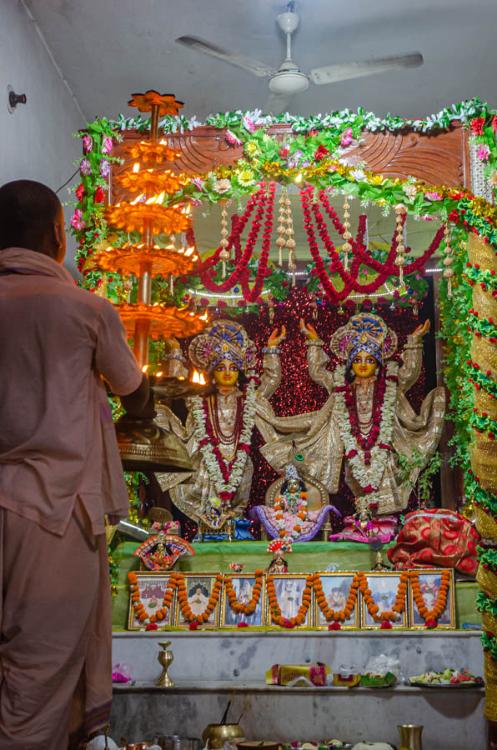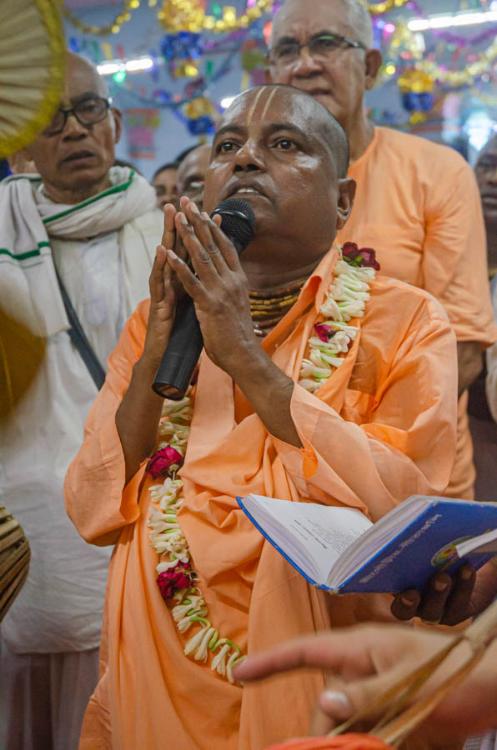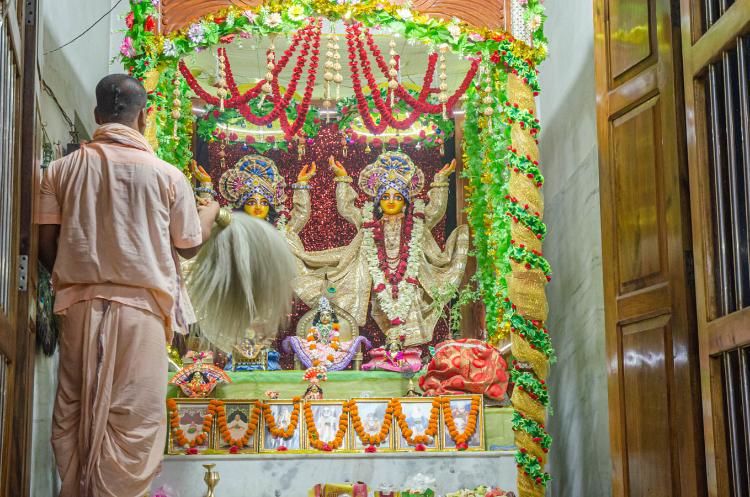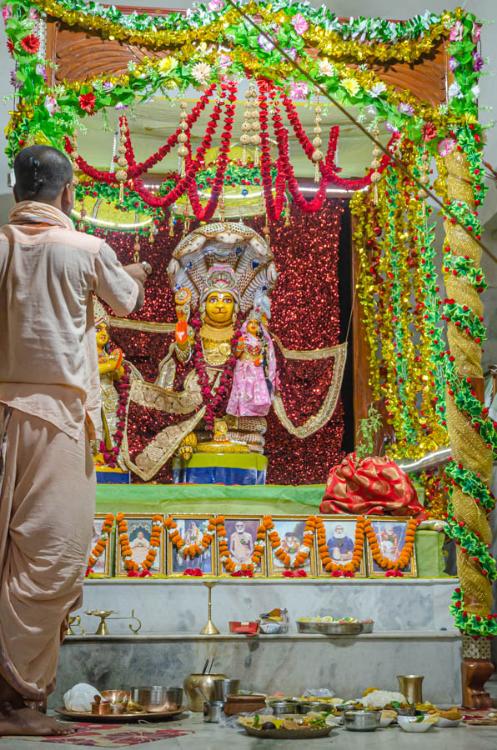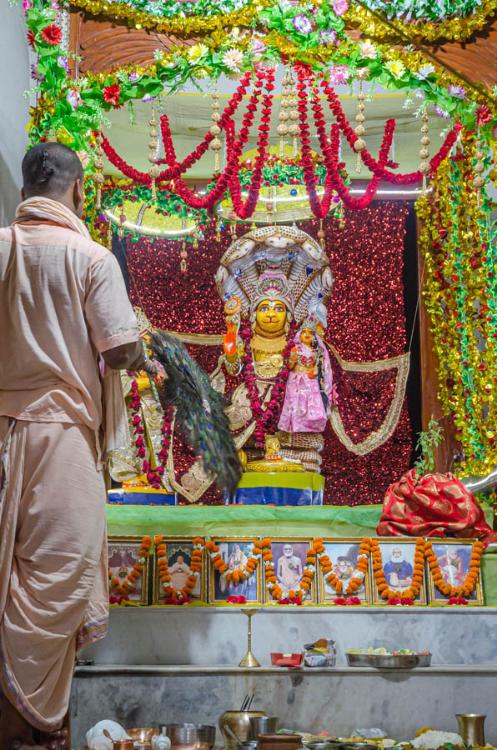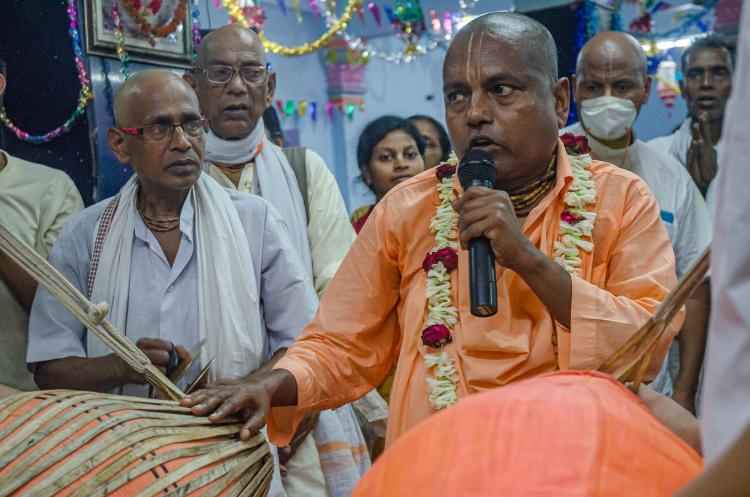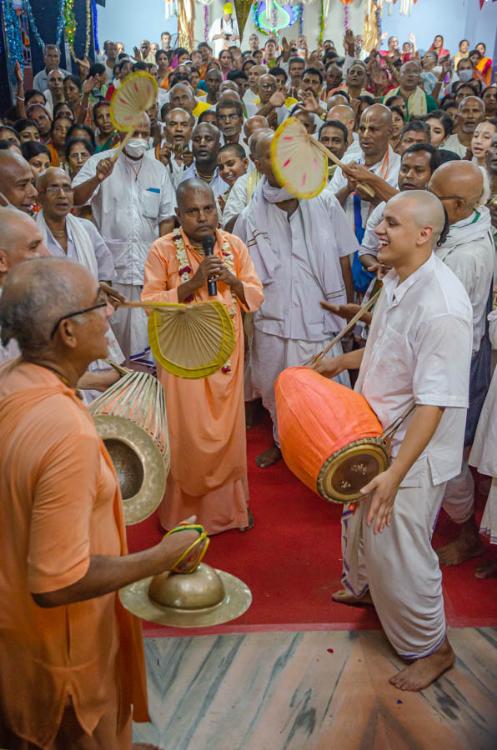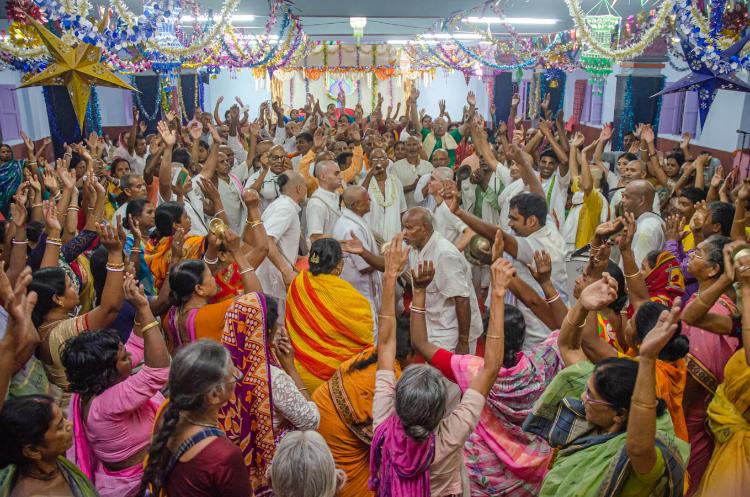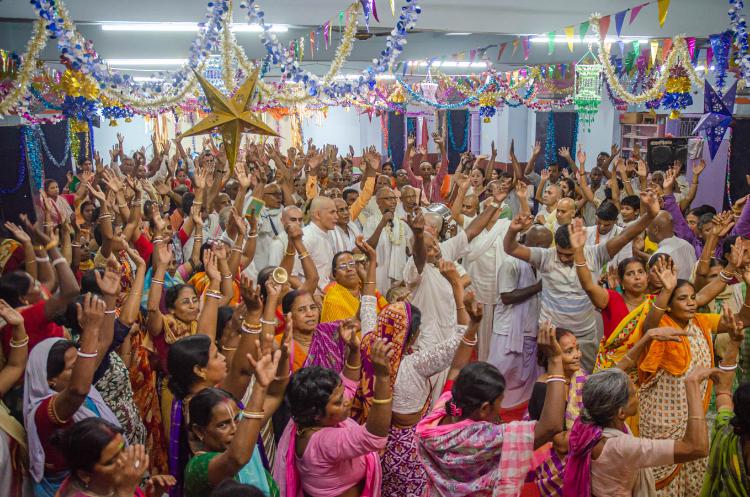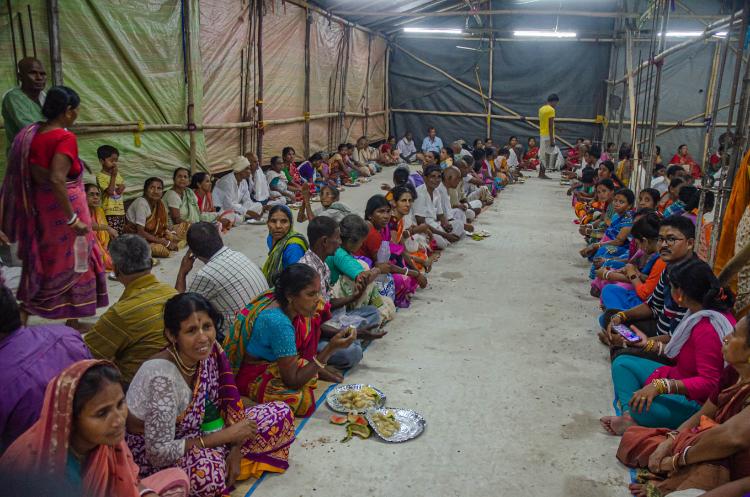 Completing the arati and temple parikrama, devotees come to the pandal to honour anukalpa maha-prasadam (non-grain, the fast continues until the next day).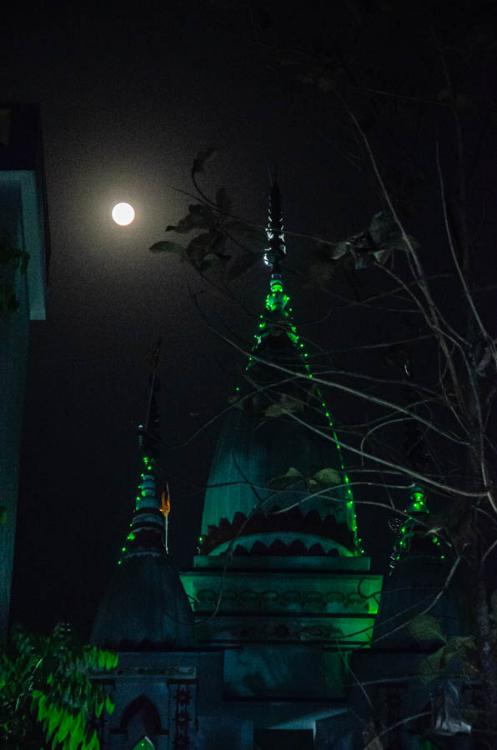 "Gaurachandra uday holo Gaura Hari Hari bolo!"