pujya-sri-guru-varga-vandita-mahabhavanvitayah sada
paurvaparya-parampara-prachalita-prajya-pramurtakrteh
bhakter nirmala-nirjharasya nibhrtam samraksakam sadaram
vande sri-gurudevam anata-sira acharya-varyam nijam
"I bow my head in eternal obeisance to my Gurudev, the best of acharyas, Srila Bhakti Nirmal Acharya Maharaj. He is the ever vigilant, stalwart guardian of the current of pure devotion whose highest form flows from our most worshippable Sri Rupanuga Guru-varga in their exclusive dedication to Mahabhav, Srimati Radharani."
---
vaisnavera pada-dhuli tahe mora snana-keli
tarpana mora vaisnavera nama
vaisnavera uchchhista tahe mora mano-nistha
vaisnavera namete ullasa
"The feet dust of the Vaishnavs is where I sport and take bath, Vaishnavs' name is the water oblation. My mind is intently fixed upon the remnants of Vaishnavs, and I am elated at the name of Vaishnavs."
gangara-parasa ha-ile paschate pavana
darsane pavitra kara—ei tomara guna
"If the Ganges touches someone, they are purified some time later; but one becomes purified just by seeing you, O Vaishnava Thakur. Such is your power."
gaura amara ye-saba sthane
karala bhramana range
se-saba sthana heriba ami
pranayi-bhakata-sange
"In the company of loving devotees, I shall behold all the places my Gaurasundar roamed during His ecstatic Pastimes."

The morning arati.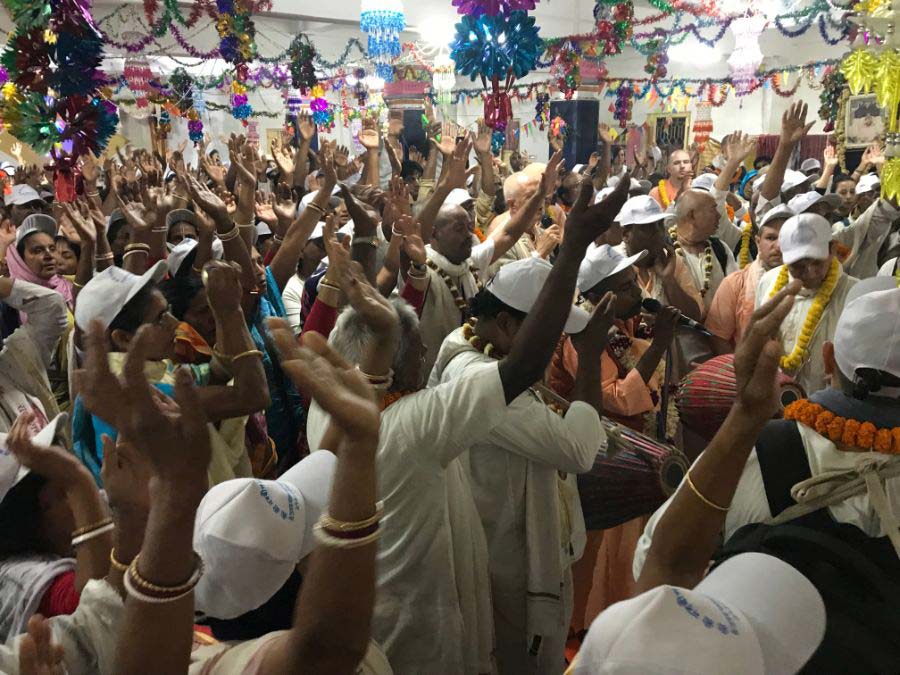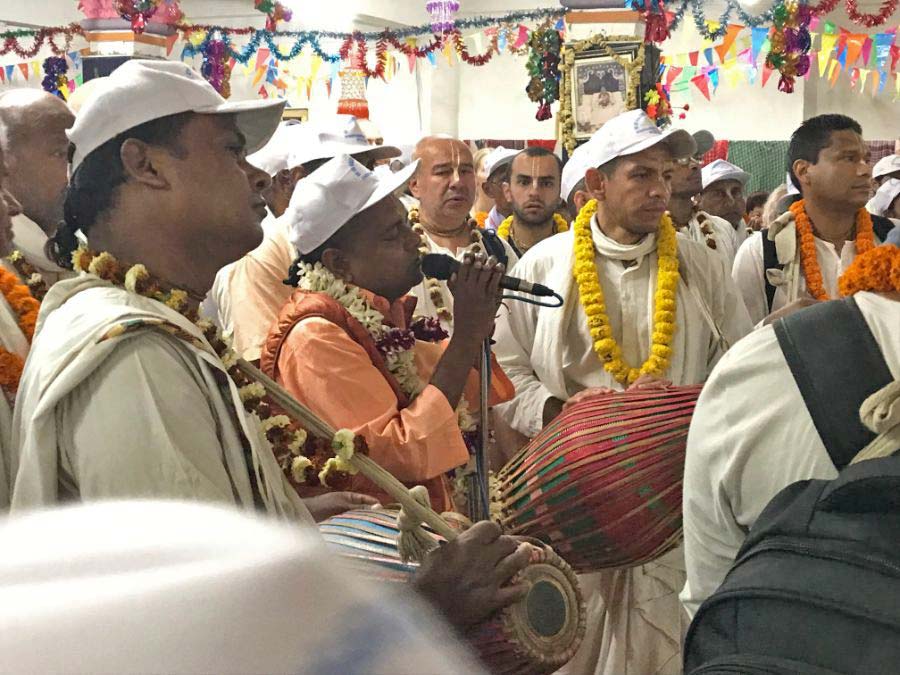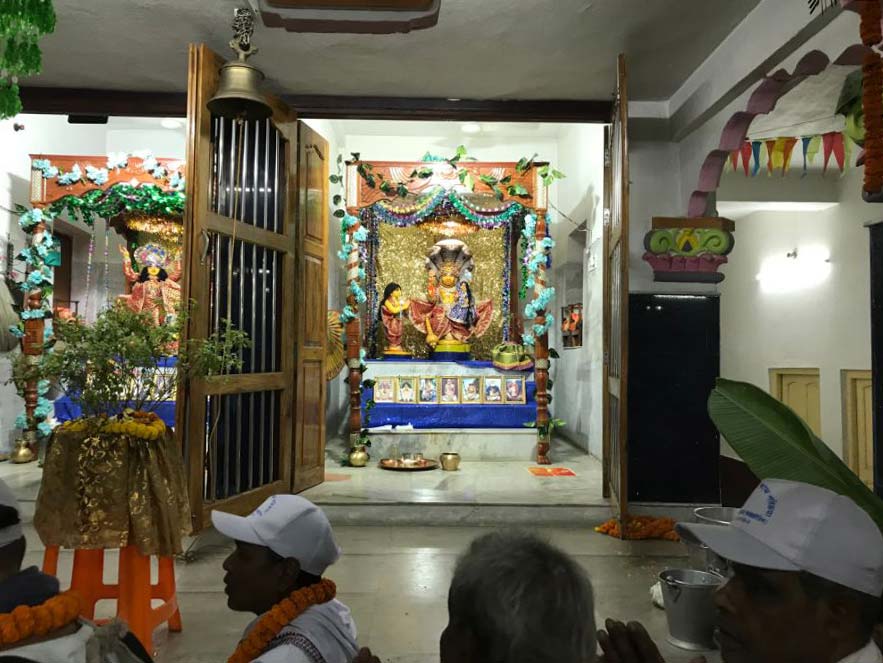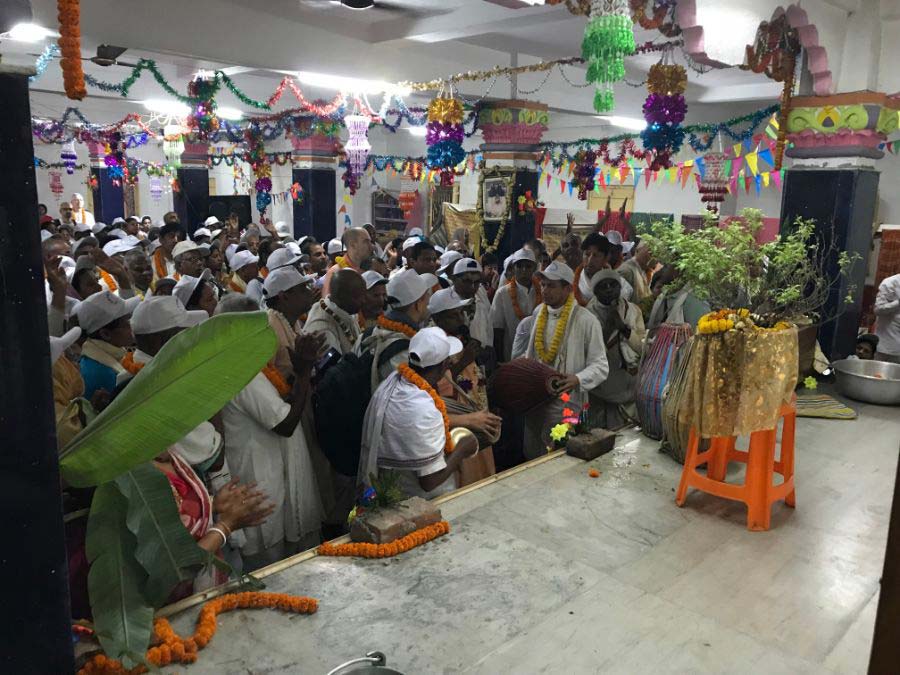 After the morning arati, the parikrama party sets off from the temple.

At the old temple of Sri Nrisinghadev.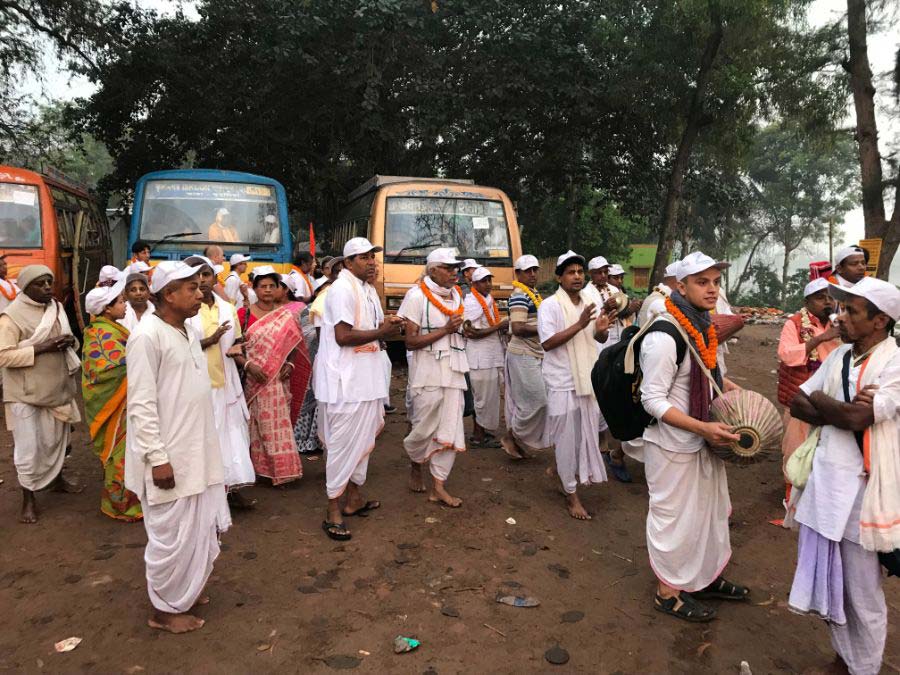 The buses are waiting to take the devotees to Koladwip, across the Ganges.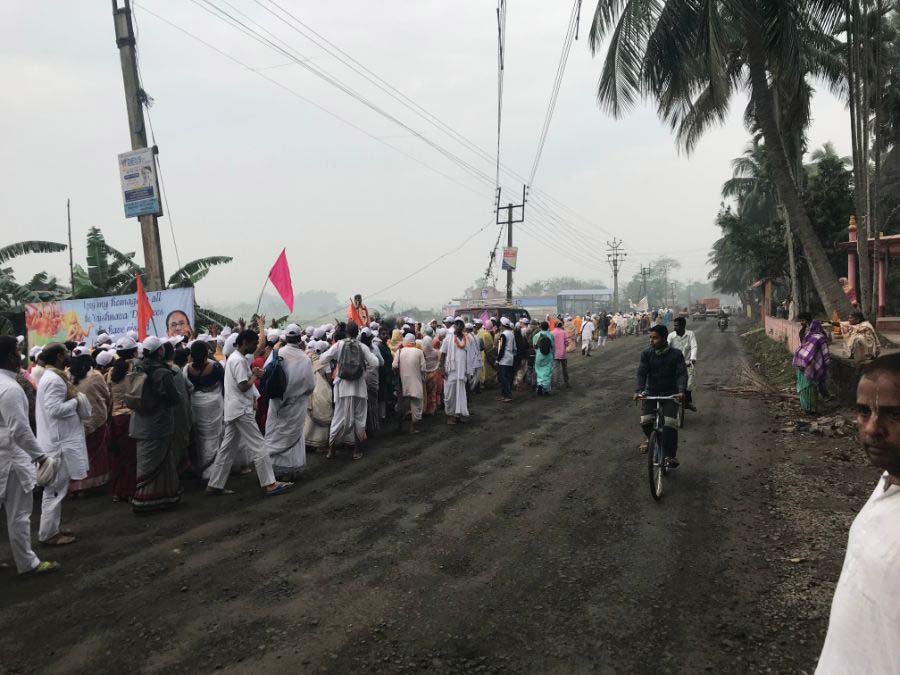 Once in Koladwip, devotees commence the fourth day of Sri Nabadwip Dham.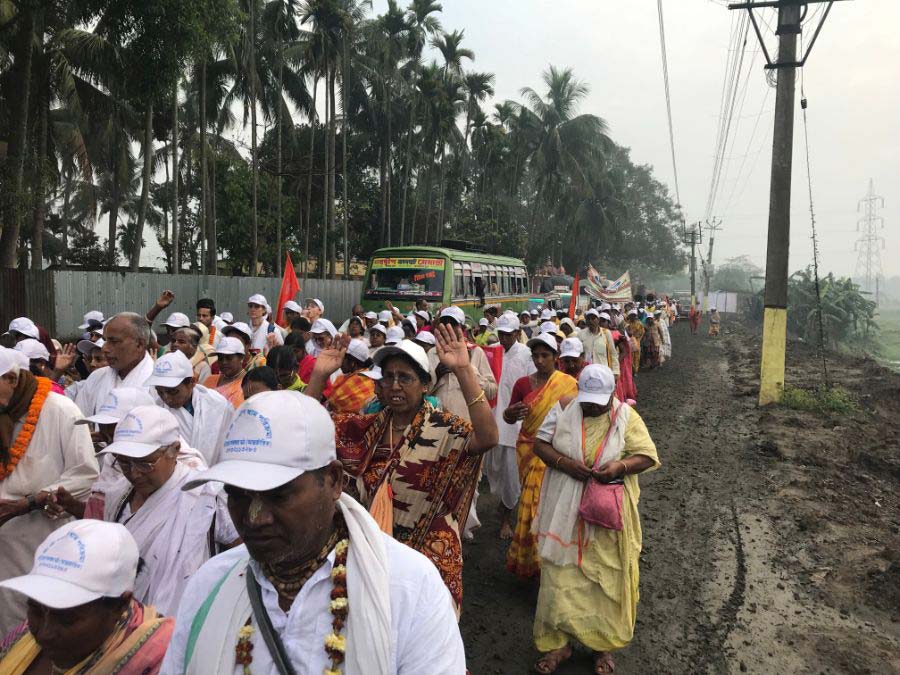 Yesterday's rainfall has unfortunately flooded the field opposite Sri Samudragad, so the first stop is the temple of Sri Gaura Gadadhar established by Sri Dvijavaninath.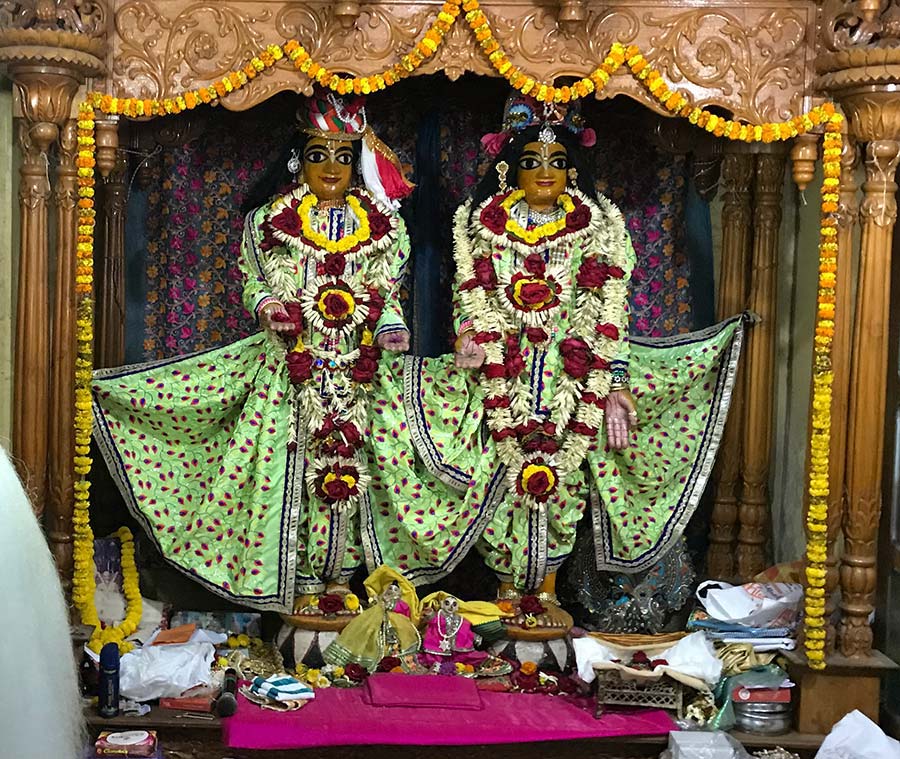 Their Lordships, Sri Sri Gaura Gadadhar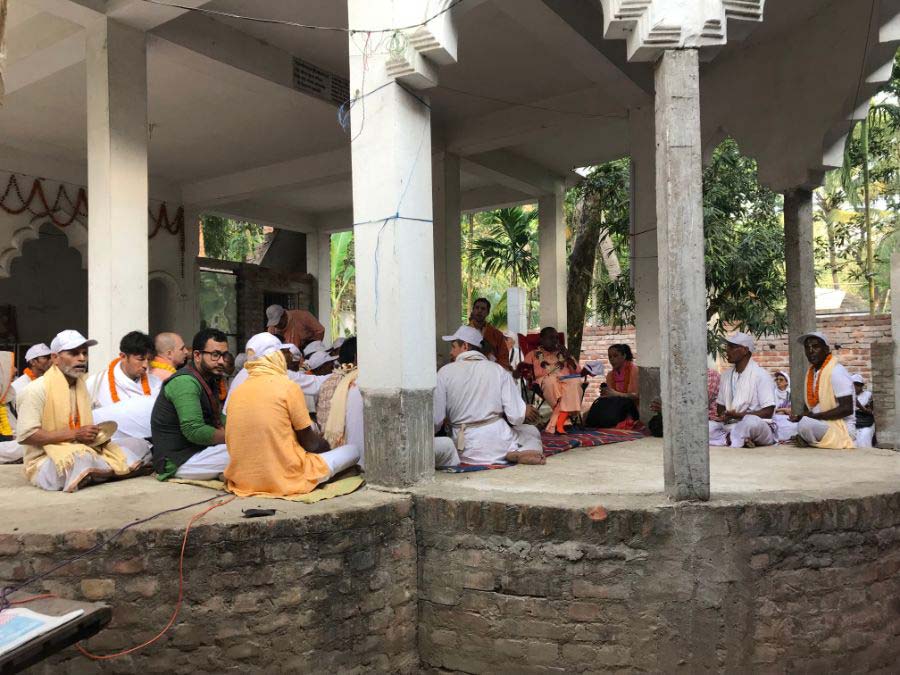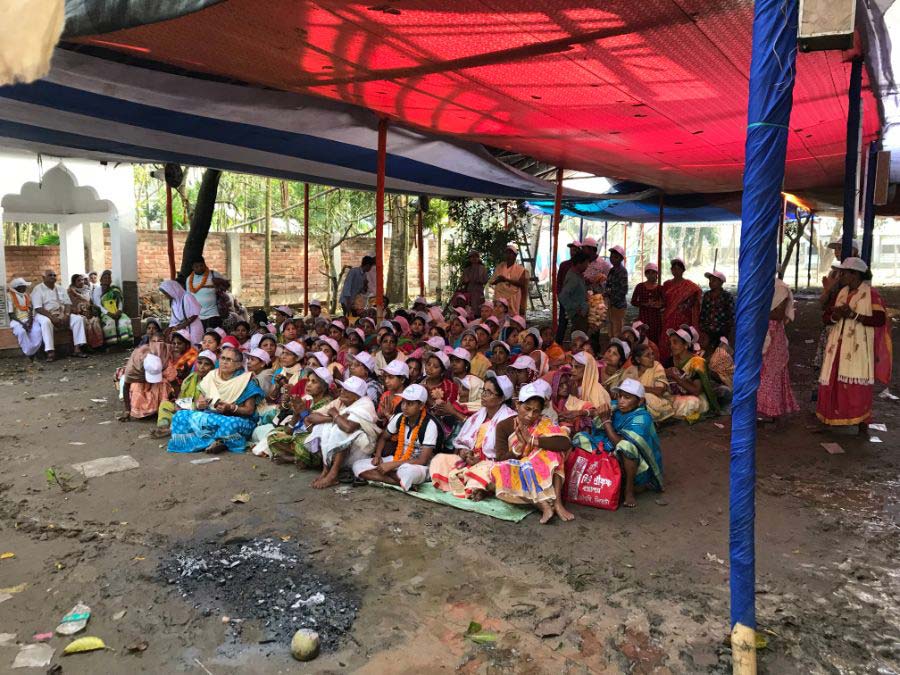 In the middle, to the left, is the servitor of the temple (Sripad Nityananda Prabhu Brahmachari) speaking quite extensively on guru-anugatya and glorification of Srila Acharya Maharaj.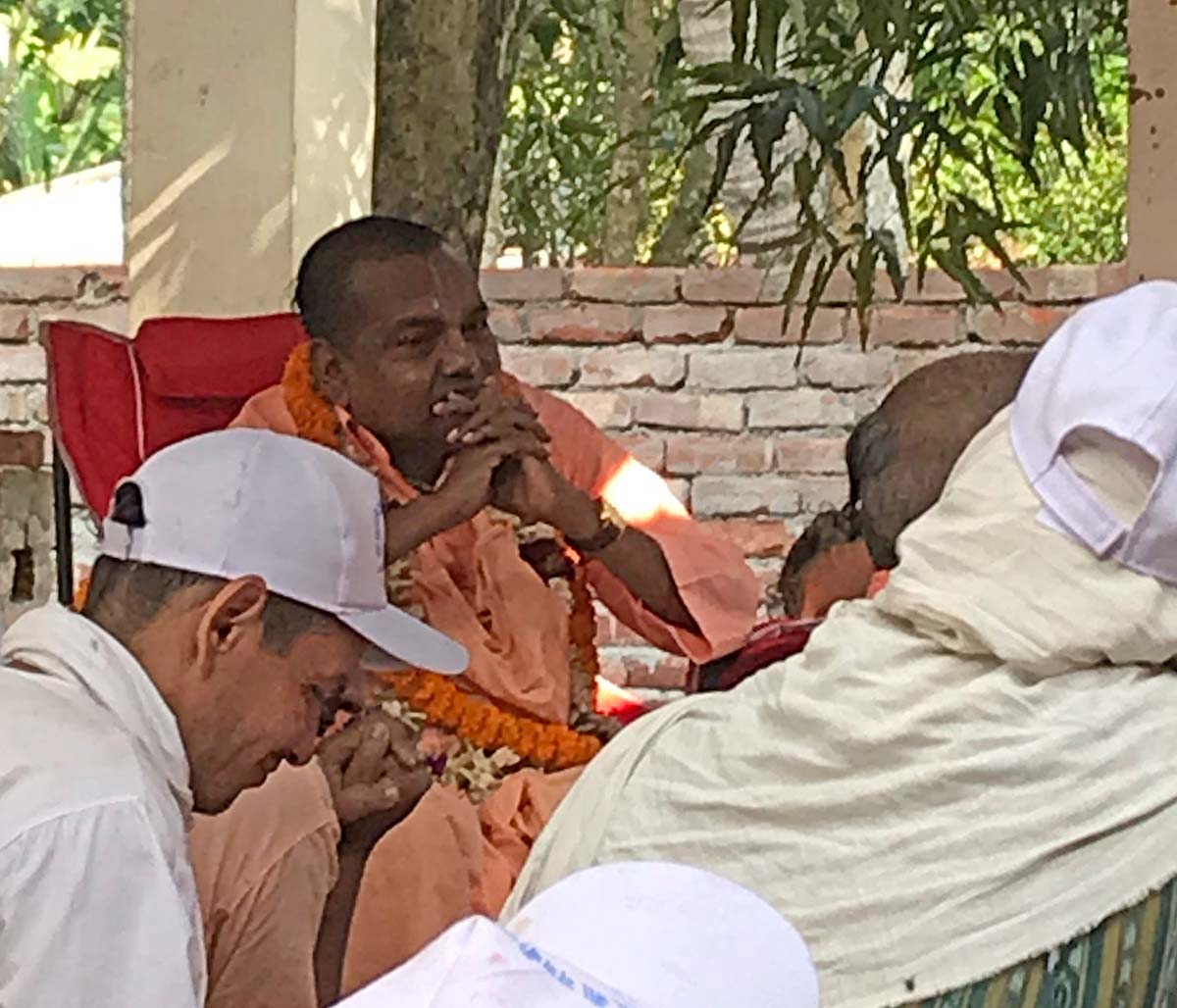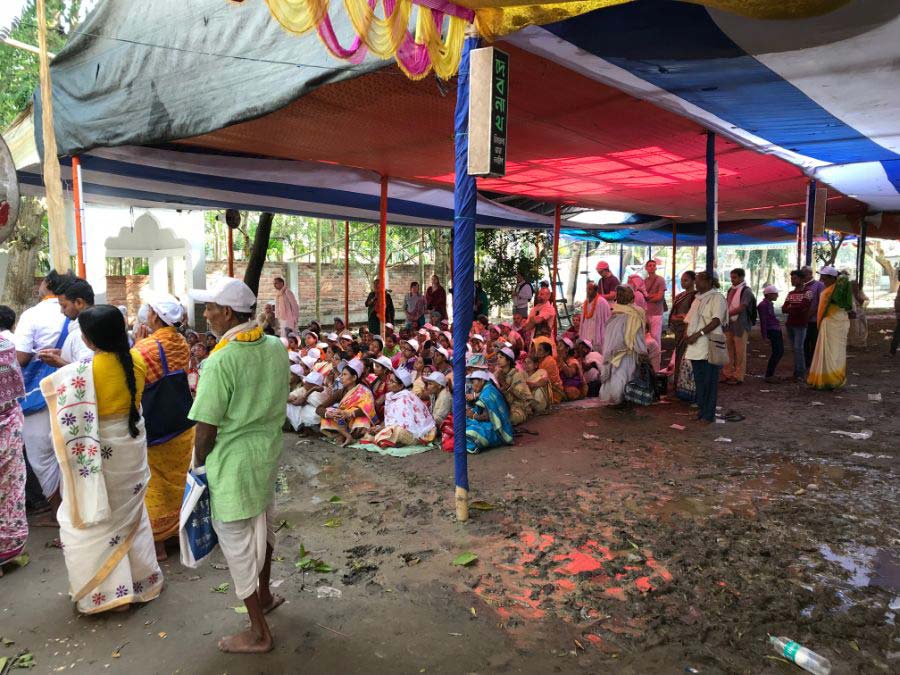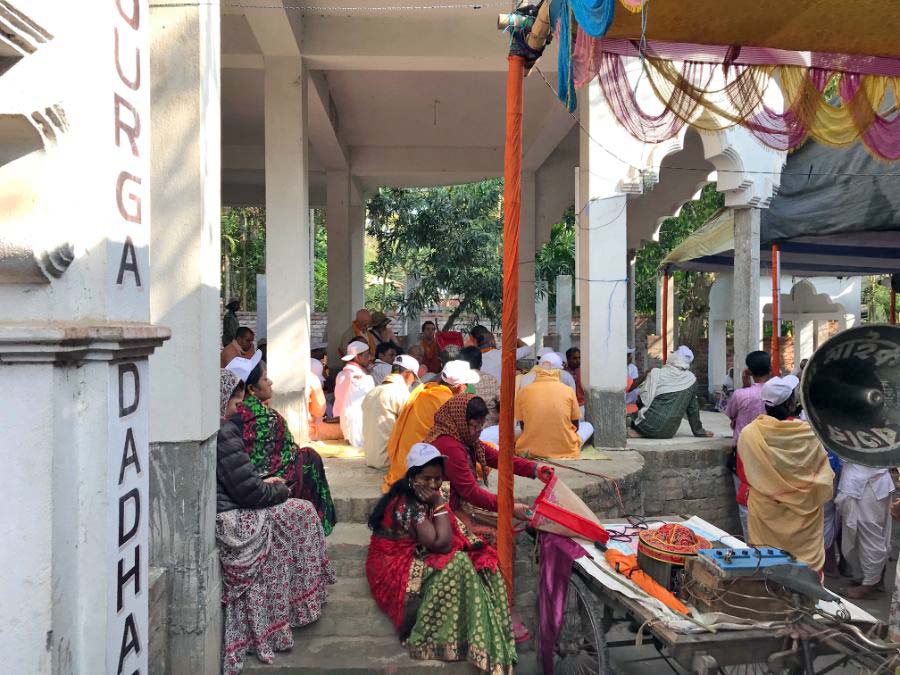 Arriving at the spot that marks Sri Radha Kunda and Sri Syama Kunda

His Divine Grace is reading about the glories of Sri Jahnudwip.

Devotees honour prasadam in the late morning.

His Divine Grace is very grateful and happy with the devotees who host the parikrama party each year and have now put up a pandal—showering his blessings on them, His Divine Grace continues Sri Nabadwip Dham Parikrama.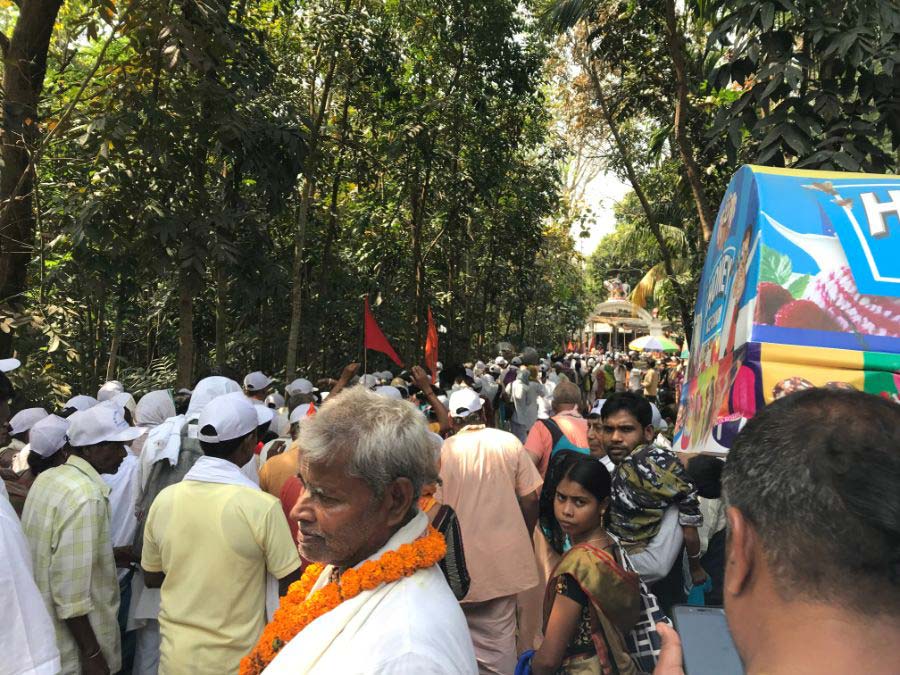 Entering Sri Vidya Nagar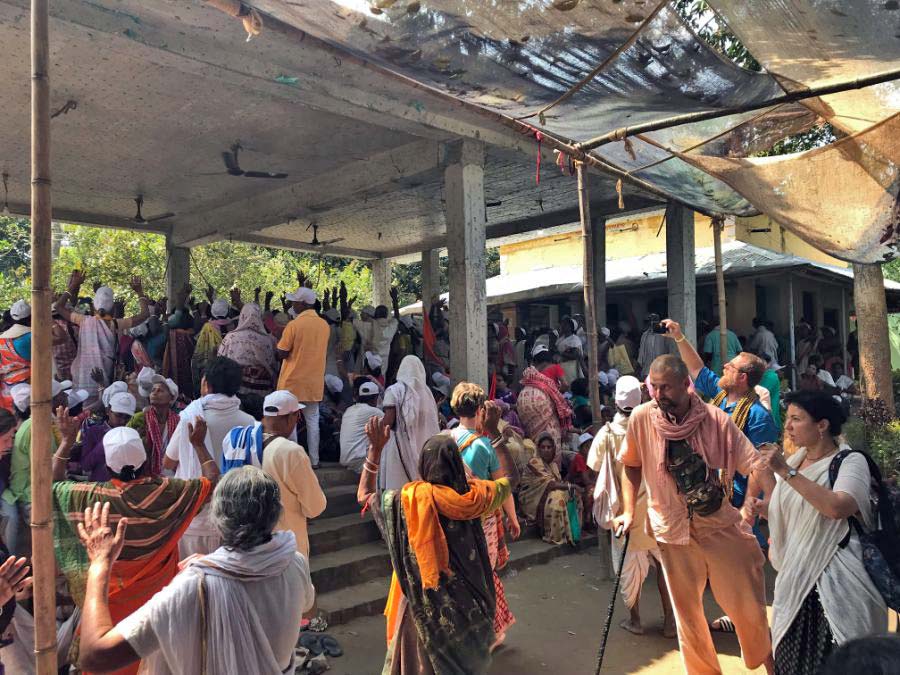 Sri Vidya Nagar is the place where Mahaprabhu would study and challenge great scholars and students to establish the true religion.

The Lordships of Sri Sri Mahaprabhu and Nityananda Parbhu at Sri Vidya Nagar.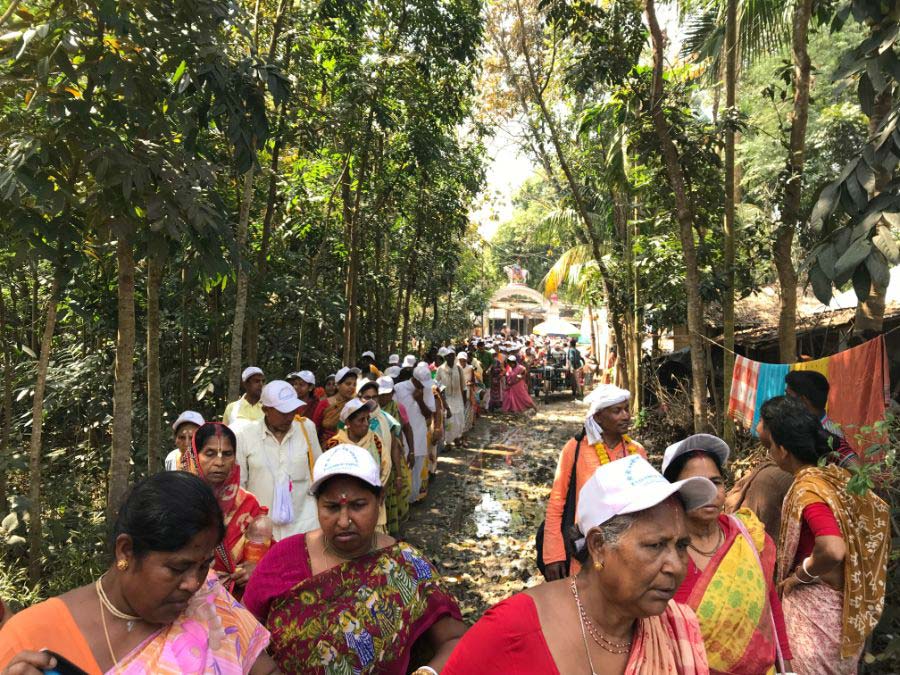 On the way to Srila Sarvabhauma Bhattacharya's house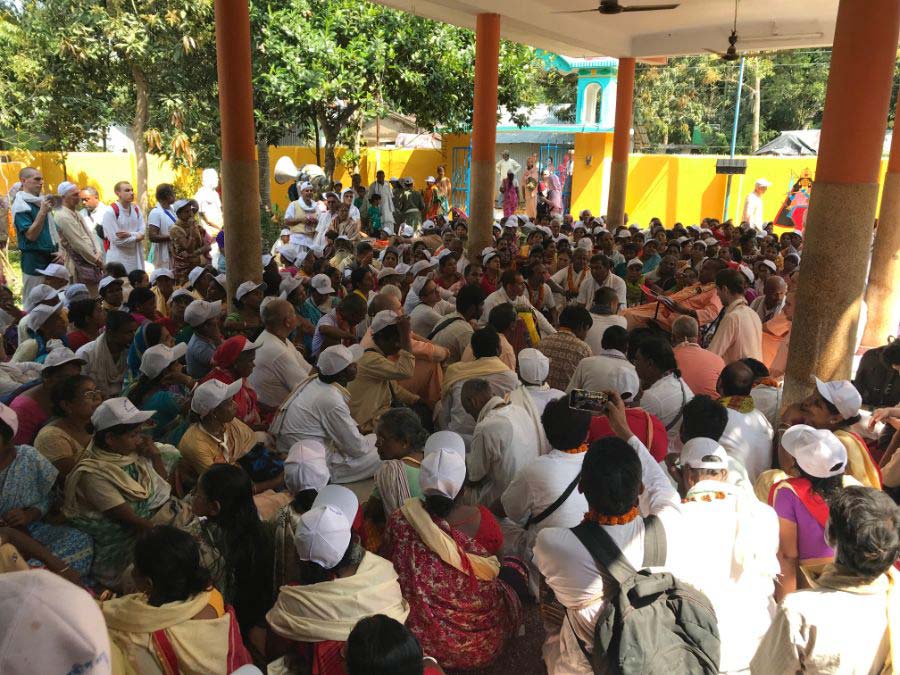 Srila Sarvabhauma Bhattacharya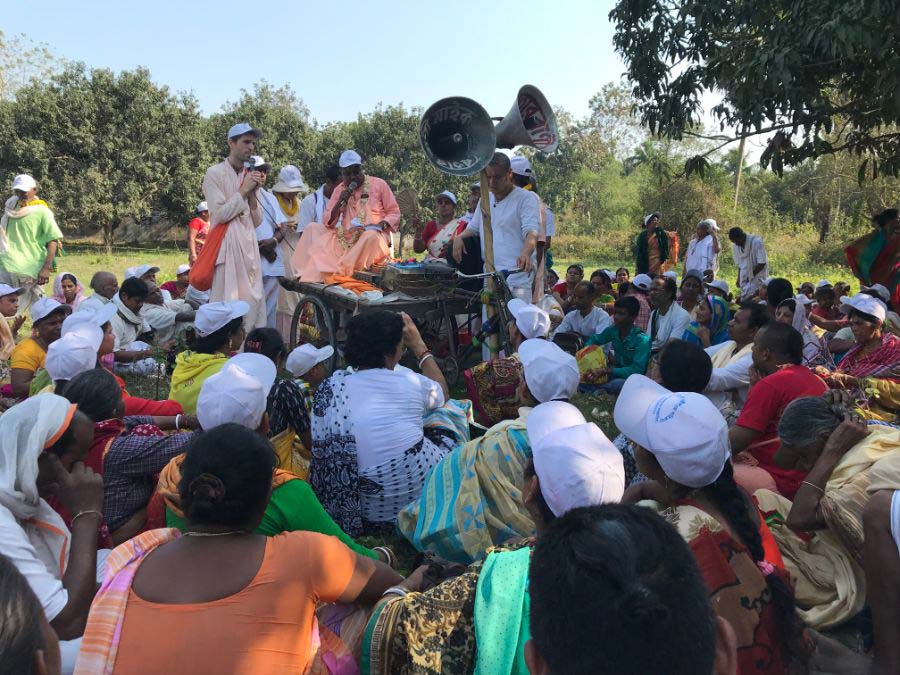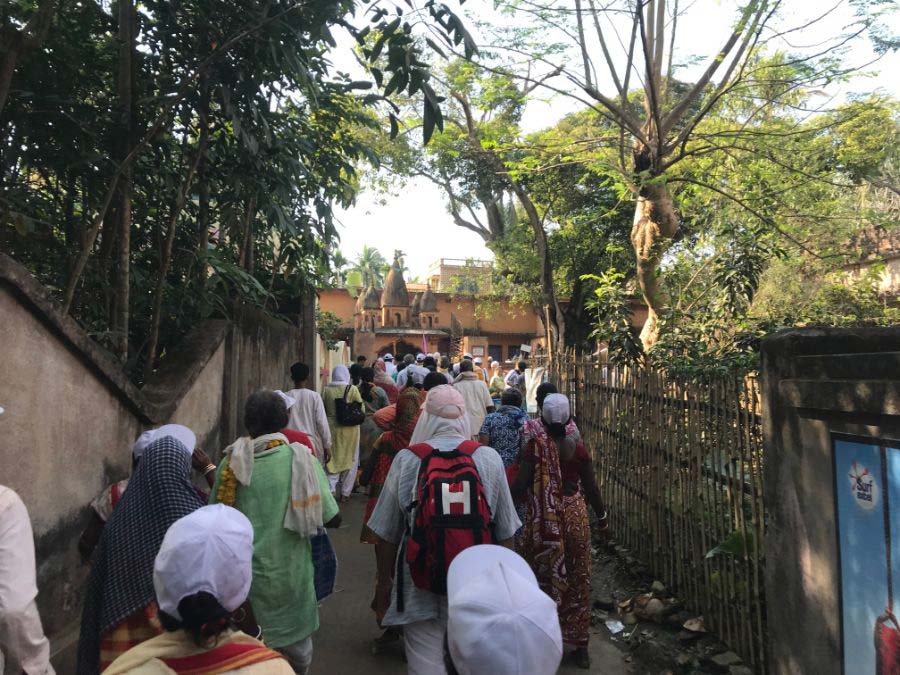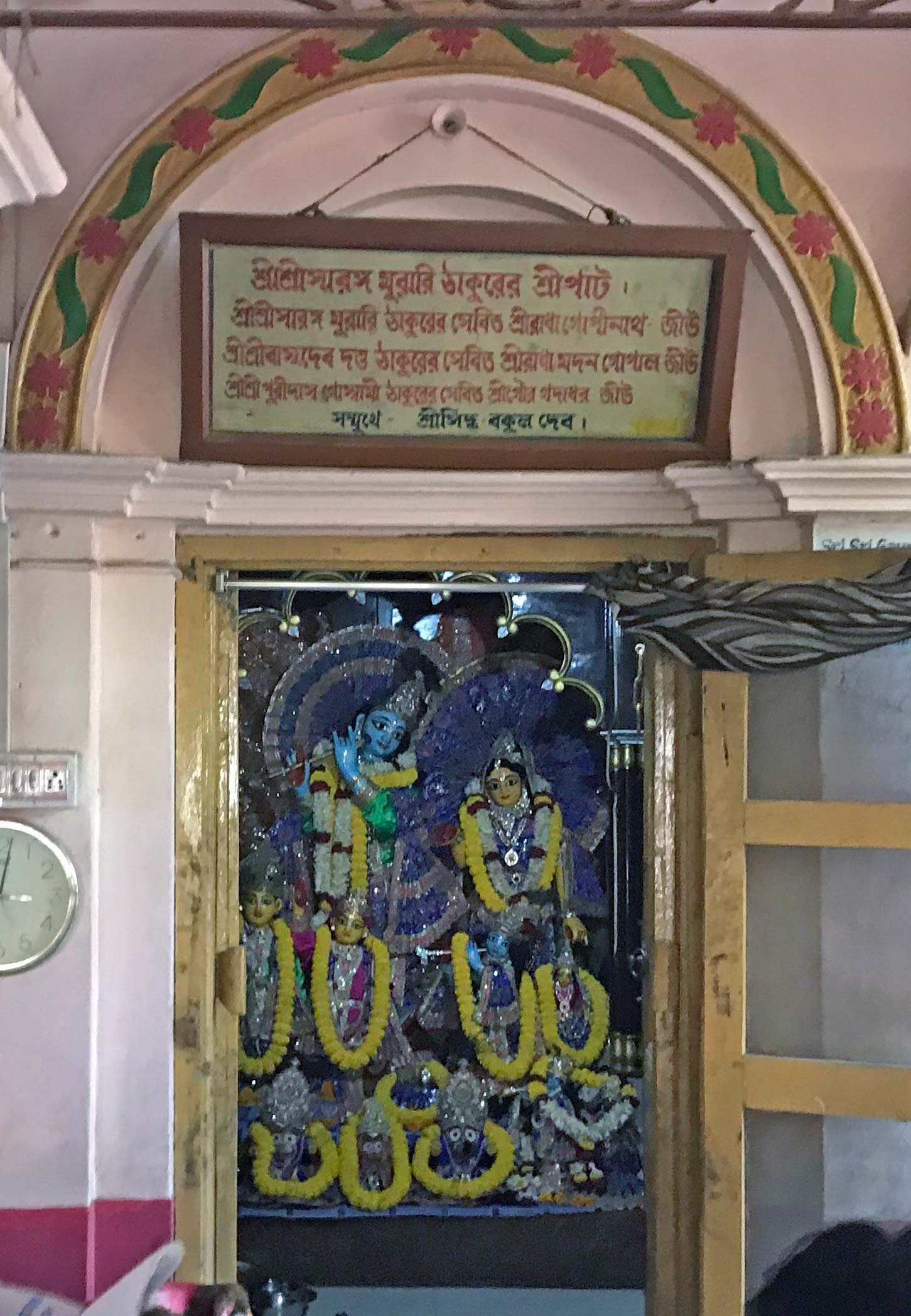 The Lordships at the temple of Sri Saranga Thakur.

The last stop of Sri Nabadwip Dham parikrama is the appearance place of Srila Vrindavan Das Thakur.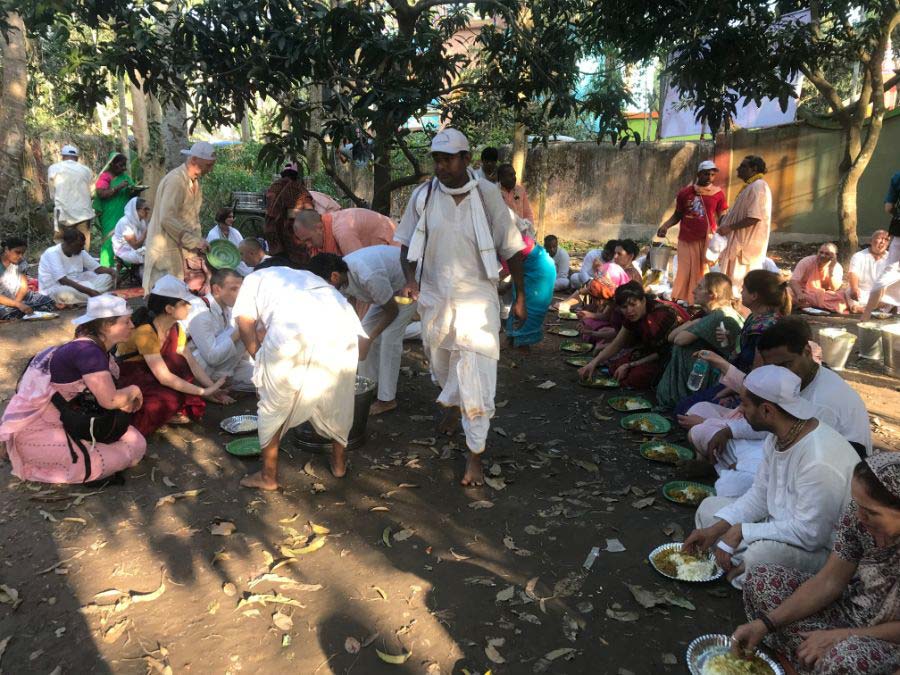 After honouring prasadam, everybody returns to Sri Nrisingha Palli by buses.

Srila Bhakti Kusum Ashram Maharaj speaking enlivening Hari-katha during the evening programme.