☸ Sri Puri Dham Parikrama, Second Day ☸
Monday, 1 July 2019
pujya-sri-guru-varga-vandita-mahabhavanvitayah sada
paurvaparya-parampara-prachalita-prajya-pramurtakrteh
bhakter nirmala-nirjharasya nibhrtam samraksakam sadaram
vande sri-gurudevam anata-sira acharya-varyam nijam
"I bow my head in eternal obeisance to my Gurudev, the best of acharyas, Srila Bhakti Nirmal Acharya Maharaj. He is the ever vigilant, stalwart guardian of the current of pure devotion whose highest form flows from our most worshippable Sri Rupanuga Guru-varga in their exclusive dedication to Mahabhav, Srimati Radharani."
jaya guru maharaja karuna-sagara
sri-bhakti-raksaka deva-goswami sridhara
prakasile nilachale bhuvana-mangala
nitai-chaitanya-deva-seva samujjvala
Glory to Guru Maharaj, Sri Bhakti Raksak Sridhar Dev-Goswami Maharaj, an ocean of mercy. He manifested the effulgent service of Nitai Chaitanyadev in Nilachal for the benefit of the entire world.
vaisnavera pada-dhuli tahe mora snana-keli
tarpana mora vaisnavera nama
vaisnavera uchchhista tahe mora mano-nistha
vaisnavera namete ullasa
"The feet dust of the Vaishnavs is where I sport and take bath, Vaishnavs' name is the water oblation. My mind is intently fixed upon the remnants of Vaishnavs, and I am elated at the name of Vaishnavs."
gangara-parasa ha-ile paschate pavana
darsane pavitra kara—ei tomara guna
"If the Ganges touches someone, they are purified some time later; but one becomes purified just by seeing you, O Vaishnava Thakur. Such is your power."

After devotees honour prasadam in the morning, His Divine Grace assembles everyone at Sevak Bhavan to start the second day of Sri Puri Dham parikrama.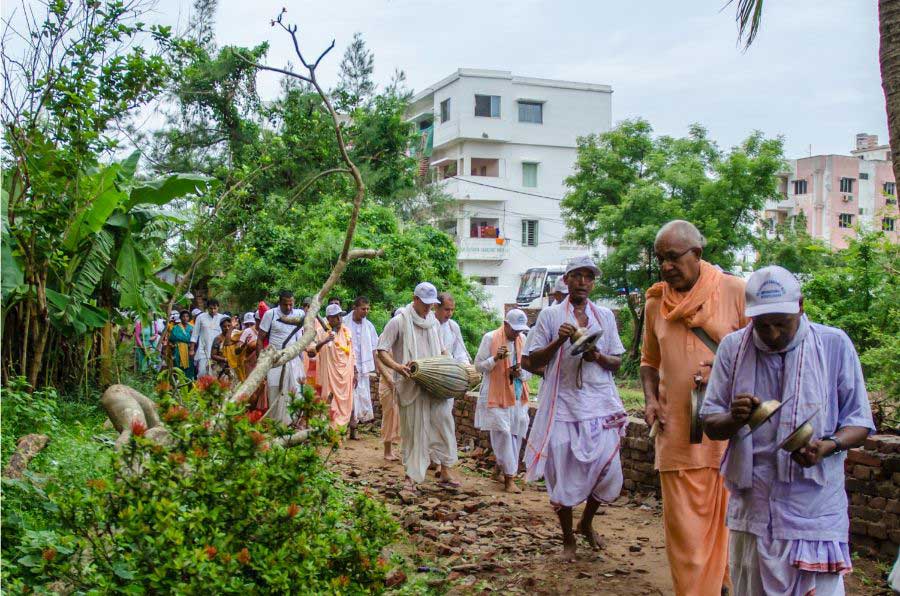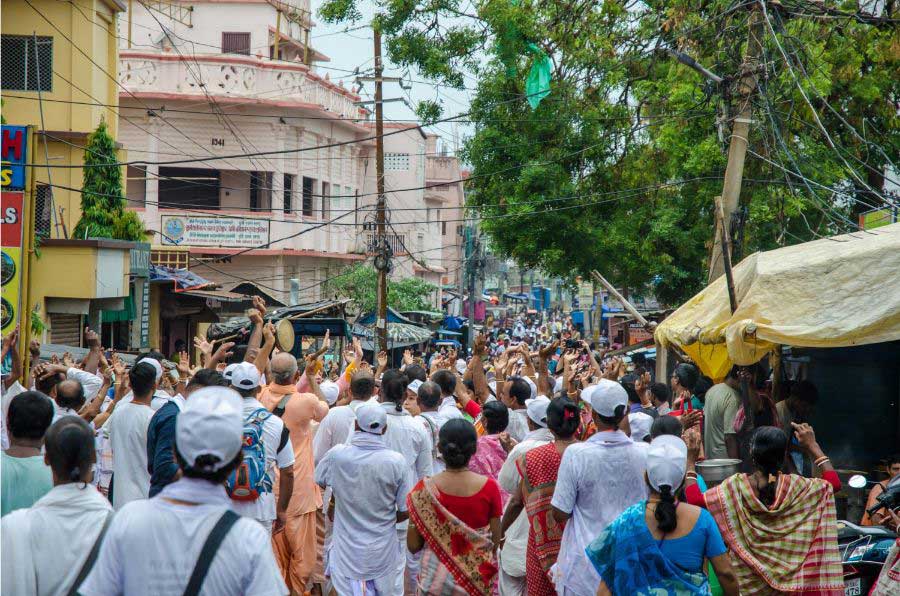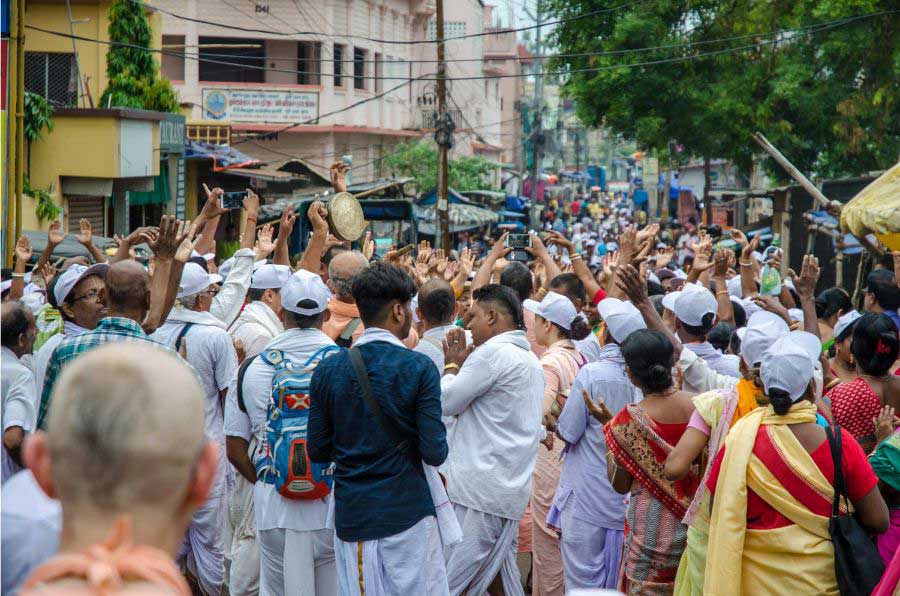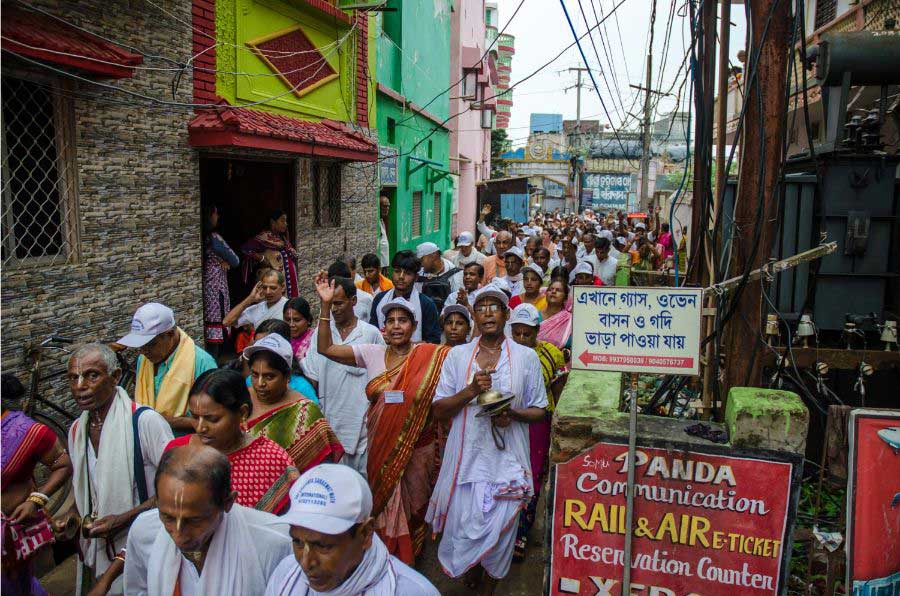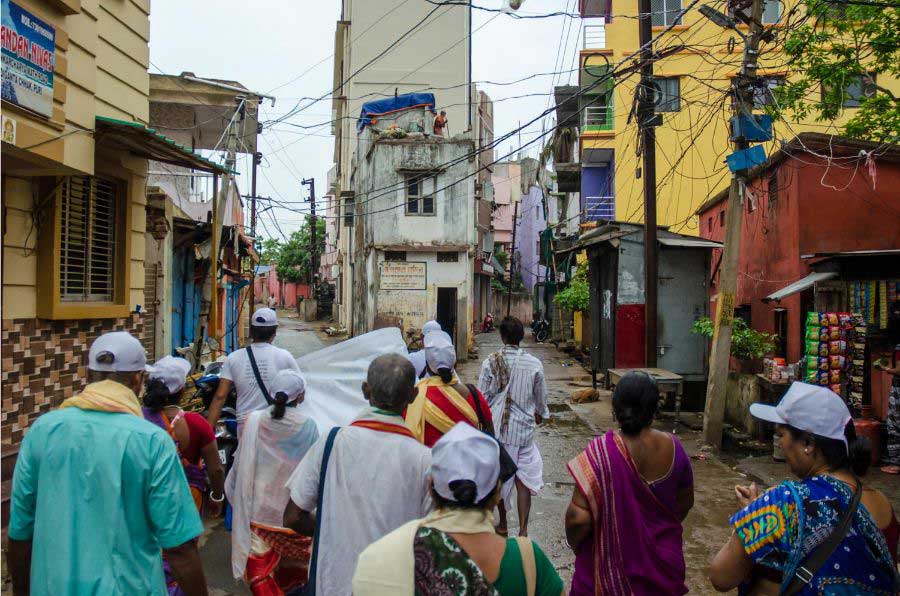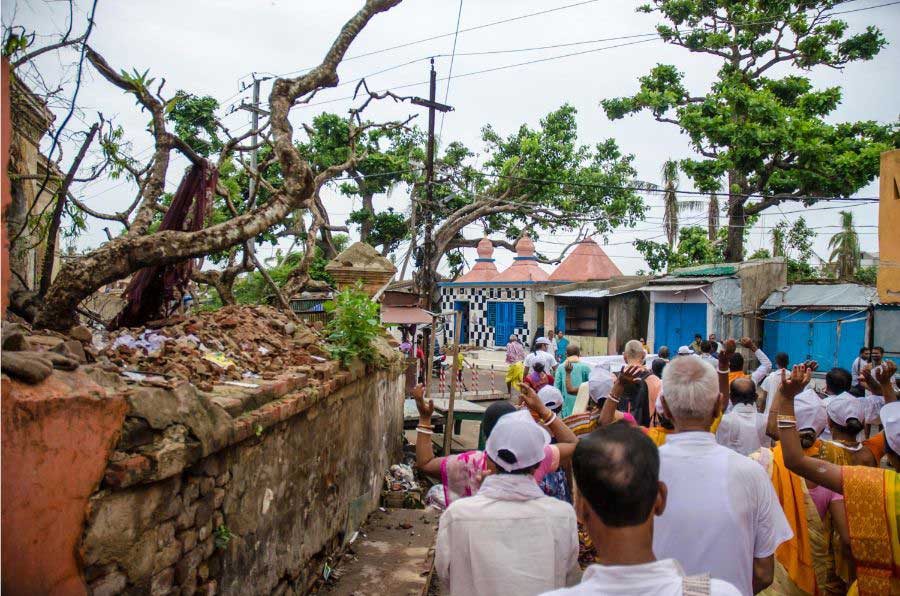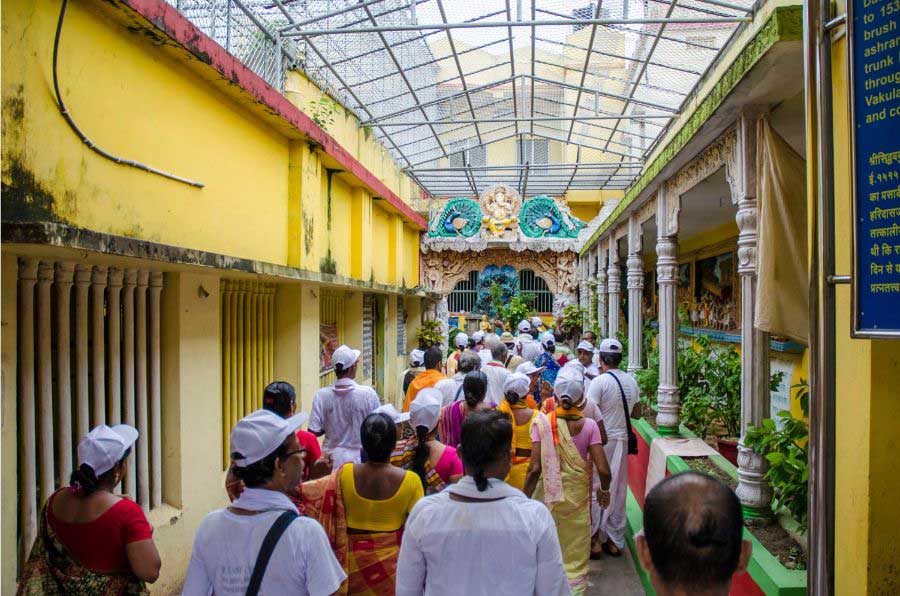 The first darshan is Siddha Bakul, the holy bhajan kutir of Namacharya Srila Haridas Thakur.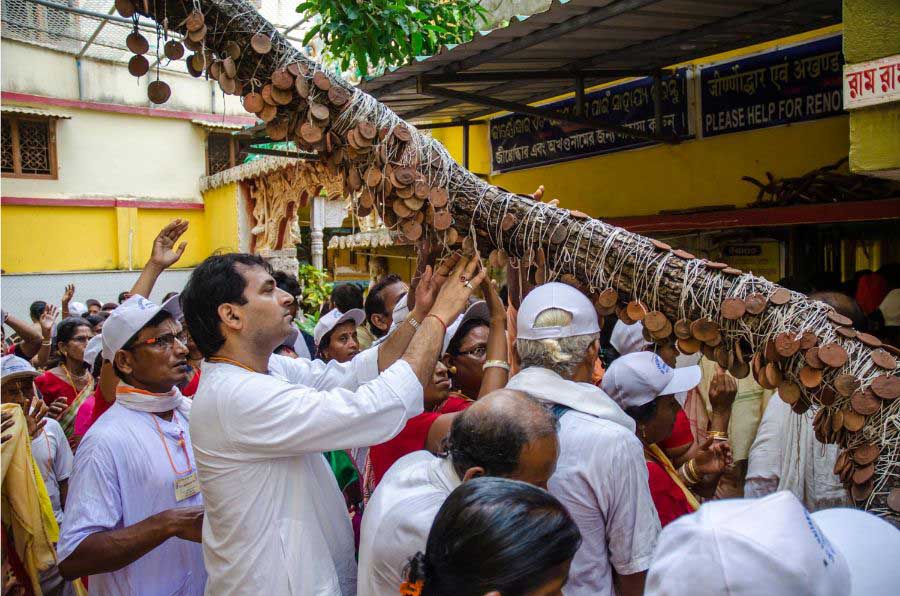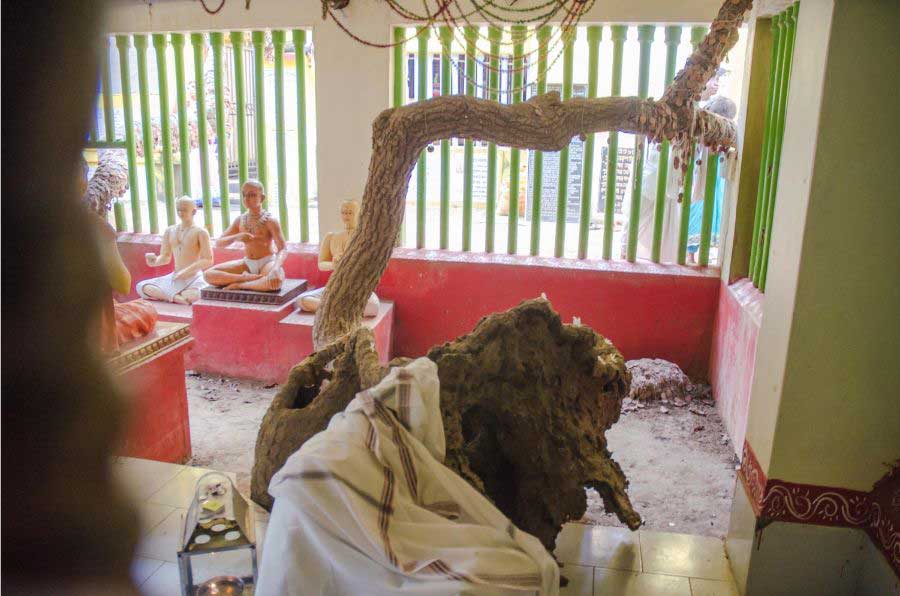 His Divine Grace told that this tree was originally produced by Sriman Mahaprabhu Himself (the Lord manifest it from a twig-like toothbrush of Lord Jagannath) to provide shade for His dear devotee Haridas Thakur, but when the servitors of Jagannath Temple wanted to chop it, Srila Haridas Thakur prayed to Mahaprabhu to save the tree; as a result, when the servitors of Jagannath Temple came to chop the tree, they found a hollow tree with only bark left, so they left without fulfilling their purpose. The bark carcass of the tree remains here to this day.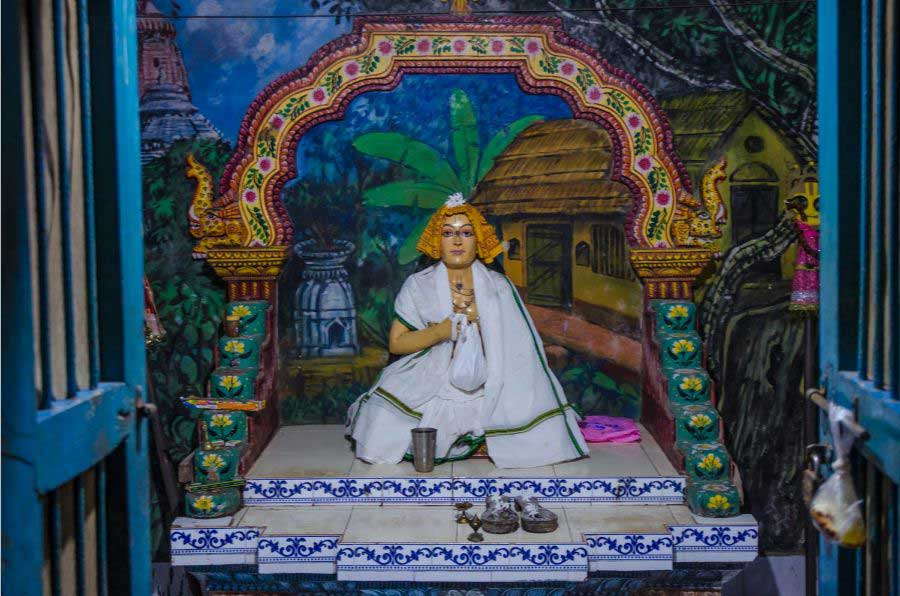 In the beautiful courtyard of siddha bakul.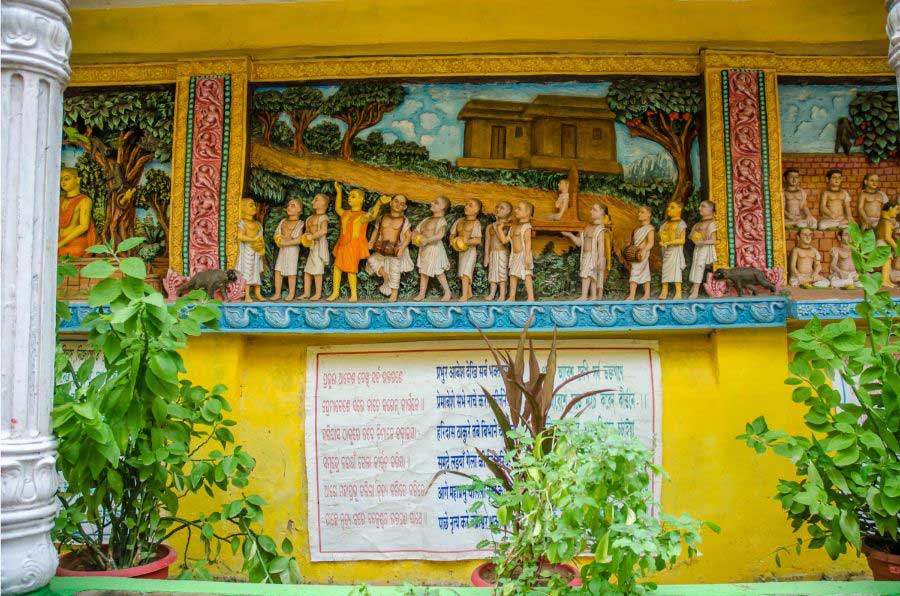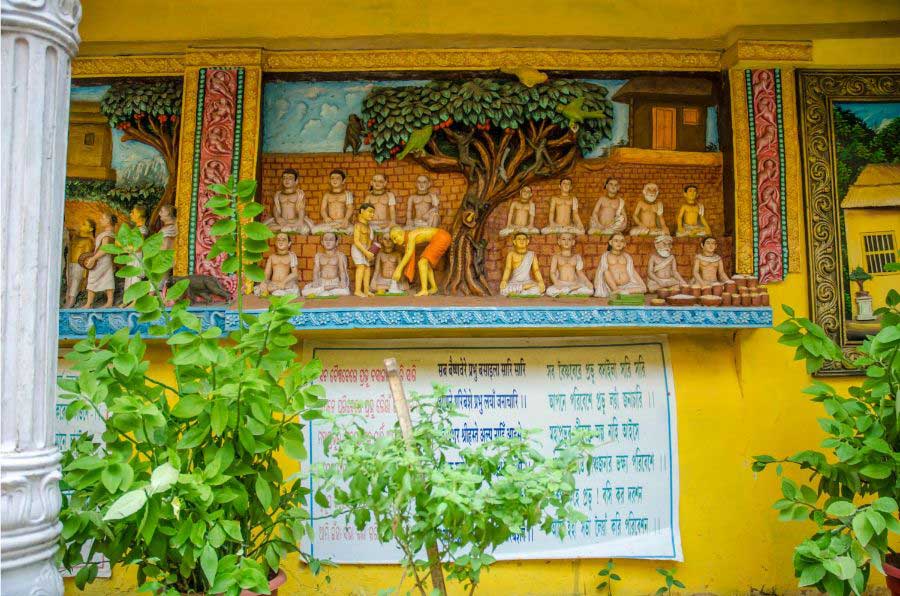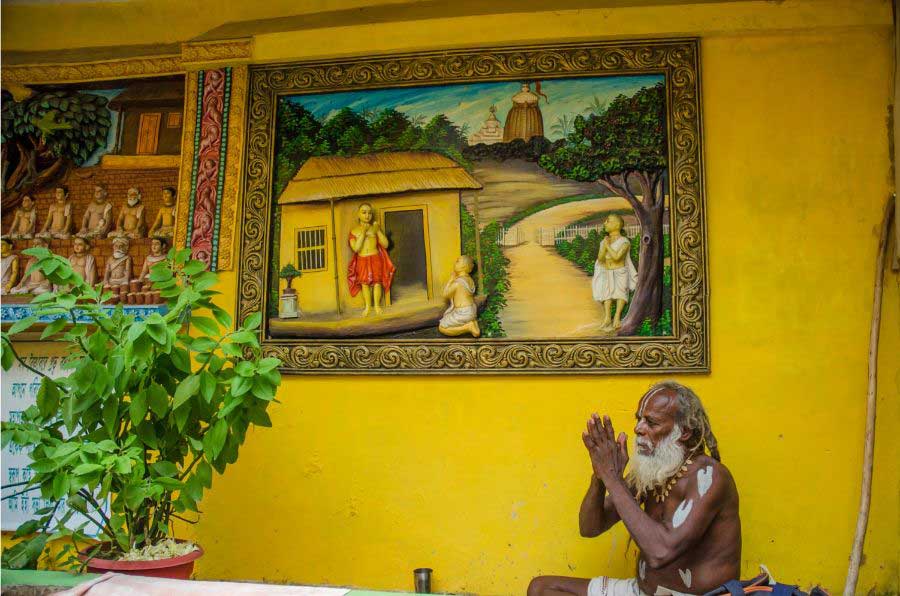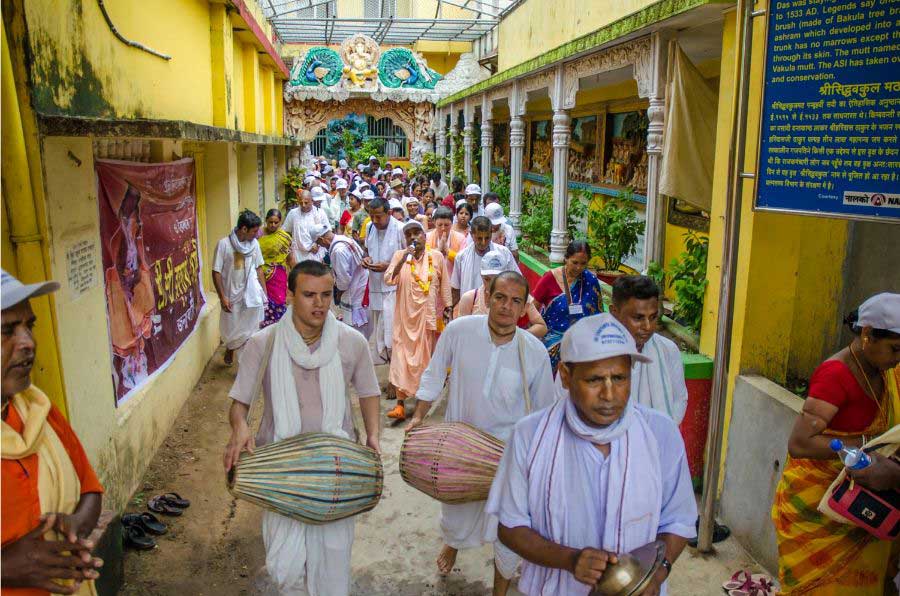 Very near siddha bakul is the holy house of Sri Kashi Misra where Mahaprabhu resided while in Puri—Sri Gambhira.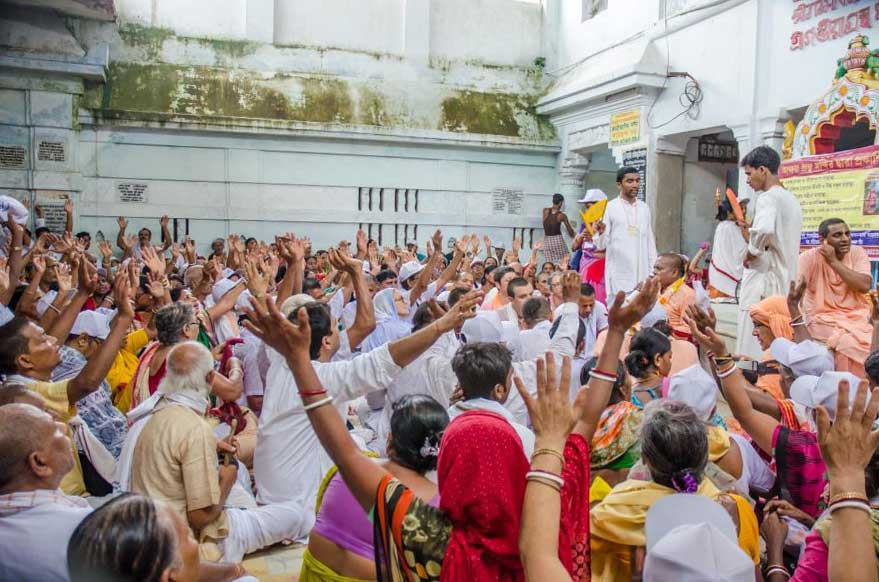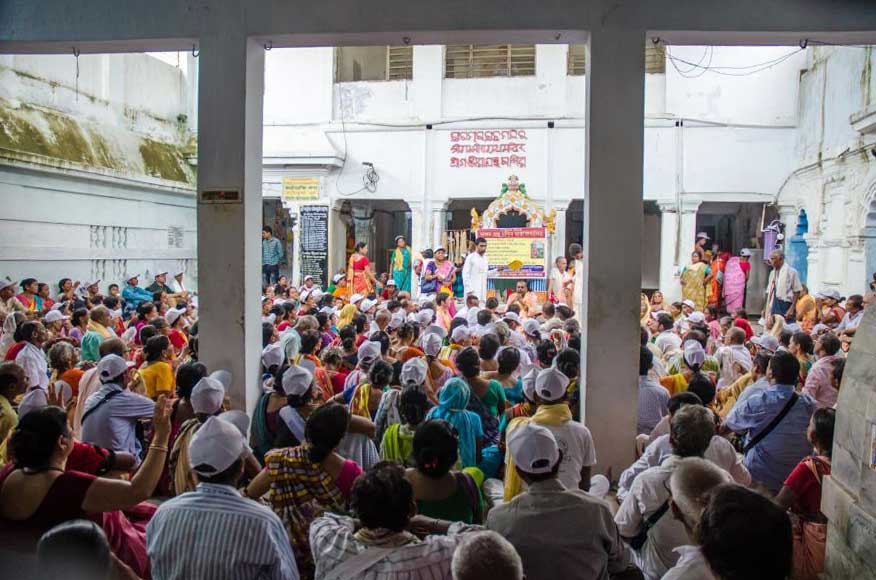 In the courtyard of Gambhira.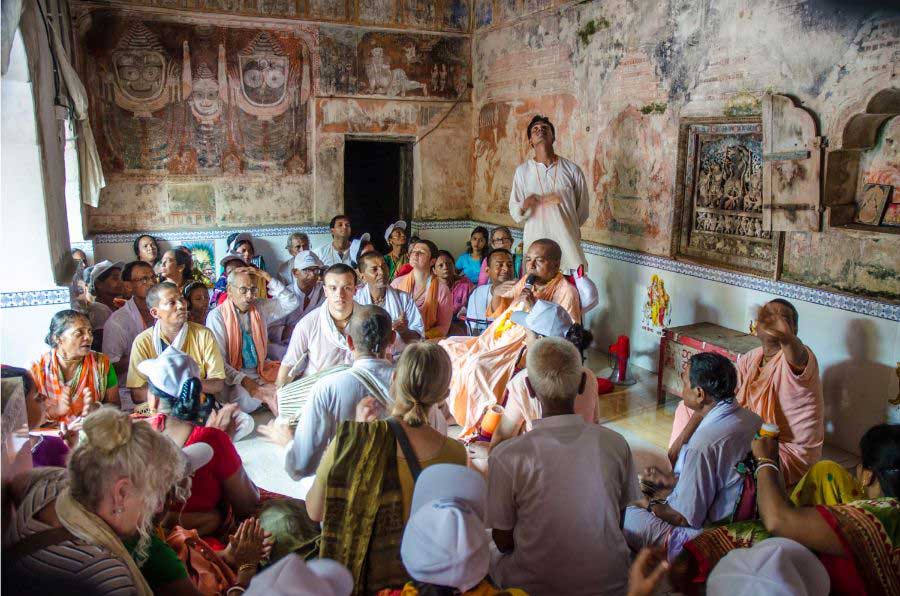 The next place is Sri Radha Kanta Math, the house of Srila Sarvabhauma Bhattacharya.

A depiction of the six-arm form Sriman Mahaprabhu revealed to Srila Sarvabhauma Bhattacharya.

The holy Deities of Sri Sri Radha Krishna of Srila Sarvabhauma Bhattacharya, worshipped at the temple later by Sri Ganga Mata Goswamini.

On to Sveta Ganga—the holy Ganga River came here to grant her mercy to Sri Ganga Mata Goswamini.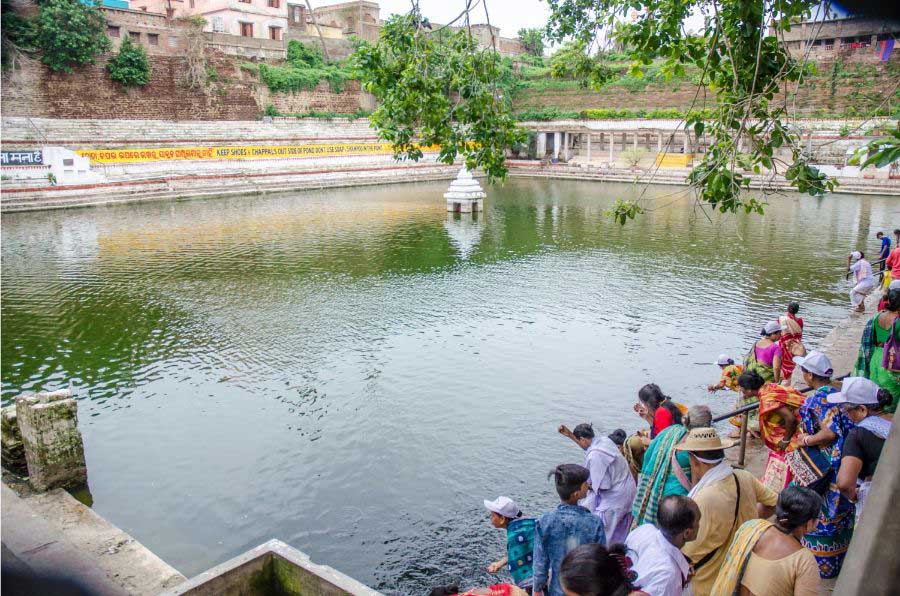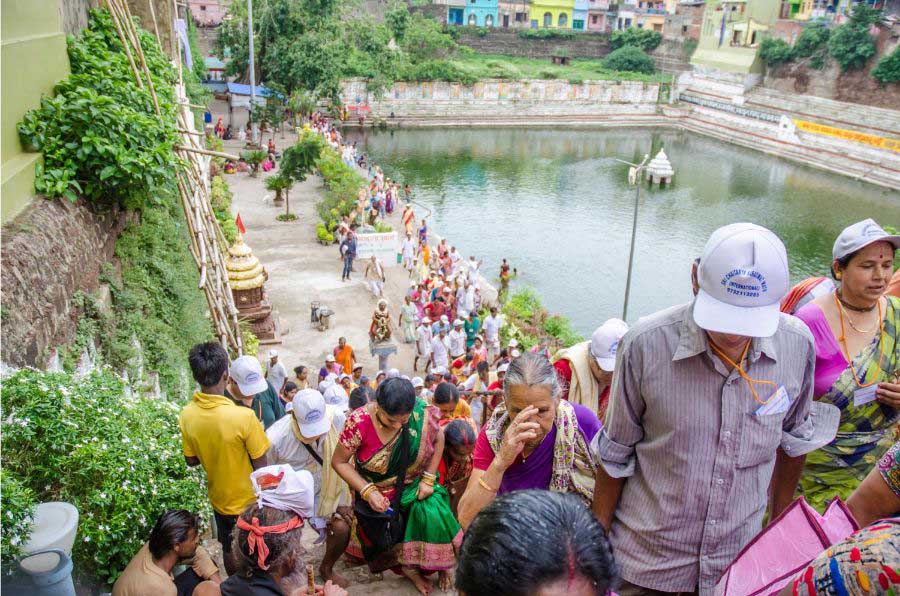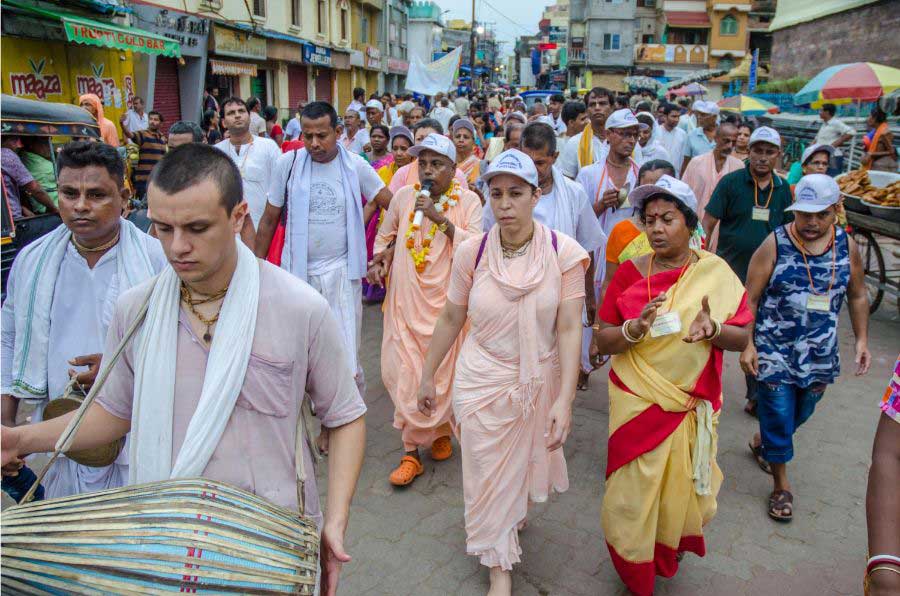 At the incredibly crowded main avenue next to the temple of Lord Jagannath.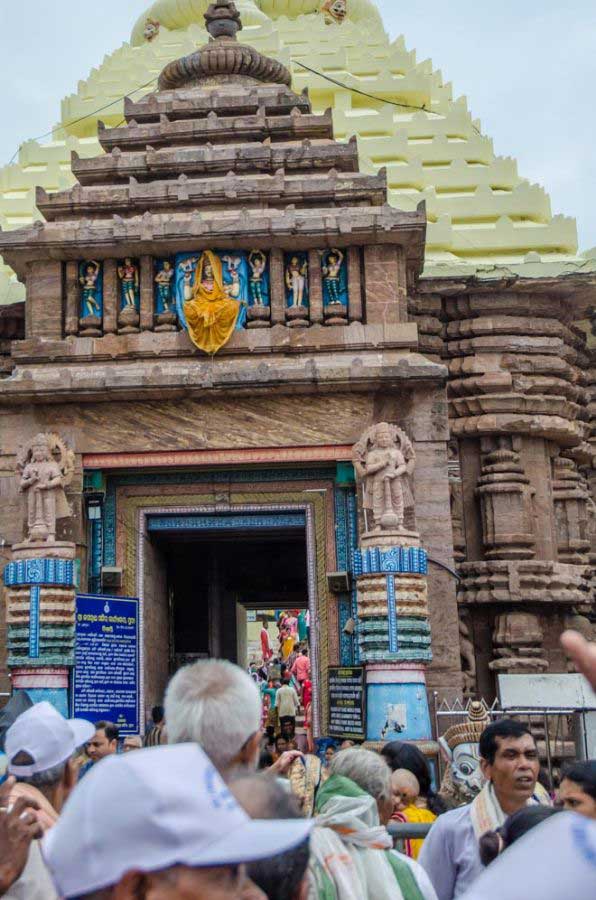 Entrance into the temple of Lord Jagannath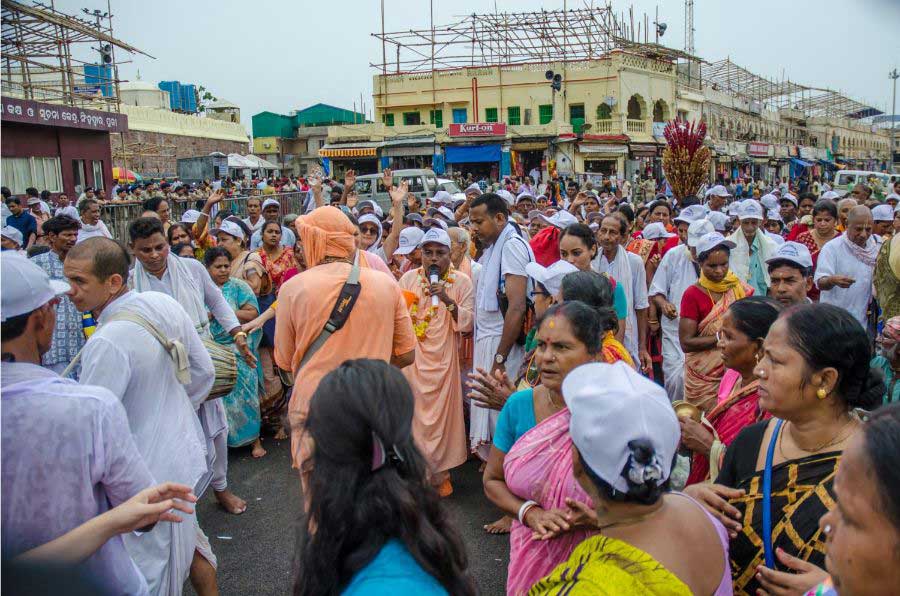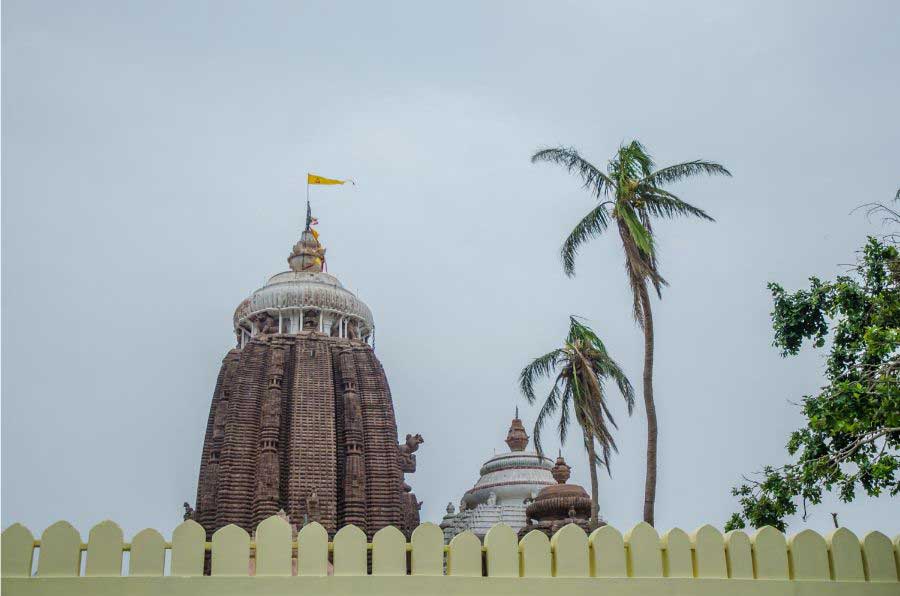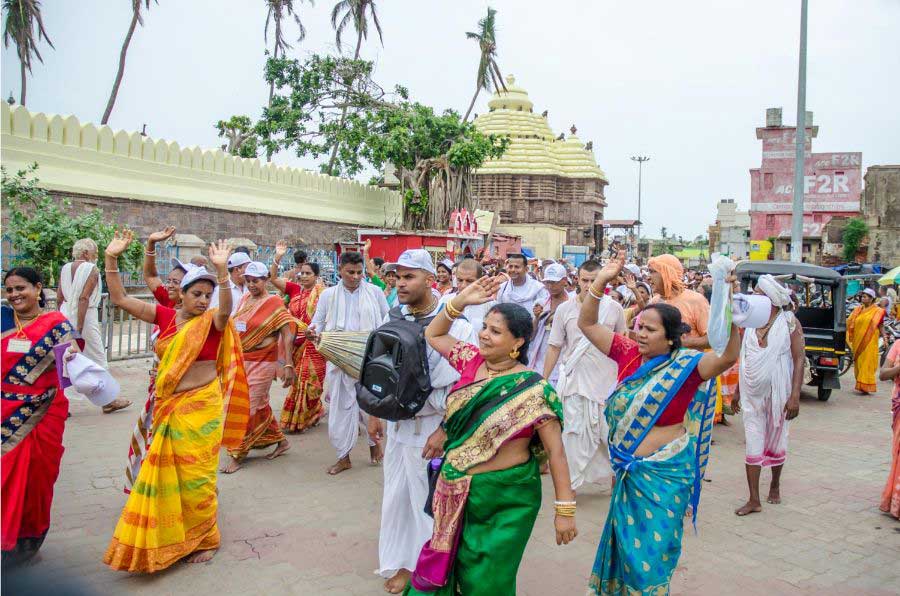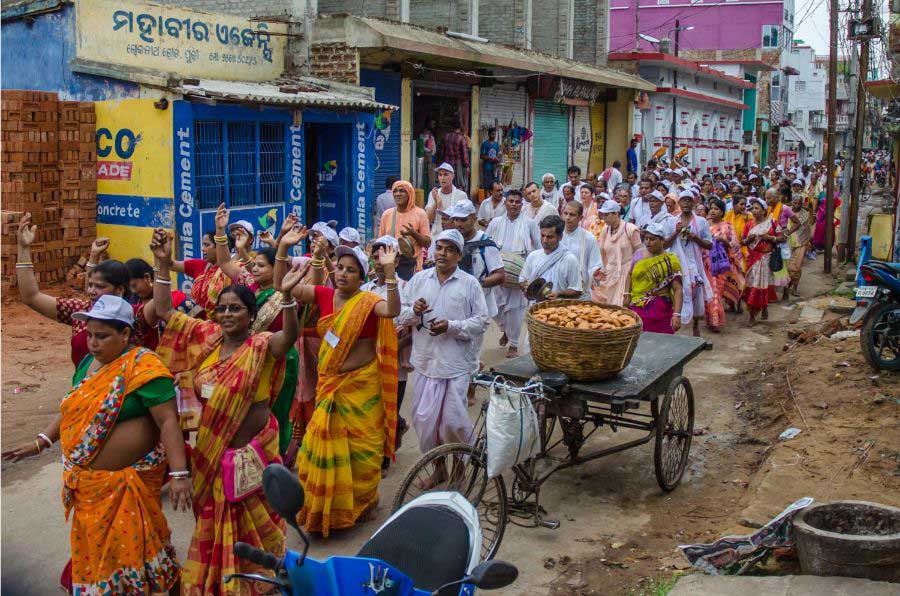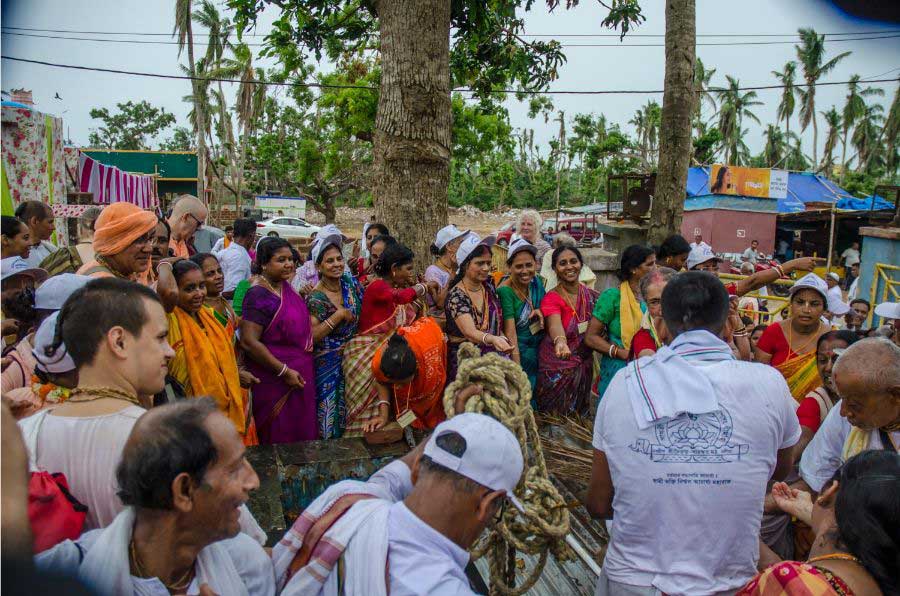 Devotees take water from the holy well of Sri Paramananda Puri—when Sri Paramananda Puri made his house and a well next to it, the water in the well was bitter, so one day Mahaprabhu prayed to Lord Jagannath to make the water sweet; as a result, Lord Jagannath brought Ganga into this well and Mahaprabhu declared that anyone who drinks this water attains the result of bathing or taking darshan of Ganga.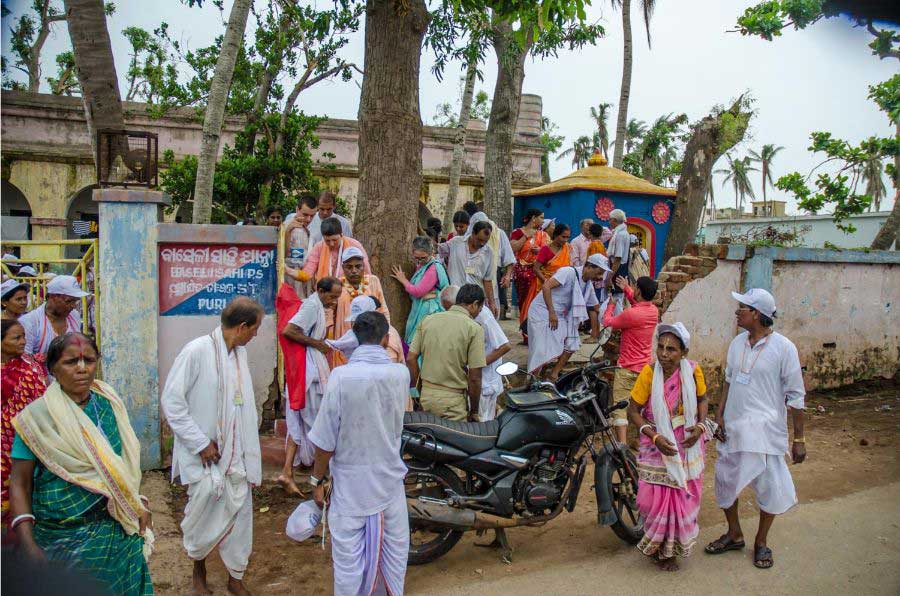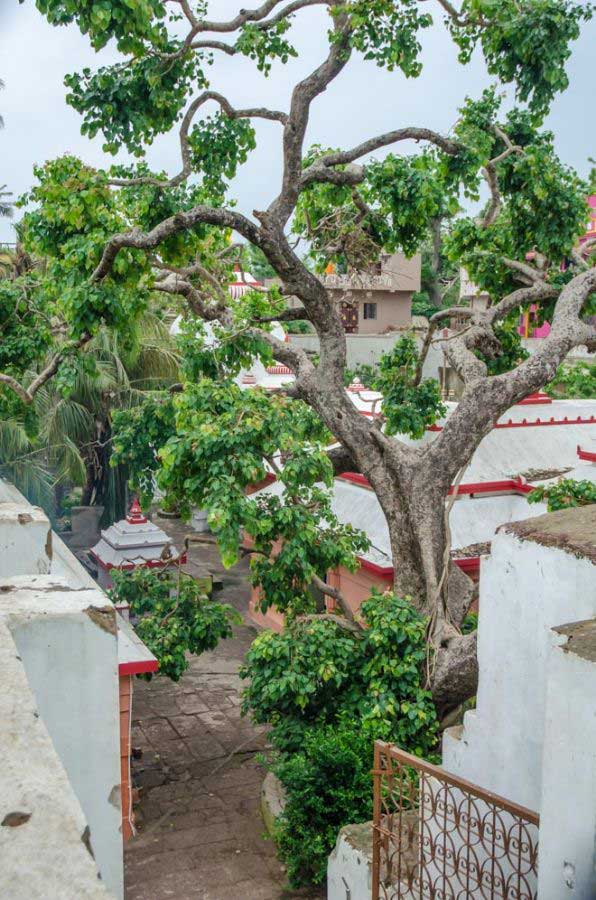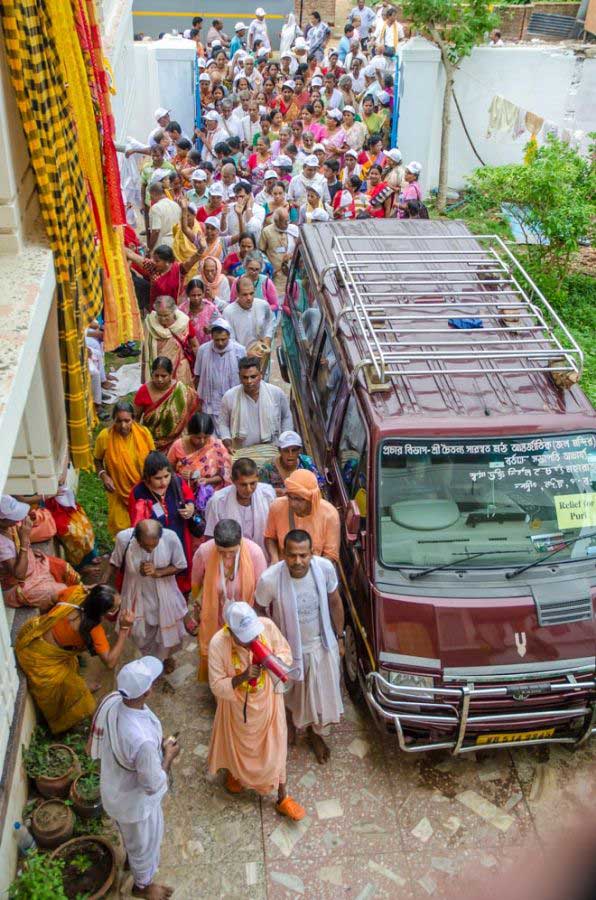 Returning to Sri Chaitanya Saraswat Math.
ARRIVAL | DAY ONE | DAY TWO | DAY THREE | DAY FOUR | SRI RATHA-YATRA