| | |
| --- | --- |
| Our Disciplic Succession: | "The Sun Never Sets on Sri Chaitanya Saraswat Math": |
Turn Your House Into Temple
His Divine Grace Om Vishnupad
Srila Bhakti Nirmal Acharya Maharaj
Kolkata-Worldwide, 28 June 2020, part 3
[Addressing a situation at one of the temples:]
How can a not initiated person do puja? This is not how it is done. A person without initiation cannot be a pujari. It is not good. How will he do puja?
Question: How can we follow the proper guidance when there is no temple in the city?
যে দিন গৃহে ভজন দেখি ।
গৃহেতে গোলোক ভায় ॥
ye dina grhe bhajana dekhi
grhete goloka bhaya
"On the days when I see devotional service taking place in my home, I feel that Goloka has manifested there."
(Srila Bhaktivinod Thakur)
You can turn your house into a temple. What is a temple? A temple means bhajan (devotional practice). There are nine kinds of devotional processes (nava-vidha bhakti)—sravanam, kirtanam, smaranam, pada-sevanam, archanam, vandanam, dasyam, sakhyam, atma-nivedanam: hearing, chanting, remembering the Lord, serving the Lord's lotus feet, worshipping the Deity of the Lord, offering obeisance, rendering service as a servitor, as a friend, and self-submission. You can practise all these things in your house. What is the problem? You know the rules and regulations, you know what is done in a temple—wake up every morning, do mangal arati, etc. You can practise all the things that proper householders practise. I see that some householders practise better than even sannyasis—they wake up in the morning, come to the mangal arati, do the mangal arati, sing at the mangal arati, then offer some bhog, do archan, offer bhog again at noon, then they close the altar and let their Deities (Deities or a photograph of Deities) rest, then again wake up the Deities in the afternoon, offer Them some fruit and sweets, then again do arati in the evening, read from Srimad Bhagavad-gita, Srimad Bhagavatam, Chaitanya-charitamrita, Chaitanya-bhagavata, or even some guidance books published from our temple, then they again offer bhog and take prasadam. This is the main procedure.
যে দিন গৃহে ভজন দেখি ।
গৃহেতে গোলোক ভায় ॥
ye dina grhe bhajana dekhi
grhete goloka bhaya
"On the days when I see devotional service taking place in my home, I feel that Goloka has manifested there."
(Srila Bhaktivinod Thakur)
Your house can be Goloka Vrindavan. What kind of house is that? It is a house where proper practising is going on every day.
Not all our temples in the Western countries are like Indian temples (with the domes, etc.), but every preaching centre must be following proper rules and regulations. Even if only one devotee stays there, even if only two-three devotees stay there, it does not matter. We also have many centres here in Bengal—we have big temples here, but sometimes only two-three or four-five devotees stay there. In some places, one devotee feeds cows, second devotee cooks, and third devotee does puja, and they make programmes in the morning and in the evening, they practise in this way. It is not necessary to make a temple building. If you know what practising life is, you can practise even at your home—your house can be Goloka Vrindavan; your house can be a temple. A temple, an ashram, or a Math means a place where devotees stay and chant the Holy Name. Wherever devotees stay, that place is Goloka Vrindavan. It is not necessary to have a big temple building, to have big Deities—you can get a picture of the Deities and a picture of the guru-parampara and keep them on your altar. You know what the rules and regulations for puja (temple worship) are, and you can follow it properly, then it will become a temple.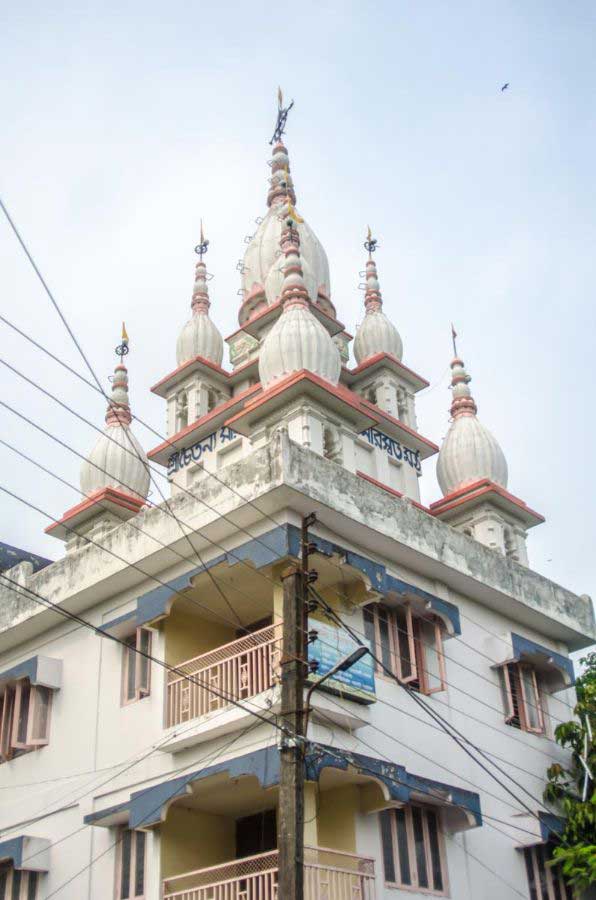 I remember when Gurudev was at our Soquel temple in America in 2004, I was invited by another Math to a festival in Siliguri. When I was there, I called Gurudev and asked him, "There are so many devotees in Siliguri, can I make one ashram there?" Gurudev said, "Yes, if you can, you can do." The same day I went and bought one old house. It was not very old, but it looked old and ugly because it had not been used for many years—it had been closed and nobody painted it. Then, I broke the lock, and when we came in, we saw that all house was extremely dirty inside. I hired three-five people and had them clean the house. As our preaching party was preaching in Siliguri, we had a picture of our Deities, a mridanga and some karatals with us—in the afternoon, I bought a loudspeaker, and in the evening we started arati. When devotees heard it and came there, they were surprised—it was an abandoned house, and suddenly some people came there and started kirtan! How did it suddenly turn into a temple over one day? It was not even one day—it took us only a few hours. This is how the temple in Siliguri was started.
Even when our temple sannyasis and brahmacharis go for preaching, they stay at some householder devotees' houses. Srila Bhakti Siddhanta Saraswati Thakur said, "I bring householder people's sons and turn them into sannyasis and brahmacharis, and after that I again send them to householder people to preach—I throw them into garbage, and they clean that garbage and turn people into pure devotees." Do you understand? This is what Srila Bhakti Siddhanta Saraswati Thakur said.
— : • : —
{ 2001 | 2002 | 2003 | 2005 | 2009 | 2010 | 2011 | 2012 }
{ 2013 | 2014 | 2015 | 2016 | 2017 | 2018 | 2019 | 2020 | 2021 }
• Listen to the audio or download (2.5 Mb, 6 min)
---
Chanting: Maha-Mantra and Bhajans
'A girl came to me yesterday and argued with me: Sri Chaitanya Saraswat Math follows mostly Guru, and Iskcon follows mostly Krishna; we chant so many bhajans, and they mostly chant Hare Krishna maha-mantra. I told her...'
Jaya 'guru-maharaja'
'You are endowed with inconceivable genius, affection, gravity, and magnanimity. You are a thunderbolt atop the mountain of mundane knowledge, and the conduit for divine revelation.'
জয় 'গুরু-মহারাজ'
HARE KRISHNA HARE KRISHNA KRISHNA KRISHNA HARE HARE | HARE RAMA HARE RAMA RAMA RAMA HARE HARE